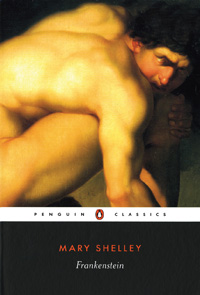 Mary Shelley was 18 when she started writing Frankenstein in 1815 and already grieving the death of her first, premature child. She had been the 'cause' of her own creator's destruction when Mary Wollstonecraft – the foremother also of modern feminism – died of puerperal septicaemia shortly after giving birth to her. Her father, William Godwin, published the revised (now standard) 1831 text. But how many of those familiar in some way with the Frankenstein tale – and who isn't? – have read the novel itself? That second edition was released on the strength of a stage production that appeared just a few years after the initial 1818 publication, and a multitude of adaptations in theatre and especially film have been in constant production ever since.
The vision of Shelley's reconstituted, oversized 'monster' running amok in the Swiss Alps and the Arctic has served to sustain it as ghoulish fodder for the visual arts and culture. But it is especially its serviceability for the concept of hubris and its uncontrollable consequences that have maintained the analogous power of Frankenstein through nearly 200 years. Letters to the Times in 1832 compared that year's Reform Bill to 'Frankenstein's monster' for being patched-together policy with unpredictable results. And less metaphorically the spectre of Frankenstein is called upon again and again in relation to new discoveries in science and technology.
The 'Frankenstein science' label has arisen in our own recent times in association with advances in genetics, especially regarding cloning and other kinds of genetic engineering, perhaps most notoriously GM crops. The kind of intense ethical debate that surrounds the use of gene therapy, for example, is apt: Shelley's novel is as much an exercise in moral investigation as it is a horror story, although the work itself offers few fixed moral positions (undoubtedly another contributing factor to its continuing allure).
Is Shelley's novel 'anti-science'? The passionate and sympathetic framing of Frankenstein the young rationalist through the eyes of wannabe North Pole explorer Robert Walton gives us no settled view as to Shelley's own feelings about her desperate hero. The work itself is an exploration of many of the ideas and innovations of the Age of Reason, and the ability of a fertile mind to envision terrible potential from the scientific breakthroughs then taking place is not necessarily an indictment of the breakthroughs themselves. Rather it suggests a keenness to the ethical questions raised by the birth of new technology. The necessity for such appraisal has only increased since Shelley's time.
According to Shelley's own account of the dream she had that inspired her story, in which a lifeless body is animated by a young scientist using electricity, it seems she did have a deep-seated aversion to the scientist 'playing God'. She described her dream-vision as 'frightful' and, 'Frightful must it be; for supremely frightful would be the effect of any human endeavour to mock the stupendous mechanism of the Creator of the world.'
In an era when science and technology are simultaneously vilified and praised as being both causes of and solutions to some of the greatest crises we face – especially climate change and its concomitant problems – there is a fierce cultural tussle underway about the role of science in our world. Often now it seems that you can't reject religion as a basis for morals and also be sceptical about scientific knowledge and, more pointedly, its application – hence the Green Party being branded 'anti-science' for its stance on GM and nuclear power. This seems a terrifying narrowing of the debate, and one thing Shelley's novel can certainly remind us of is the need for the intervention of other kinds of knowledge besides science in assessing the ethical implications of scientific discovery. As Doug Parr, Greenpeace's chief scientist, says in relation to geo-engineering – an idea, if ever there was one, that surely amounts to 'playing God' with the Earth's ecosystems and climate patterns – 'Scientists are not the best people to deal with the social, ethical, or political issues that geo-engineering raises.'
Indeed, these are choices that affect us all. And yet the decisions that get made about the use of GM crops, for example, are hardly democratic. Generally they are decided on the basis of intensive lobbying, and often rejected by the farmers and consumers in the countries that are targeted.
In her warning tale of misused power Shelley gave us the idea of the maverick scientist whose actions lead to consequences beyond his control, and whose own moral failures also prevent his taking action to halt them. Today we live with something much more frightening: the results of technology in the hands not of rational, flawed individuals, but at the service of corporations, entities specifically structured to avoid responsibility.
Shelley warned us of attempts at 'mastery' over the forces of nature. The naïve young Frankenstein is motivated by nothing more concrete than vague dreams of fame and the 'inestimable benefits' he could confer on mankind. What nightmares might Shelley conceive today, when the 'benefits' of science are often placed at the service of no less frightening an experiment than the simple pursuit of profit?