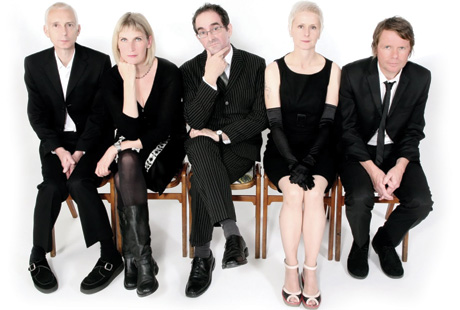 So, the band split up. Big deal. Pop culture is too full of whining pop types anyway. There's no use sticking around when you're not being provocative any more, when you're not shaking things up properly. The bands I loved, the bands that combined great pop with great politics, most of them didn't last very long. They kicked out the jams and pissed off, fuelling the idea that pop music was at its best when it was transient, when politics in pop depended on change and (yes!) revolution.
The Sex Pistols, the Clash, the Slits. Wire, the Raincoats. All my favourite punk idols didn't last long, and this (as a young lad) didn't bother me. It seemed natural. I took it for granted that great pop was about people rushing in, saying their piece beautifully, then disappearing.
And then, along with some other people, I started a band, and, and . . . and it stuck around for three decades.
That would have been unforgiveable in the late 70s. Pop/punk/rock music was supposed to capture a time and place, it was meant to be fleeting and ephemeral, throwaway. Wasn't the beauty of pop culture that it reflected the times in which it belonged? As a young lad in Lancashire I grew up listening to David Bowie, captivated by the haircuts and album covers. Between 1971 and 1977 – Hunky Dory to "Heroes" – this freak endeared himself to my generation of teenagers by scaring our parents and, what's more, scaring them with tunes and intelligence along with the shock.
Then along came the Pistols, whose two or three years made Bowie look like some Frank Sinatra marathon career. Appearing as if from nowhere, three or four great singles that tore up the cultural landscape, then blam, gone, disappeared. And with politics, too. Not the politics of the politicians, but the politics of ordinary people, spoken (and sung) in our language. Politics to get us reading and learning.
The early 1980s saw the Specials, skanking snappily into and out of their lifespan as a band, inspiring and important and essential. Again, a few short years and they were gone. Crass, revelatory and instructive and unlike any other band I'd ever heard, came and went in much the same space of time.
And so this band, Chumbawamba. We got together and began to make music, then cassettes, then records. We got played on John Peel (a highpoint!). Made albums. Sang about the Falklands war, then the miners' strike, then Clause 28, then . . . then carried on. There didn't seem to be any point stopping, because there was always something to write about, to sing about.
Thirty years.
I don't personally regret a single day of it, but I am surprised that we could sustain our ethos for so long. The ethos, based on all those early years of listening and learning from other bands and from other cultural heroes (from Shelley to Brecht to William Morris to Ena Sharples), was simply to keep shaking things up. There were basic rules that we half-invented along the way. Say the things that need saying, in a way that pricks up people's ears. Don't pander to your audience. Don't take anything for granted. If you get in the same room as a high-ranking Cabinet member: attack him. Simple things.
Having a hit single helped. I don't mean it helped to justify our longevity – no, it helped take this ad-hoc anarchist roadshow into the heart of pop culture, albeit for a few short months. Singing 'Free Mumia Abu-Jamal' (a jailed black political activist) instead of the normal chorus to 'Tubthumping' on the David Letterman Show was a delight.
And of course we laughed through the whole thing. Practically from start to finish, we laughed. Our inspiration were the Dadaists, who set up in defiance against the horrors of the first world war, political and cultural troublemakers who dedicated their art to exposing the absurdities of the world.
And this ageing idea that was Chumbawamba, it could have carried on forever. But there was a realisation that, with the commitments of everyone in the band, it couldn't have carried on being vital, interesting, relevant or challenging. Chumbawamba was never intended to be a band that could just turn up for gigs and play songs that people wanted to hear. And at the back of our minds, whether we knew it or not, was that gnawing realisation that we'd not only outlived the Pistols and Specials but that we were entering territory reserved for the likes of the Stones and the Who. Bands who, frankly, gave up on any sense of rebelliousness or creativity at least three decades ago.
So. Chumbawamba. Thirty years! Compared to the lifespans of the bands I grew up loving, it seems utterly absurd that we lasted this long without falling out, giving up, becoming a parody of ourselves, or running out of ideas. And now that we've got there – and been given our passes for the Home For Thirty-Year-Old Rockers – we're doing the decent thing and stopping. Now. Just like that. Amicably and with a full knowledge of what we're doing.
Someone told me a joke the other day. What's the difference between a baby and a pop group? The baby eventually stops whining.
---
The future
Our main commitments are family, partners and children. It became obvious a long time ago that we were never going to neglect those things for the good of the band. I think some of us (I'm not saying who and to what extent) had grown out of that place where you throw everything of yourself into the band.
What to expect in the future from Chumbawamba people? Assorted things. Creative things, writing, music and possibly appearances at karaoke bars trying to find 'Tubthumping' to sing along to, pulling on strangers' sleeves and saying 'I was in this band, once, honestly.' That sort of thing.
---
Music first
Billy Bragg used to talk about how the music had to come first, politics second and for a while I resented what he said – the ideas and politics were always the starting point for us, for years and years. But over time I came to accept that he was right, and that we were in denial – our tunes and songs and melodies had to come first, because without them no-one would listen to the ideas and the politics.
'Tubthumping' was an extension of that idea – a song that was first and foremost universal and uplifting, positive and celebratory. We thought that by having that celebratory chorus matched with a sweetly-sung 'pissing the night away' we were subverting the form. I'm still unsure of whether it worked in that way. But it got us onto prime time TV in USA talking about anarchism to Roseanne Barr, and that was sort of the point. Plus, it paid for a lot of good causes. But probably more importantly, as a 'good tune', it avoided us being ghettoised.
---
Towns beginning with 'B'
Class was and is important to me personally and to the band. I can't ignore where I'm from, and my ideas and culture spring from that background. We were mainly a working class band, mainly from northern industrial towns, and mainly from places beginning with the letter 'B'. Seriously. If you weren't from somewhere beginning with the letter 'B', you had no chance!
The John Prescott situation [when band member Danbert Nobacon tipped an ice bucket over the Labour deputy leader at the 1998 Brit awards] was an example of our continuing abhorrence of the way the Labour Party sold out the working class. The Liverpool dock workers' strike was a cause to champion during the opposition years – then when Blair won, the support from 'the top' for the strikers was suddenly dropped. Prescott, a former seaman, fulfilled his role as the working class northern monkey, there to bully the Oxbridge yah-yahs, by siding with Blair and refusing to meet with the dock workers. Both Blair's personal bouncer and his badge of class credentials.
So yes, we were always a working class band. We had roots and those roots defined our opinions. And still do.
---
What the milkman whistled
I recently watched a Youtube video of the band King Blues playing in some ridiculously large hall to a packed audience of young people going mad – to the King Blues' heavily political, opinionated, radical ideas. There's an audience of young people with a thirst for radical ideas, radical politics in music – but that audience doesn't need to engage with the popular/national media any more. People know about things through the internet and social media, it's not Top of the Pops any more.
I do regret that transition. I loved how, when I was learning about music, popular culture was also mainstream culture – when Bowie flirted with sexuality, when the Pistols sang their attack on the queen, these things became front page news. Instantly. So we all knew about it. It affected all of us, London and Burnley alike. It was high culture and low culture combined. It was pan-generational too.
The internet is incredibly divisive in that people find what they want instead of being confronted by things they didn't know. Kids listening to the latest music will pass it around their peer group but it won't break out of that world. Pop music used to be characterised by being 'what the milkman whistled'. The milkman now has headphones, he has his own choice of music that we're not privy to, and certainly doesn't whistle!
Now a band as interesting and stimulating and powerful as King Blues can exist without my mum and dad ever knowing about them. That's sad, I think. Because I want everyone to know about King Blues. I want King Blues, like the Pistols, on mainstream TV and on the front pages of our newspapers.
---
Selling out
That whole period where people thought that your politics could be defined by a record label – aaaagh! I hated the DIY thing after a while because it became a religion. I remember spending weeks folding record sleeves and home-printing leaflets and booklets to give away for free – I loved it. But then it became a set of rules, a way of defining yourself. Yuk. People outside our concerts wanting to vent their anger at us for wearing leather shoes. No, really. People putting the politics of DIY above the politics of poverty and class and war and sexuality and inequality etc.
So, selling out – selling who out? Shit, we spent that whole two or three years with EMI giving money away to people who wanted and needed it.
During the miners' strike we worked closely together with the West Leeds Socialist Workers Party. We became friends with them, and realised that whatever differences we had with their politics, they were our allies in this. We shared a van, shared meetings, shared journeys to picket lines. It made us realise that we didn't care about 'selling out' but about trying to be effective in the world.
Too many people cry 'sell out!' without working out first what is being sold, and why.
Additional interview by Steve Platt. Chumbawamba are playing a few final gigs in Leeds, Berlin and Oslo from 31 October to 3 November. See www.chumba.com/finalshows.php for details