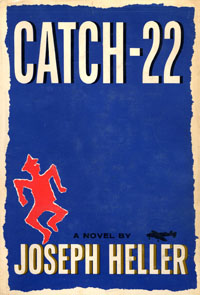 Harper Lee, author of To Kill a Mockingbird, called Catch 22 'the only war novel I've ever read that makes any sense'. Readers of a certain sensibility – of which the record would suggest there are many; the book has sold more than 10 million copies – clearly understand what she meant. Joseph Heller's novel marked its 50th anniversary in November, and despite the fact that it was first published in a very different era – at the height of the cold war and the beginning of large‑scale US involvement in Vietnam – its caustic satire of war, militarism and bureaucracy has barely aged.
A fluid, non-chronological narrative that flits between a preponderance of characters, Catch 22 defies straightforward synopsis. The novel mainly follows Yossarian, an American B-25 bombardier (Heller himself occupied this role during the second world war), as well as a number of other airmen of the fictional 256th squadron. Most of the events take place on an air base on the island of Pianosa, in the Mediterranean, moving inland during the latter (and much darker) stages of the novel.
The novel's central conflict – at once the source of both the great humour and profound pathos of the text – stems from the imagined piece of military code that gives the novel its title and has since been absorbed into the English language as a popular idiom. Within the text, Heller explains it thus:
'There was only one catch and that was Catch 22, which specified that a concern for one's own safety in the face of dangers that were real and immediate was the process of a rational mind. Orr was crazy and could be grounded. All he had to do was ask; and as soon as he did, he would no longer be crazy and would have to fly more missions. Orr would be crazy to fly more missions and sane if he didn't, but if he was sane, he had to fly them. If he flew them, he was crazy and didn't have to; but if he didn't want to, he was sane and had to.'
Now part of common English as simply an idiom for a 'no-win situation', the catch itself reflects the central theme of the novel: the ludicrous reality of thousands of men setting out to try to murder one another every day because those are their orders.
Catch 22 is full-blooded in its satire; much of the action is almost slapstick, and the dialogue sometimes borders on all-out absurdity, especially in the earlier stages of the novel. However, like all good satire, the heart of the text has more than a ring of truth to it, which remains every bit as applicable 50 years later as it did in 1961.
After all, is First Lieutenant Milo Minderbinder's bombing of his own squadron to make an extra buck all that far removed from the corporate war profiteers of today, who rely on their own nations being in a perpetual state of conflict in order to sell their hardware? Is Captain Black's exaggerated, blinkered patriotism all that far removed from the chest-thumping rhetoric employed by consecutive US presidents in a bid to win support for their military designs? Is Hungry Joe dying at the hands of his nightmares all that far removed from modern reality, when one considers that a comparable number of soldiers have committed suicide after serving in recent wars as have died while fighting them? The madness of the Italian Front is the madness of the Vietnamese jungle is the madness of Fallujah and Helmand.
Ultimately, Catch 22 is the perfect anti-war novel because it eschews anything that could be considered pious pacifism in favour of a bold examination of what war-making actually amounts to. Heller stated that the central question of the novel was 'What does a sane man do in an insane society?' If there is an answer, then it is surely 'stay alive'. Throughout the text, the overbearing background character, lurking beneath every joke, casting its shadow over every scene, is death. And it is death's most perfect application – war – that, in a novel lacking a conventional hero, emerges as the arch-villain.
Mark Twain once said that 'the secret source of humour is not joy but sorrow'. In no piece of literature is this better exemplified than Catch 22. Classicism drew a sharp distinction between tragedy and comedy; Heller's novel erases this distinction absolutely. Frequently cited as one of the greatest literary works of the 20th century, Catch 22 hardly needs any more praise, or exposure, but when one has just finished re-reading it, it's hard not to give it anyway.
Sadly, we still live in a web of insane societies. But Heller's novel may at least console you with the notion that – somewhere, behind the dehumanising monoliths of militarism and unending war – the sane still exist.