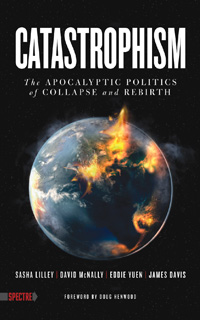 At its heart Catastrophism is about the loss of faith that haunts radical left-wing politics. Through a series of short essays by prominent US writers and activists it maps out the consequences of an end in the belief that radical change can come from mass politics – that is, from organising. In place of organising Catastrophism outlines two ways of doing politics.
The first mode of politics is a kind of determinism: the very nature of capitalism will bring about its demise. Sasha Lilley's essay gives a good overview of the history of this idea among the left. In its various guises it proposes that there is no need to organise, only wait. The end – through economic crisis or environmental collapse – is coming no matter what we do.
The second is in many ways the very opposite – the truth of the impending crisis and the very fact of its imminent arrival will awaken the sleeping masses and provoke them to action. This idea – that it is the left's role to bring the truth of the world to the masses, and that this will move them to revolt – is at the heart of much of the radical left and broader environmental movement.
But as Catastrophism points out, this is often far from the case. Truth does not necessarily lead to action. Actually, when it comes to catastrophe and disaster, the truth can play a demobilising as well as mobilising role.
The book doesn't make a neat connection between the two modes of politics and catastrophe. The history of each as outlined in the book rather speaks to the idea that the radical left has moved between these two positions throughout its history. Determinism and volunteerism would seem to be the two dominant reference points of radical left politics.
Where Catastrophism comes into its own is in identifying both that these points of reference are part of the general problem of left-wing politics at the moment, and that it is in times of crisis that they become even stronger tendencies. The author's call for an environmental and left-wing politics animated by a faith in people's ability to change the world is all the more timely.