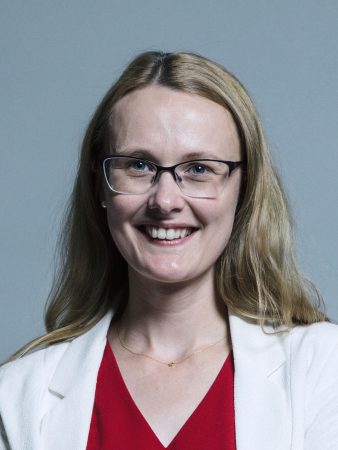 So what do you think's going on?
It's a different story in different parts of the country, but certainly what I can say from my constituency, where I spent most of my time [during the election], is that we had a much higher engagement in politics from young people. (When I say young people what I mean is under 40!) I felt there was a much higher level of engagement in the debate and that has been going on for the last couple of years.
If you look back to the leadership election of 2015, when Jeremy ran, all of a sudden there was a generation of people that were engaged in Jeremy's leadership campaign. In 2015, what was he, about 200-1 to win the leadership election? And he did win. It wasn't even close. What we saw in that leadership campaign was exactly the same as what we saw in the general election, in that there's a generation of people that haven't heard these arguments before and they like them.
Labour went into the election with answers about things like the public sector pay freeze. So many people in this country have been suffering because their wages haven't kept up with prices. House prices in particular just keep going up and up and up and it has become impossible for young families to have secure accommodation to live in and to raise their families.
We know about people doing 12-hour shifts in a hospital as a nurse and then going to the foodbank on their way home because their wages aren't covering their food. Ultimately the public sector pay freeze has left people behind frankly and Labour came in and we had an answer to that.
What needs to happen for us to win a majority?
CS: We have to win more seats. (Laughs.) When this election was called it was probably quite a defensive campaign from Labour and we became offensive quite late in the day. Going forward, I think we're going to have a much more offensive strategy and focus on target seats.
We spoke to that pool of people who 'don't vote' and we gave them something to vote for
For instance, I've been campaigning in Southport where in the 2015 general election we came third. In this election we came second. It's a seat that we can take from the Tories. It went from Lib Dem to Tory but the Lib Dem vote collapsed so badly that Labour is now in play to take seats like Southport. That would help us form a majority.
We need to win more seats in England. I suspect we will win some back in Scotland, but it's going to take us much longer to get back to our 2010 days in Scotland in terms of where we were with numbers of seats. Whilst we're doing that, we also need to be looking at parts of England: Plymouth, Canterbury – there were some really good wins last time and it's about making sure we speak for the whole country.
When you talk about the engagement of under-40s, I guess the really important thing in this election is that it wasn't just about appealing to people who were going to vote Tory. It was also about appealing to people who haven't been voting, right?
For too long I think people have approached general elections assuming that there's a pool of people who do vote and a pool of people who don't vote, and you ignore the people who don't vote and you focus on the pool of people who do vote and you try to put together an offer that speaks to the majority of them.
What Labour did in this election was that we also spoke to that pool of people who 'don't vote' and we gave them something to vote for. You could argue that it was quite a risky strategy. I don't think it was.
Judging by the conversations on the doorstep that I have had, having fought a marginal seat in the last two general elections, when you're speaking to people who don't have a history of voting, it's not that they're not interested in politics, it's that they don't feel there's something worth voting for. That group of people moved into the voting pool.
Do you think that tactical voting had a big part to play?
It had some impact. I don't think it had as big an impact as some people would like to think.
In your constituency, Lancaster and Fleetwood, for example?
I don't doubt that some people in Lancaster and Fleetwood would consider themselves to have voted tactically either for myself or the Conservative candidate, because there was a feeling that it was a two-horse race.
In recent elections, it had been a very tight fight. In 2010, the Tories won it by 333 votes. In 2015, Labour wins it by 1,265 votes. There was always that sense in my seat that only two parties could win it and that it would be quite tight.
What we've seen is the steady decline in the Liberal Democrat and Green votes, and UKIP didn't field a candidate. So the smaller parties have been pushed in my seat because there has been a very clear message from both Labour and the Conservatives that only those two parties can win this seat and that any other vote is a wasted vote.
But I wouldn't credit all 6,661 votes of my 2017 majority as being people who voted tactically. Ultimately people will vote for the party they want to vote for.
What about ideas? There was a huge shift in this election in terms of the ideas that the Labour Party was putting forward. The manifesto was a turning point. You've been massively supportive of that direction from your first days in parliament. Do you feel that's been vindicated now and it's possible to push further to the left and continue to pick up more votes?
I came into the Labour party in 2004 and I've campaigned in every set of elections for the Labour party since 2004. There was a point when on the doors you'd have conversations with voters about the difference between yourselves and the Conservatives, but you don't hear that any more.
You'd be surprised. On the doorstep in places like Derby I'd hear people saying exactly that, that politicians are all the same…
]Well there is the 'politicians are all the same' argument, but I think that's a different argument to 'there's no difference between the two main parties'. Because I didn't hear anyone in my constituency say I can't tell the difference between the offer from the two main parties.
I think the argument that all politicians are the same is different and is about the perception of there being a 'political class' and that all politicians come from the same background.
If you look, certainly at the Conservative benches, they do have very similar backgrounds. They're more diverse than they were before this election and they've done very well at diversifying the party in a relatively short space of time and actually Theresa May has been a good part of that, although I think her days are numbered. On the Labour benches though, if you look at our new intake of MPs, they're represent completely different backgrounds to any stereotype of the political establishment.
Back to the ideas though: I think the policy we're offering is the right offer for where we are today and we will have to make the right offer to the country again in terms of where we are at the next general election. We don't know when that is going to happen. We don't know if it's going to be during the Brexit negotiations or after the Brexit negotiations. Potentially we could go to 2022, and I have no idea what the country will look like in 2022 as we sit here in the summer of 2017. The manifesto and the policy offer has to reflect where we are and what's happening.
If there was to be a general election tomorrow though, I expect that our manifesto would look broadly the same as what we put on offer in June. I don't think the country's changed massively in that there is still a squeeze on people's wages not keeping up with prices, there's still a crisis in the NHS and social care and there are still young people in particular being put off education for fear of debt or lack of ability to pay. All of those issues are still issues. Broadly speaking I think we'd put up a very similar policy offer.
Bookies were suggesting that you were going to lose your seat at the beginning of the election…
Yeah, and made my staff a lot of money when they put money on it.
Were you OK with the idea that you might lose your seat?
I was at that Clause V meeting that signed off the manifesto. I thought it was a brilliant manifesto. It was the best manifesto I had ever stood on, and I stand by that – and if I had lost I would have stood by that.
You're now vindicated and ascendant. Has that changed things within the party?
It's brought the PLP [Parliamentary Labour Party] together. Jeremy Corbyn is not a vindictive person who would want to say 'I told you so' to people that doubted. He's very much about bringing people on board. Always has been. Everything he's done since he's been elected as leader has been about trying to reach out to the whole of the parliamentary party because when we work together we're stronger. That's the direction he's headed in.
It's the sign of a really strong leader actually. Weak leaders shut themselves off and isolate themselves. Strong leaders reach out and try to build. He might not always be the smoothest operator in the House of Commons chamber, but leadership is about more than that. Leadership's about having a vision about where you're going and bringing people with you. That's a much stronger leader than someone who can deliver a speech perfectly.
That's one of the ways in which the rules of the game might have changed, right? The rules of how you fight an election…
Theresa May fought the election in a way that I think is old-fashioned – very stage-managed, very faced to the media but you don't meet real people. Very controlled and controlling. It bombed.
Why do you think that is?
Jeremy Corbyn had something that Theresa May never had and showed no signs of having which is authenticity. You can't fake that. You've either got it or you've not.
I think that's what people wanted. Going back to what you were saying about the doorstep in Derby, that all politicians are the same. People don't think that about Jeremy. He's not cut from the same bit of cloth as your identikit politician. People meet him and they believe that he is genuine and authentic, and he is very much authentic.
I think he has probably reached a conclusion that it is easier to be yourself than anyone else because it's hard work pretending to be someone else. You've got to be yourself in politics. You can't pretend to be someone you're not.