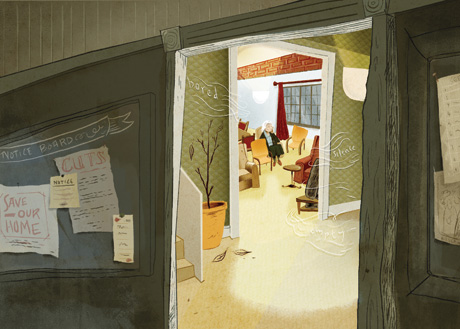 Illustration: Hey Monkey Riot – www.eddbaldry.co.uk
In many ways, the elderly care sector is an example of what Conservative policy-making aims towards. Dominated by private companies with no financial regulation (and many links to the Tories), what is left of state provision is rapidly dwindling. Those with the means to pay for their own care do so – often with a lifetime of savings and their home – while receiving no state support. Local authorities are continuing to freeze the amount of support given to those who can't, even though current rates are far below most independent care homes' fees. This means families must meet the shortfall.
Inconveniently for the Tories, the result of privatisation is not efficiency and innovation, nor choice and value for service users. It's chaos, blighted by inadequate care provision and instability.
The estimated £1 billion in cuts to adult social care that have occurred since Osborne full-throttled his austerity programme, along with the further £1 billion expected over the next two years, have inevitably worsened services. Demographic changes mean elderly care will be an increasingly important, and expensive, issue. Last year's report from the Dilnot Commission on drastic funding changes, which was intended to create a more sustainable and fairer system for service users, was recently dismissed by the coalition in its social care white paper as too expensive. The government, like others before it, refuses to engage with the chronic funding crisis, while the care system fails and impoverishes vulnerable elderly people.
Cuts passed on to local authorities by central government since the last spending review have caused a raft of closures, and outsourcing of the remaining council-run homes and day centres. Local authorities are shouldering the burden of austerity, and with it the backlash from unpopular decisions.
Loneliness and isolation
A Unison survey on day centre provision carried out earlier this year found that 57 per cent of respondents reported closures to services and over two-thirds saw an increase in charges for attendance, transport and meals. This is compounded by a fall in pensioners' incomes through other factors such as fuel payment cuts and the withdrawal of the age-related tax code. In addition, over half of day centre staff said their pay and conditions had changed for the worse.
Matthew Egan, Unison's assistant national officer on local government, says the impact on vulnerable older people is severe. Access to council-run centres is being restricted to those with the greatest need, and social isolation is no longer enough: 'It's loneliness and isolation that people are going to be suffering from more and more in our communities as a consequence.' While some councils have said the savings will be passed over to individuals' personal budgets, and will therefore give more 'choice' to people, the result is that voluntary sector services cannot continue because they rely on local authority grants to pay for costs such as rent and wages.
Marie*, a senior support worker in a charity-run day centre, explains that the service she works for had to raise thousands of pounds to keep going after local authority grants were drastically reduced. To achieve it, the staff worked evenings and weekends doing unpaid fundraising. At the same time, charges were raised, which meant many people could not afford to attend. Marie describes how staff have been overstretched and elderly people excluded from the service. 'A lot of older people generally live alone and have no contact with anyone, other than say family or carers, and their health both mentally and physically can deteriorate rapidly. I believe day services for older people to be essential for their welfare . . . I have personally seen many successful stories of older people coming to our service, scared, alone and timid, only to blossom and become the life and soul of the party!'
The misnomer of choice
In Bristol, the Lib Dem city council recently passed a motion to close all but two council-run homes, with those being retained for dementia sufferers, and seven day centres. Local resistance fronted by the Bristol and District Anti-Cuts Alliance (BADACA) has gained momentum. More than 100 people lobbied the council meeting at which the final decisions were passed – after a laughable 'consultation' process in which the choices given were closure, closure or closure.
Jeremy Clarke, BADACA's organising secretary, describes the mood in the care homes: 'People who live in the council care homes like to live there, they feel that they paid for it through their taxes and the welfare state.' Campaigners are suspicious of the council's arguments that the process is simply a modernisation of the service, and that not-for-profit organisations and charities will tender for the new, independent contracts. In a context of scarce resources, it's the large organisations that are likely to win such contracts.
The government buzzwords of 'personalisation' and 'empowerment' are used to argue that home care is always preferable to residential. In reality, it's about economics: home care is cheaper. Yet, as Matthew Egan stresses, the home care sector is in no position to pick up the slack. 'It puts more pressure on the workforce and the workforce is getting the blame, the people delivering the care, even though they're getting stretched and stretched, on really bad pay and really bad terms and conditions.' Time and wages have been cut to the bone, and some staff are reporting that they will stay for extra time with clients, past the allotted 15 minutes, without pay just to ensure they are receiving adequate care – while they themselves are on minimum wage.
Policies aimed at enabling people to remain at home, such as training courses to help them live independently, have benefited some. But they are being used in a blanket fashion to the detriment of many of the most vulnerable. As such, any talk of 'choice' is a misnomer. Lynne*, an elderly people's social worker in the south‑east, says: 'Yes, they talk about empowerment but we have to fight to get people into homes now – really, really fight. There's actually a limit on how many people we can place in residential homes a month, I think 25 in each area. Even if people have extreme dementia and are wandering the streets, it's not guaranteed we'd get them into a home.'
Care for profit
As council-run homes close their doors, the people made to relocate find themselves in the private sector. The landscape of the £10 billion independent care sector, and the character of organisations that make up its patchwork coverage, are complex. Inherent problems in the sector are far wider than the rare horror stories of institutional abuse that have featured in recent investigations, such as that by Panorama.
The common thread is the means by which they achieve cost-effectiveness: they pay less. The staff work longer hours with fewer benefits, and skeleton staffing means carers can struggle to find time to provide the individualised care they'd like to. Cuts in the rates of support given to local authority‑funded residents have exacerbated these issues.
Lynne emphasises that the problem stems from our cultural attitudes towards caring: 'There needs to be a drastic rethink . . . The majority of carers are not valued. They're not valued by their peers, by society, and they're not valued by the staff.' She suggests raising the wage level and the qualifications needed to work in the sector. Unison is running a campaign to recruit care workers into the union, believing low levels of unionisation are reflected in the poor terms and conditions the workforce endures.
The impact of funding freezes from local authorities has also manifested in poorer quality food and other provisions and equipment. Lynne says she's seen residents suffering from discomfort and skin flare-ups because homes are buying poor quality incontinence pads.
Driven by profit, many – but not all – homes have a money-grabbing ethos. While fees for home places vary enormously (from several hundred pounds per week to thousands), this doesn't necessarily mean the more costly care is of better quality than more affordable homes. 'To be honest if I drive up to a home and it's expensive-looking, and it's got flower beds and grounds and things, my heart sinks because they're putting the majority of the money into how it looks, not how it works,' Lynne explains. 'One home is run by a national charity and it's charging £3,000 a week and the care is bog standard . . . if I want to be generous.'
The practice of kicking people out when they run out of money is surprisingly widespread. Self-funders, having sold their homes, fund their place until their assets drop below £23,000 and they become eligible for state support. At this point, they are evicted. These evictions were happening so often, causing distress to old and infirm people and landing them on the doorstep of the local authority, that one county employed a social worker specifically to work with self-funders and their families to advise on how to avoid it.
Private equity
Across the care sector another shadowy presence looms: private equity firms, which are moving into the sector and now own a large proportion of homes. In 2011, the Guardian reported that 135,000 people were being cared for by private equity-backed operators. New players on the block include Terra Firma, which took over 500 Four Seasons care homes earlier in the year. Another entrant into social care is Acromas, which through its acquisition of Allied Healthcare has become a lead player in the home care sector, along with Sovereign Capital.
Private equity firms are not accountable to the public. Known as predators due to their profit-maximising and asset-stripping, they have little interest in the markets in which they operate – which is particularly worrying in social care. They run on huge debts used to finance takeovers (Acromas has recorded debts of £6.6 billion) and are known for tax avoidance through offshore accounts. As many residents are receiving local authority support, tax money is once again being funnelled towards private interests.
Given the importance of social care, shouldn't there be government regulation of such companies' finances to ensure there is no repeat of the Southern Cross collapse, which affected 31,000 residents? It's not on the cards, and the reason is ideological. As Egan puts it, 'They refuse to entertain the idea because it doesn't fit in with their world view of the private market and the role of the state.' Tellingly, managing partner of Sovereign Capital Ryan Robson is a big-time Tory donor (giving over £250,000) and put himself up for selection as the Conservative election candidate in Bracknell.
Overall the picture is bleak – but workforce organising, community opposition and a national Right to Care Campaign backed by numerous organisations are trying to stop the issue from being pushed into the long grass. There are ample examples of quality care in the sector. But it shows the dangers of privatising a crucial aspect of the welfare state, and serves as an example of why it must be resisted.
* Names have been changed