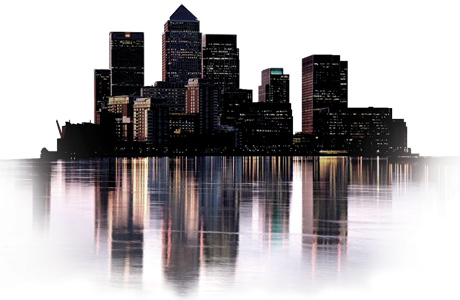 Canary Wharf is London's second finance hub, after the City itself, and its futuristic assortment of gleaming glass towers is home to some of the world's largest multinationals and highest-paid executives. Canary Wharf's streets are 'chartered': the land belongs to the Canary Wharf Group, in turn majority-owned by US-based finance giants Morgan Stanley and Glick Family Investments. As the group's website states, 'Canary Wharf is not just a place, it is a company.'
For residents of London's Isle of Dogs, which surrounds Canary Wharf, the development represents a complete break with the past. Ushered into the industrial age as the West India Docks in 1802, the site once thrived as part of the world's largest port, which at its 1960s peak employed more than 20,000 local people.
By the 1970s, however, changes in shipping technology and a decline in British manufacturing conspired to seal the docks' fate, and redevelopment proposals were drawn up. One plan, proposed collectively by community groups, docklands boroughs and the Greater London Council, was for a public sector-led regeneration offering affordable housing, improved transport links and new industries catering to local skills. But the newly-elected Thatcher government already had its own plan: to turn the site into an 'enterprise zone' with major tax incentives for private developers to create a financial centre to rival the City.
Massive petitions from community groups were dismissed by parliament, and Canary Wharf was given the all-clear. As the bulldozers moved in, a damning report by the Joint Docklands Action Group offered a grim prediction. The site, it said, would become 'a mausoleum for a vanished community and a monument to speculators' greed'. In the heady days before the crash, such talk had long since been forgotten, and the Canary Wharf Group boasted its success in filling the office space and 'creating' 100,000-plus jobs. But even a cursory glance at what goes on in those offices, and who they employ, tells a different story.
The translucent shaft that holds HSBC's global headquarters recently presided over some of the most opaque executive dickery witnessed in 21st-century Britain, with the bank caught laundering hundreds of millions of pounds for drug cartels. Not to be outdone by their neighbours, Barclays' Canary Wharf spivs rigged the Libor rate (the benchmark for short-term interest rates) in an infamous example of the insider dealing that pervades modern finance. They also established a prolific and secret tax avoidance factory, organising tax avoidance on an 'industrial scale', according to former Tory chancellor Lord Lawson, that raked in £9.5 billion at the expense of UK taxpayers before being shut down earlier this year.
And Barclays is just the tip of the skyscraper. Fellow 'Wharfer' KPMG – one of the 'big four' accountancy firms – holds the record for the world's biggest ever fine for criminal tax fraud, a cool $456 million back in 2005. The other three – Deloitte, PricewaterhouseCoopers and Ernst & Young – are also represented on the estate.
And then there's the financial meltdown. Strolling back in time through a 2007 Canary Wharf would be like patrolling an identity parade of the crisis's culprits, featuring Lehman Brothers, Merrill Lynch and insurers AIG, along with the credit-ratings agencies paid to provide the smoke and mirrors.
Long before the crash, Canary Wharf had helped propel the Thatcher-inspired shift in Britain's economy towards speculative high finance. As a result, we are more vulnerable than ever to financial crises, while our politicians refuse to act for fear of displeasing their beloved cash cow.
Another major impact of a finance‑dominated economy for ordinary Brits has been the shocking rise in income inequality since the 1980s.
Nowhere in Europe is more emblematic of social inequality than the borough of Tower Hamlets, where Canary Wharf's totems to 'trickle-down' economics overlook an area with the capital's second-highest rate of homelessness and unemployment, and where four in ten children live in poverty. Government-imposed austerity – itself a response to the calamitous failings of the borough's millionaire bankers – has only exacerbated this reality. Local government cuts are now prompting Tower Hamlets council to sell off council housing to private developers. Meanwhile, the speculators in the towers overhead are already busy trying to engineer the next bubble.
Occupy London Tours offers free alternative tours of London that explore how executives in the City, Mayfair and Canary Wharf helped cause the crisis.
Take action at Canary Wharf on 14 June with They Owe Us