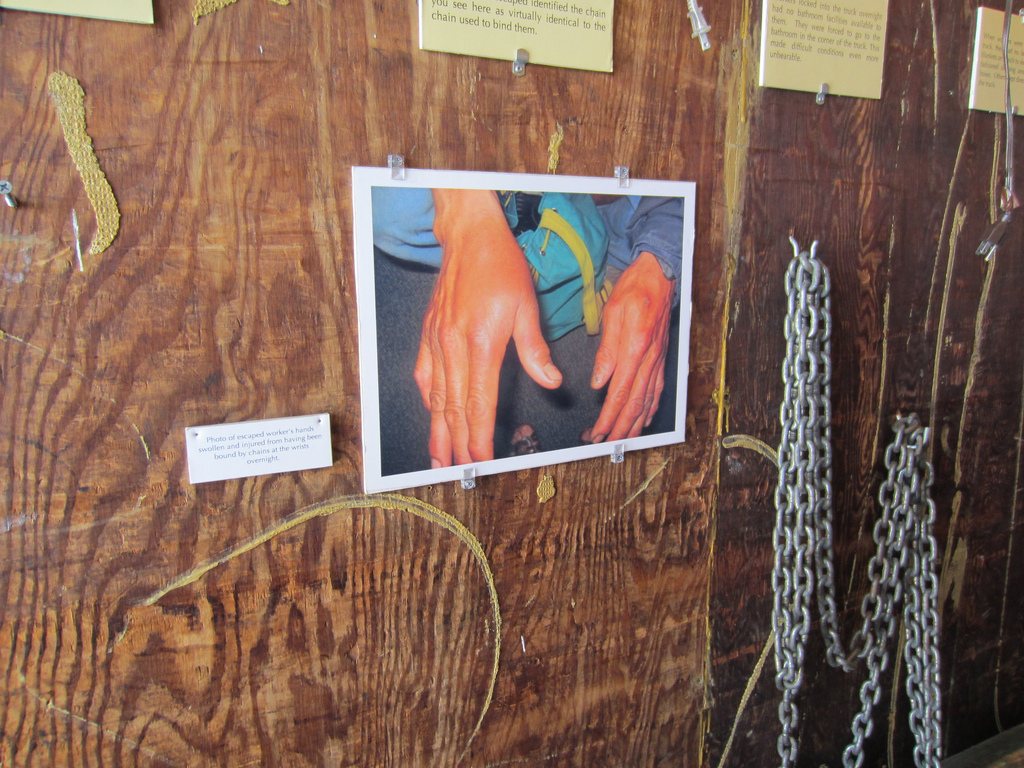 The Home Office estimates that there are currently around 13,000 slaves in the UK, though other sources suggest this is a a gross underestimate. And yet most of us remain oblivious to this reality of contemporary Britain.
DOMESTIC SLAVERY
All forms of slavery are by their very nature hidden, and difficult to spot and record accurately, but if one form of slavery is hardest to detect, it's domestic slavery. These slaves are hidden behind closed (and often locked) doors, away from the eyes of the public. They usually have their identity documents taken from them, and do not come into contact with anyone other than their abuser.
The charity Kalyaan cites the case of Rupa who was brought over from India. She was made to work around the clock without breaks, had to sleep on the floor next to the baby's cot, was not allowed out of the apartment, and was subjected to verbal abuse. She was paid just £26 a week. She had no idea where her passport was, nor what her immigration status was.
In one of the most shocking discoveries of domestic slavery, three women were freed after 30 years of servitude in a house in Lambeth, South London. One of the women contacted a charity after seeing a documentary on television, which then led to the rescue of the women.
The Salvation Army has reported a five-fold increase in the number of victims of domestic slavery that the charity has supported in the past six years.  However, it is widely believed that these figures are not representative of the true picture, as most victims are unable to seek the help they need.
SEX TRAFFICKING
Dorina is a 24-year-old victim of sex trafficking from Romania. Her mother died when she was very young, and she was left in the care of an alcoholic father. She left school aged 10, and started working different jobs, but she struggled. Then she met a man who promised that if she came to the UK she would have a job, somewhere to live and great prospects. He paid for her to travel to the UK, but when she arrived, she was forced to have sex with many different men in different places, and subjected to beatings, until two months later she managed to escape and seek help.
Dorina managed to escape after two months, but a 14-year old girl, Gracie, was kept in a brothel for a year before she managed to get away, and seek help from various agencies, including the NSPCC. She was brought over from Central Africa. She had already been enslaved into a brothel over there.
When she arrived in the UK, she, along with other girls, was locked up during the day, and expected to provide sex in the evenings. The first time she tried to run away, she failed, and was given a terrible beating in front of the other girls. She was told by her abuser that if she tried to escape again, he would kill her. She seized an opportunity, aged 15, and made her escape, but found herself in a country she didn't know and whose language she did not speak.
One of the most staggering figures connected to modern slavery in Britain is the proportion of children that are trafficked and kept as slaves. Official figures show that 1 in 4 slaves in the UK is a child. They are often deliberately targeted due to their vulnerability.  Aside from sexual exploitation, children can be trafficked in many different ways and for a multitude of reasons. They are sometimes employed in illegal activities, like working on cannabis farms, or used as domestic slaves. They may be used to commit benefit fraud, and have even been known to be victims of organ harvesting.
FORCED LABOUR
Although human trafficking and forced labour are not the same thing, they are often linked and can overlap, since the ultimate aim of the trafficking is to exploit the victim by way of forced labour. Again, the abuser uses the vulnerability of the victim to ensure that he can lure the victim for his own purposes.
As is often the case, the victim, upon being promised better work, pay and living conditions in Britain, often takes loans, sometimes from the abuser, to be able to come to the UK to start this new life, but when the victim arrives, the reality is very different.
The victim usually has his identity documents and most if not all of his pay taken from him. Slaves are seen to make good commercial sense to the abusers, because even though slavery is illegal, the relaxed regulatory structure means that the risks of detection and prosecution are low.  In addition, the enforcement of labour standards is also weak.  All of this allows the continued exploitation of the victims, and for the crimes to go largely unnoticed.
In one case, four Czech men were offered work in the UK. Their documents were taken from them upon arrival. They were forced to live in squalid conditions and hand over all their wages to the gang master. When one of the men questioned this, he was chained to a radiator, beaten and burned with cigarettes.
The Rooney case demonstrated how a family was able to enslave 18 vulnerable men for over 25 years. They were forced to work long hours tarmacking and paving driveways for little or no money, and had to live in dirty, inhumane conditions, whilst the family enjoyed a life of luxury. One of the men called Ben was from the UK. He was approached at a soup kitchen and offered work and somewhere to live. Ben was very isolated from his friends and family at the time, and had just lost his job. He was at a low ebb, and seeing no other opportunity he agreed to go. He was forced to work long hours, and had to endure violence and intimidation.
THE MODERN SLAVERY ACT 2015 – 2 YEARS ON
The Modern Slavery Act was groundbreaking. It has ensured that companies operating in the UK with a turnover of more than £36 million must publish an annual slavery and human trafficking statement outlining their approach to recognising and eliminating slavery in their business and supply chains. Yet statistics from the National Crime Agency suggest that trafficking into Britain has seen a 22% increase since 2012, not a reduction. There are a number of reasons for this.
Whilst some companies are going above and beyond the new legislative requirements, most companies are doing the bare minimum. Research has found that 37% of supply chain professionals in businesses required to publish a statement have not read the government guidance. Most don't think this problem is relevant to their business. They see the act as just another legal requirement, like a box ticking exercise.
OTHER FACTORS 
Policing. Whilst awareness of modern slavery amongst the police has risen, there are still incidents where people are turned away from the police station and not believed. Sometimes those forced into crime are treated as criminals. The police need more resources to tackle anti-slavery investigations.
Immigration Status. People from outside of the European Union are up to four times less likely to be recognised as victims of trafficking and are often ordered to be deported rather than protected. Visa rules also prevent overseas domestic workers from leaving abusive employers and seeking employment with new ones, so they continue to be abused.
Support for Victims. Whilst there are charities and voluntary organisations doing some amazing work, the protection and support of victims of slavery and trafficking is sporadic, particularly in the current climate of austerity. There is no system to provide long-term support for all victims and many have to move out of safe housing before they are ready.
Abda Khan is a novelist. She lives in the West Midlands and her forthcoming book, Razia, which will be published by Unbound, deals with the subject of modern day slavery.
This article was commissioned by the Black Journalism Fund.