Once again history is being made in Brighton and Hove. First the city elected the UK's first ever Green MP, then Greens took control of our first ever local authority and now we've called the first council tax referendum in modern times.
The referendum, which is set to take place on May 22, will give the voters of Brighton and Hove an important and difficult choice. Greens are asking people to consider a council tax rise of 4.7 per cent to protect vulnerable people in the city from Tory cuts. Residents will have the choice as to whether they support the tax rise.
The only option left
But this bit of history is being made reluctantly. Let's not pretend that a tax rise is ideal. Indeed the nature of council tax means that any rise will hit people on low incomes, though many of the poorest won't have to pay and the richest will pay the most. But, like it or hate it, a proposal to seek views on a possible increase in council tax was the only option left for Greens who refuse to take government cuts lying down.
For the last 10 years Brighton and Hove has seen some of the lowest levels of financial support from central government, under both Labour and coalition administrations.
But the cuts since the coalition has been in power have been larger than ever – indeed Brighton has seen the second highest levels of cuts of any unitary authority in the country. Now the council believes the time has come to give local people a choice as to whether to limit these vicious cuts.
It's striking that Brighton's Labour party, who are happy to campaign against cuts in theory, were quick to come out against the idea of seeking people's views on a measure to protect services. I had hoped they might at least consider a tax increase as an option in protecting our city from the vicious cuts passed down from Westminster.
It's also worth remembering that Greens did propose a council tax rise a few years ago, but Brighton Labour joined the Conservatives in rejecting it. Once again, they seem to have had no hesitation in forming a pro-cuts coalition with the Tories.
Preferable to cutting services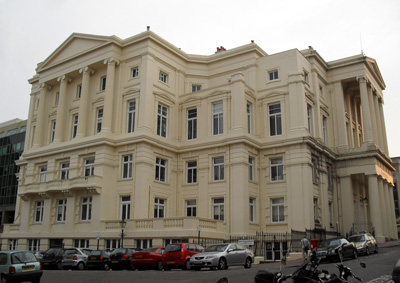 The fact that Brighton and Hove's administration is the first to propose such a tax rise is telling.
The Tories introduced legislation which forces councils to call a referendum for any rise over 2 per cent, and they're expected to lower this threshold to 1.5 per cent soon. But surely, as libraries close and social care creaks under ever increasing strain, other councils across the UK are going to have to consider this option. Council tax isn't the tax we'd raise if we were in government, but whilst Tories slash local authority budgets, surely Greens aren't the only ones to think that an average tax rise of £5.30 a month on a band C property might be preferable to cutting services for vulnerable people.
There's no doubt that this proposal from my fellow Greens is bold. The campaign against us from a united front of the local Conservative and Labour parties will be vicious. But the risk we're taking is minor in comparison to the potential harm that could be inflicted on the city's residents if we can't maintain the services they rely on.
Nobody likes paying tax, nor increasing it – but a reality is that these lifeline services cost money which the coalition government is refusing to grant the council. This announcement gives the people of Brighton and Hove a chance to decide for themselves whether a council tax rise is the best way to protect our city from vicious coalition cuts. I'll be doing all I can to support the council in their efforts to guard my home city against austerity.
Keith Taylor is the Member of the European Parliament for South East England was previously a councillor in Brighton and Hove for 11 years. He was the Greens' lead spokesperson for finance on Brighton and Hove City Council for several years.
What do you think? Email submissions@redpepper.org.uk