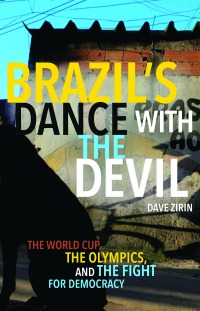 Dave Zirin's book Brazil's Dance with the Devil is required reading for anyone with an interest in Brazil, and especially those who want to understand the social, political and economic context of this year's football World Cup and the 2016 Olympic Games, both to be staged there.
Many sports writers confine themselves to writing about sport as if it exists in isolation. Zirin, sports editor of the US publication The Nation, presents the more rounded view. His thesis is that such large events as Olympics and World Cups have become Trojan horses for the propagation of neoliberal economics and the political views that go with it.
One of his key examples is the upgrade of the World Cup's centrepiece, the Maracana stadium in Rio de Janeiro, which in its heyday housed 200,000 fans. Its capacity has been reduced to 75,000, with the 'popular' areas of the stadium sacrificed to impress a wealthier global audience.
This, he argues, symbolises a 'new two-tiered Brazilian culture that excludes the masses'. Those in power have sold an image of the country's 'Brazilianness' at the expense of 'living, breathing Brazilians'. Brazil's 'very culture' finds itself treated as an 'export commodity'. As the author notes, today Brazil is the world's biggest exporter of sugar, coffee – and footballers.
The book tells a poignant tale of the state of Brazil's own football. The once free-flowing style that thrilled the world has given way to a more regimented form with the disappearance of public space in Brazil's major cities. Even on the beaches of Rio, where generations learned their skills in impromptu games and practice sessions, organised clubs have taken over.
In this World Cup, Brazil takes the field with a far more commoditised brand of player than in former times of glory. The creative brilliance of Pelé, Rivelino, Gérson and other members of the World Cup winning team of 1970 – the height of Brazil's sporting achievement – is unlikely to be repeated.
Zirin quotes Socrates, the leading Brazilian player and rebel against authority of the 1970s and 1980s, who died, aged only 57, in 2011. 'What needs to change here is the focus on development,' said the former star and one of the most popular figures in Brazil as preparations for this year's tournament gathered momentum. 'We need to prioritise the human being.'