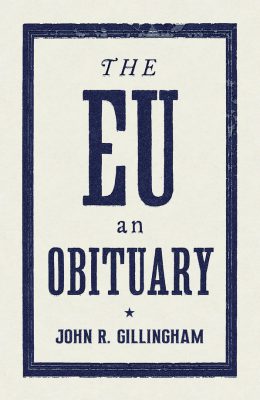 Not every book gets a thumbs-up from the founder of a political party. One that has is John Gillingham's polemical history, The EU: An Obituary. The back displays a surprising endorsement from 'Ian Sked' – actually Alan Sked, founder of UKIP. Sked has disowned the party, but still treasures 'happy memories' of working with Enoch Powell, a man he denies was racist.
Gillingham too can be soft on racism. He writes, for instance, that Dutch far-right leader Pim Fortuyn was 'not racist per se' but spoke for those whom 'an influx of foreigners had made feel like strangers in their own neighbourhoods'. And he suggests that after electing Nazi apologist Jörg Haider, Austria suffered 'impose[d] standards of political correctness'. Gillingham's preferred brand of extremism, however, is neoliberal. A wide-eyed techno-optimist, foe of 'statism' and cheerleader for market-driven 'creative destruction', he portrays familiar demons: bloated quangos and corrupt, incompetent Eurocrats. As such, he lauds many of the EU's worst features and impugns some of its best.
The worst bane is state intervention in trade, industrial policy or regulation. Reagan's brutal class war 'worked well', and we should 'give the City the autonomy it has long sought'. Plans to curb monopolies and protect data are 'a campaign of harassment' and 'demonisation' of American tech giants. Trade policies condemned by poor countries and development organisations are 'impressive achievements'. On TTIP, Gillingham is almost ecstatic: it's a 'game-changer' that might revive the EU. How? GDP could rise half a percentage point.
On climate change, the EU must axe 'costly regulation' and 'unrealistic targets'; jihadist attacks show there are 'more pressing problems'. Cutting carbon has been Europe's 'priority' – though the Emissions Trading Scheme (gutted by corporate lobbyists) doesn't work, and Russian gas deals are business-as-usual. Some 'priority'.
When the public reject his ideas, Gillingham insults their intelligence. Why did they oppose Frits Bolkestein's appalling services directive, which threatened wages and vital protections? Because people loathe Polish plumbers, and 'Bolkestein' sounds like 'Frankenstein'. Why did they mobilise against TTIP? Because campaigners spread scares about chlorinated chicken.
On austerity, technocracy, the democratic deficit and Europe's abandoned social model, Gillingham's scholarship is at least offering a window, albeit slanted, on EU history. But his blinkers and biases are inescapable, plaguing page after page. For guidance on the EU referendum, look elsewhere.