Why can't England be more like Spain? That was the thought I had throughout reading this fascinating, rambling but largely accessible conversation between political theorist Chantal Mouffe and leading Podemos member Íñigo Errejón.
It's true that Podemos – in coalition with the smaller left-wing grouping Izquierda Unida – has just disappointed its supporters by coming third in the Spanish national elections (see page 22). But its emergence as a potential party of government in only two years since its foundation is testament both to the richness of Spanish radical culture and the inventiveness of activists such as Errejón. As Mouffe and Errejón discuss in the book, Podemos is a central factor in why Spain – in contrast with Britain and most of Europe – has no sizeable far-right nationalist force.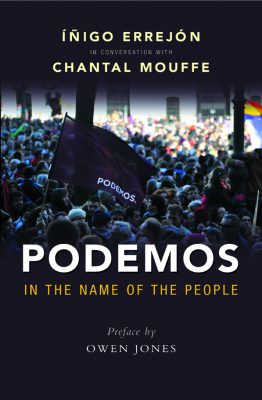 Indeed, it is striking how both Errejón and Mouffe are comfortable discussing national identity and patriotism. Errejón, for example, proudly refers to Podemos' stance on austerity as 'patriotic'. If English leftists feel themselves wince involuntarily at such discourse, this perhaps reveals an important difference between the political culture and strategy spearheaded by Podemos and that of the English left.
As Errejón explains, Podemos has made a conscious effort to transcend the concepts and language traditionally associated with left and right, speaking for instance of gente (people) against la casta (the establishment) and the need for 'national-popular unity'. The justification for this move is partly to do with the specific context of Spain, whose main socialist and conservative parties are both identified with elite corruption, but it is also a product of the political theory to which Podemos ascribes.
Errejón, like party leader Pablo Iglesias, is strongly influenced by the theories of 'populism' outlined by Chantal Mouffe and Ernesto Laclau, according to which political mobilisation can occur along a number of axes and should not be discussed purely in narrow class terms. Controversially, Errejón resists the label 'left-wing' altogether, and this provokes one of the book's more interesting passages of discussion between him and Mouffe, who disagrees.
Another revealing exchange is around the relationship between social movement mobilisation and party political strategy. Both Errejón and Mouffe make the point that the energies of protest politics need to engage with the mechanisms of state power, which must be reinvented and democratised. There are lessons to be learned here by grassroots activists here grappling with the question of Labour. In fact, this book is a valuable resource for activists generally – not least in how Errejón shows that practical and strategic nous can be married with intellectual rigour.