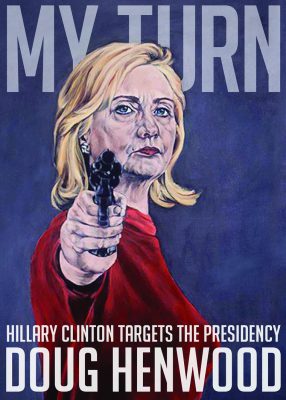 After eight more years of war, secrecy, increasing inequality and economic stagnation under President Obama, Doug Henwood's My Turn: Hillary Clinton Targets the Presidency turns a critical eye to the prospects for a Clinton administration.
To get people talking about the book, the publisher circulated the cover, bearing that image by artist Sarah Sole. 'We never imagined how successful that strategy would be,' Henwood notes ruefully. Hillary's defenders denounced Henwood for the perceived sexism, not so much of his critique (all but one of his accusers hadn't actually read it) but of Sole's painting.
'Hillary has been the target of all kinds of vicious sexist attacks during her decades in public life,' Henwood writes on the controversy stirred up by the cover. 'They're vile, and have no place in any political critique. I can't stop people from appropriating the cover or the book to some misogynist agenda, but I won't miss an opportunity to condemn those who do, because it's a distraction from the indictment of her long record that follows.'
Indeed, My Turn is a careful, nuanced history of Hillary Clinton's presidential ambitions. Henwood is clear: Secretary Clinton, as 'a highly intelligent and informed member of the political class', is not the problem, but 'a symptom of a deep sickness in the American political system'.
My Turn is a chronology, starting from Clinton's conservative background in suburban Illinois, through the tales of campaigning for Barry Goldwater in 1964, crossing a picket line on her first date with Bill, and the years in Arkansas, Washington DC and New York. All of it, as then Governor Bill Clinton agreed in 1992, 'The Journey' to the ultimate destination: eight years of Bill, eight years of Hill.
Henwood's charge sheet crackles with dark wit. (An epilogue collects some of Clinton's choicest quotes, which had me by turns chuckling and gasping.) My Turn is a catalogue of Clinton's rock-solid commitment to the interests of political, financial and corporate elites. It should disabuse any Hillary supporter of the idea that her presidency could be anything other than a further intensification of class war at home and ultra-violence abroad.
Henwood demonstrates throughout the emptiness of promises of change from the top. But he ends by acknowledging the jolt that Bernie Sanders has given to the 2016 Democratic race, and wonders whether the senator's 'revolution' might be an electoral form of Occupy.
We'll see. In the meantime, My Turn is the ideal gift for your Hillary-supporting friends.