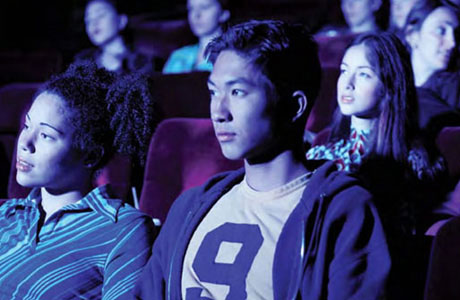 Prime Minister David Cameron recently declared that the UK film industry should support "more commercially successful pictures". His words outline the mandate, as he sees it, suggested in the UK Film Policy Review . Cameron's comments, which came prior to the 16 January publication of the Review, have sparked outrage among sections of the film industry.
Led by Lord Chris Smith, and backed by Downtown Abbey creator and Tory Peer Julian Fellows, the Review has been framed around the transatlantic success of the King's Speech. It argues that public money, via National Lottery funding, should be directed to film projects that will rival the commercial success of the "best international productions".
Cameron stated that, "our role, and that of the BFI, should be to support the sector in becoming even more dynamic and entrepreneurial, helping UK producers to make commercially successful pictures." Social realist film director Ken Loach publicly criticized Cameron's conclusions on BBC Breakfast, also prior to the publication of the review. Loach said: "We do not have, as in other countries in Europe, a wide spread of independent cinemas. Now, unless you can really see a wide variety of films you don't have a vibrant film industry and we get a very narrow menu."
In effect, Cameron wants the film industry to serve as the government's international relations agency, selling the rest of the world an ideal version of Britishness as seen in A King's Speech, An Education (2009) and the lamentably apolitical The Iron Lady (2011). His words have little to do with cultural entrepreneurialism, and everything to do with the politics of his own survival.
A narrow menu
The suggestion that the industry is afflicted with a poverty of commercial ambition is a narrow analysis of British cinema.  The films of Loach, Mike Leigh and more recently Shane Meadows and Andrea Arnold, represent a triumph of critical success over commerciality. It's this very diversity of British film that makes it successful. To declare that potential film projects in the UK should now be funded on the subtle premise of revenue forecasting goes against the very raison d'être of cinema.
Commercial viability can never be the axis around which an entire film industry can operate. Unless the industry can provide funding for low budget, or "risky" projects, which the burden of purely profit-making goals will stymie, young British filmmakers and screenwriters will be unable to develop their talents. It will also push the very best of our established filmmakers to look to Europe for funding, or be reduced to subverting their own work in order to survive under the new regime.
Film is a commodity that cannot exist in isolation from its paymasters. And there must be present a correlation between a film and an audience's willingness to pay for it. But what is at issue goes beyond the commercial viability of projects to be funded by the British Film Institute, and the example of the King's Speech speaks volumes about a possible wider agenda at play: it telegraphs a tranquil version of the British experience to America via a cultural discourse, at a time when British social life is anything but serene.
In this new era of film funding in Britain, heritage filmmaking will bloom, tended to by a government hanging on to its authority. The viewing public will be presented with an ideal, particular vision of national identity. Making Britain proud of its heritage will become a survival stratagem. Heritage films can and should have their place. But there must be equilibrium.
We need a holistic approach to cultivating a British film culture that fully represents and serves the society it draws its funding from. It must be a cinema that is commercially successful, but also one that expresses society and actively participates in it.
Silencing dissent
With the government actively encouraging a specific brand of film, it will became harder for emerging filmmakers, who cannot appeal for funding abroad, to go against the grain. Cameron's words will become the perfect mitigation for a film industry already weary of funding film projects with concrete social engagement. The few films of this period that may allude to social reality will be heavily depoliticised, lest they bring the nation into disrepute. Loach has every reason to be concerned. The potential sacrificial lambs of the review's policy recommendations are obvious.
The aspect of social criticism in films by Loach, Leigh, Meadows and Arnold certainly needs to be taken into consideration in an analysis of Cameron's comments. Loaches' characters are victims of their social circumstances, and his depiction of working class life provides an indication of what is transpiring politically, implicating the government through their policies as wilful allies of the status quo. But commercial success is rarely achieved by filmmakers wishing to adhere to political reality rather than popularism.
The 1980's was a decade marred by political disquiet and anxiety under the Tories, and this was articulated by a group of distinctively anti-Thatcherite films. And while the turmoil of this decade will spur filmmakers to indulge in politics, under the proposals in the review, the industry may no longer allow such transgressions.
sions.