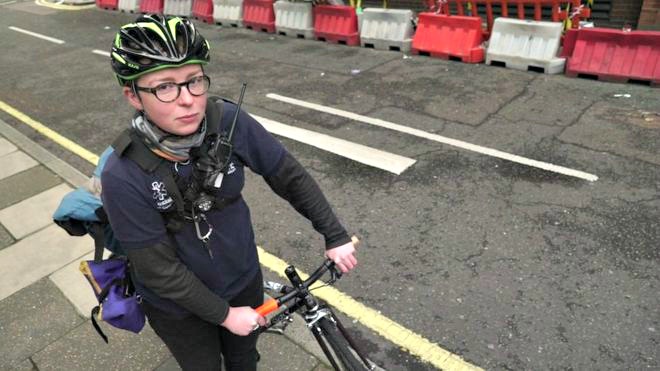 The couriers' branch of the Independent Workers' Union of Great Britain has taken a claim to employment tribunal, which, if successful [and since the time of writing, the case has been won, Ed.] could not only revolutionise employment for cycle couriers but has huge implications for everyone who wants a fairer jobs market. The claim is against four of London's largest courier businesses – CitySprint, eCourier, Addison Lee and Excel Group Services – challenging their classification of people who work for them as 'independent contractors'. Red Pepper spoke to CitySprint courier and chair of the IWGB couriers' branch Mags Dewhurst as she prepared for her tribunal.
We need to set a precedent in case law to show that we are being bogusly classified as independent contractors. 
We work for one company and we have one boss. I hope we can show that minimum wage legislation and the working time directive regulations should apply to us. That means things like having the right to the national minimum wage, paid annual leave and access to basic employment rights most people take for granted.
You have to bite the hand that feeds you if you're going to change things, because they're feeding themselves much more. We subsidise our employers completely. We provide the cost of the bike, maintenance, the labour, the parts, everything. The cost of my phone and data that I need to do my job all fall to me. The company says that proves I'm running my own business. I say, no: I'm fronting the operational costs of your business.
When you're presented with a series of bad options: that's not freedom. People say that we have a choice, but the freedom argument – which essentially boils down to the Tory idea that everyone is an individual and should be remunerated on their merits in a market‑based system of meritocracy, where the strong and intelligent are rewarded and the poor, stupid people fall – doesn't sound like freedom to me. That's just exploitation.
What they're doing with the 'gig economy' is archaic. Enthusiasm for the gig economy comes from people who have never done the job, so they don't understand what it means. Because businesses need to deliver a guaranteed service, it's rarely people dipping in and out; instead its long-term, casualised employment. The problem is that they're not paying people for the time when they are not productive when they are sick, or too old for work, or are slow and tired because they have been overworked.
Unless we do something about it I think it will become standard to have thousands of people controlled by an algorithm, monitored and controlled by a smartphone, with zero employment rights.
I get angry, and I get upset sometimes. 
You can take it very personally. But I know they don't care about me. This process is not to get our employers to care about us, because they never will. The point is to force them, legally, to have a duty of care towards us. To have some basic obligations to the people who actually do the work. When you receive automated emails saying things like 'we appreciate that you work really hard' it's like a kick in the teeth. These saccharine tech companies are run by people who used to work in PR. It might sound caring but on a day-to-day basis they don't give a shit. That's what drives people out.
What's happening in this part of the labour market will spread to other areas – it's a logical consequence of this kind of capitalism. I graduated at the time of the credit crunch and everything has changed since then. A lot of jobs went, and the jobs that replaced them were precarious. Unless we do something about it I think it will become standard to have thousands of people controlled by an algorithm, monitored and controlled by a smartphone, with zero employment rights.
People should have flexibility when they work, because they need it and they want it. The economy and our lives are 24/7. We should have flexibility, it's only bad if you strip everything else away, like pension rights and maternity leave. If companies really insist on only paying people when they're being productive, then they should at least let them accrue annual leave, sick leave and pensions.
I think the tide is turning, but it's far from won. I found the Uber ruling [that its drivers should be treated as employees, not self-employed] really uplifting because it was a ruling of common sense. It was great to see an independent judge not just bat away Uber's PR bullshit but to completely rip it apart. It's not a final victory, it's a temporary hiatus, but it has bought us some time we can use to build momentum.
Follow the couriers' case at 
iwgbclb.wordpress.com