(Photo copyright Krasnyi Collectif)
However you interpret them, the European elections have challenged the mainstream's business-as-usual way of doing politics in Brussels. But while many commentators ignore progress on the left, focusing exclusively on the rise of the far right, another left-wing force was making its voice heard the week before people cast their votes. Not through the ballot box, but on the streets, in protest against the neoliberal austerity policies being forced on Europe's population from above. In Madrid, Rome, Paris, Berlin, Athens and elsewhere, including here in Brussels.
Under the banner of 'May of Solidarity' and with the collective aim of creating 'solidarity beyond borders' and 'building democracy from below', movements, groups and collectives brought together their diverse struggles against the many faces of European crisis politics: supporting janitors at the Greek ministry of finance fight against their Troika-imposed 'suspension'; direct actions against banks repossessing homes in Spain; mass-demonstrations in Italy for public water, commons, social rights and democracy; a day of resistance and alternatives in Paris; Europe-wide actions against Apple and their transnational exploitation. In Brussels the focus was on the other side of the same austerity coin: the EU-US free trade deal, or TTIP.
Brussels open for Business
On 15 May in the Belgian capital more than a thousand people came into the streets with a specific purpose: surround the European Business Summit. Organised by BusinessEurope, Brussels' biggest corporate lobby group, it amounts to a lobbying jamboree for political leaders and corporate executives to, in their own words, 'shape the future' of Europe.
The action was organised by the D19-20 Alliance, a citizens platform of farmers, trade unions, NGOs, activists and individuals against austerity and free-trade. Joining them were groups and movements from across Europe. The intention on the day was to shut down the Business Summit; to stop our futures being decided by middle-aged men in suits who equated increasing corporate profits with wide-spread European prosperity.
High on the agenda was TTIP, or given its full name the Transatlantic Trade and Investment Partnership. Karel De Gucht, the EU Commissioner for Trade leading the negotiations on this side of the Atlantic, was on a panel alongside US Ambassador Anthony Gardner. But TTIP wasn't going to be confined to a single debate within the summit. Its overt neoliberal agenda of privatisation of public services, deregulation and the transfer of power from the state to corporations make it relevant to all big business players, and all the more dangerous for citizens. Not just in the EU, not even the US, but globally, as negotiators intend TTIP to be a blueprint for 21st Century trade deals. What gets agreed within this deal will be applied everywhere.
However, listening to citizens' concerns was not on the agenda – either inside the summit or out. During their panel discussion, De Gucht and Gardener even went as far as accusing civil society groups of spreading lies about TTIP over social media – a point picked up and refuted by Green MEPs, who have also been labelled liars for opposing the treaty. The reaction to citizens outside the summit was an attack of the more physical nature.
(Photo copyright Krasnyi Collectif)
Big Business as Boss?
Outside the European Business Summit citizens soon realised that it was big business that made the rules, not people. Before even reaching the summit, more than 300 of those who had gathered peacefully to voice their opposition were first kettled and then arbitrarily and often violently arrested by the Brussels police force. Among them were senior trade unionists, European and Belgian parliamentarians and candidates, heads of NGOs, teachers, nurses and citizens of all ages from all walks of life.
But despite the arrests, the campaign against TTIP in Belgium (broader than the Brussels-centric EU institutions) is growing. If anything, the repressive and over-the-top police repression and the media coverage that it brought have only served to shine an even stronger light on the issues of the dangerous and highly-secret TTIP negotiations. To keep the pressure mounting and momentum growing, D19-20 is working with human rights lawyers to collect and submit complaints against the police actions; demand an investigation to find out who was responsible for such actions (the Mayor or chief of police?); publicly proclaim – through a widely-signed open letter in the francophone and flemish press – that Brussels is a city that belongs to its inhabitants, who have the right to make their voices heard, not multinationals and European leaders, who want it to be exclusively a place to "promote their so-called European democracy in peace".
As well as launching a complaint procedure, D19-20 is demanding the Mayor of Brussels, Yvan Mayeur, to turn the city into a 'TTIP-free' zone. Not an answer in itself but part of a larger process: while TTIP remains quite a distant acronym to many, the more it can be popularised and forced into the main stream media, turned into accessible narratives through images, simple stories and actions, the more power will be transferred to the streets and the more pressure brought on those in ivory towers and the Brussels police forces that ensure their vision of the city is upheld.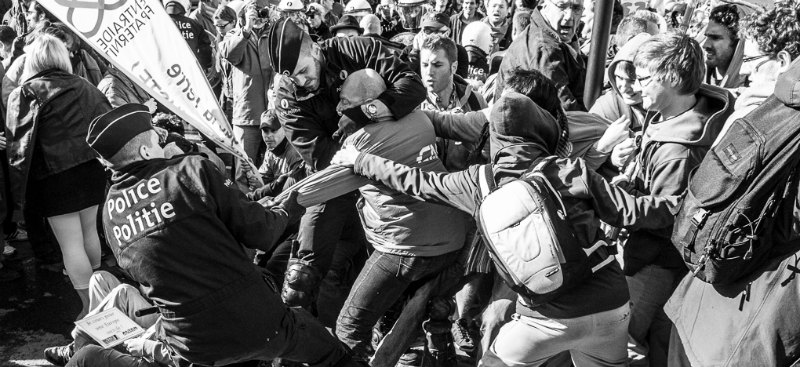 (Photo copyright Krasnyi Collectif)
Bursting the Brussels Bubble
What is happening in Brussels, while small in scale compared to mobilisations in Spain, Greece or Germany, must also be considered in a political and geographical context. The central role of the unelected European Commission in enforcing structural adjustments across its members, as well as leading free trade negotiations, makes Brussels an important site of struggle in the fight against neoliberal austerity policies. But its remoteness from the European public has traditionally been a huge problem.
Therefore mobilisations like 15th May are of great importance. A trans-European movement whose political targets include Brussels requires a strong local presence. This is no easy feat, given the political, cultural and linguistic divides that exist in Belgium and its capital, as well as the obvious problem of holding to account yet another layer of political institutions, when everywhere else we struggle to control those at the national-level.
Yet despite this, Brussels is increasingly seeing a convergence of social forces on issues which transcend national horizons, such as austerity and free-trade policies, which themselves can cover everything from agriculture to labour to banking regulations. National campaigning in Belgium has taken on a European dimension, and it's allowing for a far richer gathering of groups and movements.
The upsurge in popular protest around European issues in Brussels (see also, for example, the 2,500+ demonstration upon Marine Le Pen's arrival after the EU elections) is also a wake-up call to policy makers, previously insulated in their glass/ivory towers surrounded by corporate lobbyists, able to act in the interest of big business without fearing retribution. Business as usual is being challenged. It's easy for Commission President Barroso and his team to ignore protests in Greece, Spain or Portugal, but not on their doorstep. The politically-motivated police reaction to the TTIP protestors shows just how unwilling they are to have popular dissent in the heart of their European project. but as the national relevance of what once appeared 'European' issues becomes more publicly known – through the impact of local cuts or from direct campaigning at national level – pressure will only grow.
Bridging the battles
But the aim in Brussels is not just to stop TTIP. The EU-US trade deal is itself a vehicle for a bigger fight, a way of exposing the neoliberal agenda being championed across Europe by political and business leaders. TTIP – and all free-trade deals – can be seen as 'Austerity+', turbo-charged versions that displace the previous TINA ('there is no alternative') excuse that we're making cuts and privatisations because the state is broke/has spent all its money bailing out the reckless financial sector. Instead, the same policies championed under austerity – privatising public services, deregulating markets, dismantling labour security, lowering environmental and safety standards – are being heralded as a jobs and growth miracle; policies that when embodied within a transatlantic single market, will revive our ailing economies, despite the Commission's own evidence on TTIP showing negligible benefits. The TTIP-austerity link is also clear when one looks at who is behind both policies, besides the EU and member states: big business. The employers' federation and mouth piece of Europe's corporate interests, BusinessEurope, has welcomed the Commission's austerity-driven structural reforms as well as being an important cheerleader for TTIP, which it sees as a vehicle for deregulation.
Making the TTIP-austerity link – in public campaigning and among allies – can strengthen the wider movement, forge new alliances, and facilitate a more fundamental, economy-wide challenge to the current neoliberal system. Not all groups share the same political goal of stopping the TTIP and may approach the debate from differing angles (some may focus on the lack of transparency of negotiations, others on the impacts of a single sector e.g. privatisation of public services), but greater cooperation and shared actions and experiences at the grassroots and the organisational level can move groups towards a more radical and systemic position. At their heart, the fights against TTIP and austerity are about real democracy – or lack of – and corporate impunity. Therefore fighting – and defeating – TTIP can be a stepping stone towards defeating austerity and the neoliberal agenda.
The May of Solidarity made the link explicitly. Many members of the Blockupy Europe coordinating committee from France, Italy, Germany and the Netherlands were present in Brussels to denounce TTIP; and then, despite many being arrested, they returned home to take part in their own local decentralised activities against the privatisation of the commons, biocide, austerity and the troika, increasingly precarious labour conditions or deportations of migrants. All results of the neoliberal response to the crisis, accelerating the transfer of power from public to corporate hands, to be exacerbated further if TTIP succeeds.
Looking beyond individual issues and struggles is always challenging, as is creating a common, shared narrative, but the European elections and the upsurge in support for the far right show that it is more necessary than ever. A strong, credible, left-wing alternative needs to be created by linking grass roots struggles and reaching out to new European electoral forces like Podemos in Spain. But while the significance of the elections on Europe's future is still to be deciphered, unlikely partners are joining forces. Be it farmers, trade unionists and radical activists in Belgium, as part of the D19-20 Alliance; or the myriad of groups that have collectively created and carried out the May of Solidarity. The cliché that together we are stronger exists for a reason and hopefully we can collectively muster the strength required for the challenge.
Join the next important mobilisations against TTIP :
– 12 July: UK Day of Action against TTIP
– October: International Day of Action against TTIP (tbc)
– December (tbc): Day of action in Brussels against the 7th Round of TTIP negotiations
Pascoe Sabido is a researcher and campaigner for the Corporate Europe Observatory http://corporateeurope.org