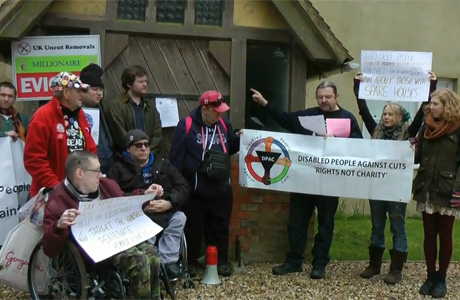 The activists outside Iain Duncan Smith's front door
Last weekend I joined Disabled People Against Cuts and UK Uncut in handing in an 'eviction notice' to Iain Duncan Smith at his £2 million Tudor mansion in Buckinghamshire in protest against the bedroom tax, which will disproportionally affect disabled people.
Around 30 of us descended on the unsuspecting sleepy village of Swanbourne, where Duncan Smith enjoys the luxury of a Grade II listed, 16th-century mansion he enjoys for free through virtue of marrying into a multimillionaire aristocratic family.
After parking up a fleet of accessible minibuses and cars at the pub just across the road – which, incidentally, is part of the estate, along with the post office, private school, many of the houses in the village and 1,300 acres of prime farmland – our not-exactly-inconspicuous band of activists brandishing banners and placards (many in wheelchairs), journalists, photographers and fluorescent-jacketed legal observers trundled over the road to pay IDS a little visit.
Luxury vs fairness
After the eviction notice was slapped onto to the rather beautiful huge wooden front door, the sun came out and we got the party started. We had a lovely picnic on his front drive, danced to reggae, frolicked on his lawn, enjoyed a walk around the extensive grounds complete with tennis court, swimming pool, lake, beautiful gardens and even a flock of sheep. Even the bemused local police who showed up couldn't resist having a nosy around.
Looking at all this luxury that Iain Duncan Smith enjoys, and thinking of the suffering he is causing to thousands of the most vulnerable people in our society by slashing much-needed support and charging them ridiculous taxes for having so-called spare bedrooms (when he and his parliamentary friends have spare mansions) I can't help but think that perhaps this is all a little unfair. Thankfully IDS has something to say about that. I am comforted to hear that the benefit changes are in fact about 'fairness'. I've clearly got it all wrong.
'It's about fairness to those who pay vast sums of money in taxation to see that people living in subsidised accommodation who often don't use the bedrooms they've got, while others live in overcrowded accommodation,' he told ITV News recently. 'They can't get the accommodation they need. This is a nonsense problem that was created by the last government who didn't build enough housing and didn't manage the housing stock properly.'
You're right, Iain. People do pay vast sums of taxation. Well, some do. Rich people and corporations can, of course choose, to opt out. The teeny £25 billion that is lost from our economy each year due to tax evasion might just go some way to help us out of this recession. Every penny counts, after all. I must admit, it was admirably generous that on the same day the bedroom tax was brought in the 50p tax rate was abolished, giving 13,000 millionaires a £100,000 tax break each. Will that include you then, with your £1m fortune?  That's enough to pay for six and a half 'ha-ha' walls (I had a lovely walk along yours by the way).
You also make a fair point about many people on housing benefit not using their spare bedrooms. I'm sure many don't. Oh, apart from the two thirds of the 600,000* households affected by the bedroom tax that include a disabled person. These 'spare' rooms are often used to store equipment like hoists and medical supplies that won't fit anywhere else, or for carers to stay. Many disabled people are cared for by their partners who may need another bed to sleep in as their disability means they suffer from spasms or similar episodes during the night. But that's not that important, and they can after all just move to another smaller property nearby quite easily. (Can't they?) There is the slight problem though of the 100,000 living in properties adapted for their needs, at an average cost of £6,000. But I'm sure we can find a fair way to finance adaptations to their new homes. What was that tax evasion figure again?
A few suggestions
You quite rightly point out that people living in subsidised accommodation can't get the accommodation they need. Are you referring to the lack of small homes in the social housing sector? Maybe you were thinking of Hull, where the bedroom tax will hit 4,700 families with a spare room, but where there are only 73 small properties free.
Most new-build one and two bedroom flats are under the control of private developers and landlords, so those not able to pay the bedroom tax will be forced into private sector – but with far higher rents for smaller properties in the private sector, won't that cost the government more? I suppose the books will be balanced by the fact that less than 50 per cent of private landlords won't accept tenants on housing benefit. But I wonder where all those 80,000 people who are estimated to be made homeless as they fall behind in payments will go? Hopefully they'll just disappear and stop costing us money.
You're also right to highlight the housing problem we have. There isn't enough affordable housing, and it isn't managed properly. There are currently two million people on housing waiting lists. Private developers sit on enough land for half a million homes, waiting for prices to rise. We agree on a lot, Iain.
I agree that we need to use housing more efficiently. I'm an environmentalist by tradition and under-occupied houses don't make much sense from that perspective. But I must admit that I question whether adopting a national 'one size fits all' approach to tackle overcrowding is going to work; for this policy is also targeting parts of the country least affected by it – which could potentially cost the taxpayer more money if the people told to downsize actually did. Furthermore, capping housing benefit equally everywhere, regardless of widely differing rents, means driving the poor and the unlucky into no-hope ghettos without jobs or school places, as Polly Toynbee eloquently put it. But in the interests of fairness, which we all agree is a fine thing, maybe some of those billions of pounds of avoided and evaded tax could be used to help pay the bill?
Here's an idea. How about building more energy efficient, affordable social housing that meets the needs of society, with its changing demographics – which may mean smaller properties for those that don't need so many rooms. Wouldn't that mean more jobs too? For every 100,000 new homes, GDP rises by 1 per cent – and that is the most important thing after all.
Anyway, I'm sure you don't need suggestions from me. I'm no expert. I'll let you into a little secret – I'm not the biggest fan of your friend George Osborne. You might even go as far as to say I'm a critic. And he says that we critics of his are 'out of touch' with ordinary people whose taxes pay for the benefits system. Well I'm an ordinary taxpayer who pays for the benefits system, so I'm probably so out of touch with myself that I don't know my arse from my elbow. But for what it's worth, I'd quite like those millionaires and corporations to cough up once in a while. You seem to have it all figured out anyway.
Different understanding
So I really must thank you, Iain. For a lovely day out in the countryside, for hosting our picnic, and for righting my clearly distorted, out of touch views on fairness. Your understanding of the word is clearly far superior to mine.
Just to make sure I had my muddled thinking cleared up sufficiently, I looked up the word in the dictionary: free from bias, dishonesty, or injustice; reasonable and morally right; if a situation is fair, everyone is treated equally and in a reasonable way. Hang on a minute. Free from bias and dishonesty? Weren't you recently accused of misrepresenting government figures in an attempt to make your cap on benefits policy appear like it was successfully driving people to find work? Reasonable and morally right, equal treatment for all? Heavily penalising the most vulnerable members of society for a crisis they didn't cause while the richest enjoy tax breaks, freedom from any mansion tax and openly tolerated tax avoidance and evasion doesn't sound reasonable, moral or equal to me.
It seems we have a very different understanding of the word after all. But hey, that's OK. Because at the end of the day we're all in it together. Apart from when we're not.
* This is a government estimate, however Lord Bassam's survey of south-eastern councils suggests the national figure will be more than 900,000 households.
Kara Moses tweets at @Kara_L_Moses. www.karamoses.com