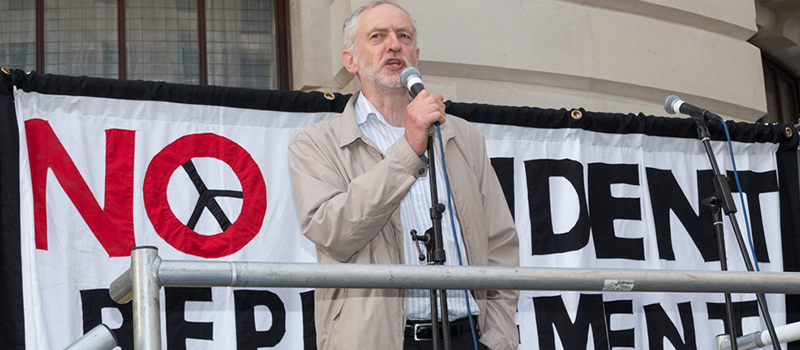 'I am strongly saying, ring-fence that £100billion that would have been spent on Trident, to invest in high technology manufacturing industry jobs, to invest in an Arms Conversion Agency, and a National Investment Bank, so that we don't lose those brilliant skills of those people, instead they are making something less dangerous to the world and more socially useful.'
– Jeremy Corbyn, Coventry rally, 2 August, 2015
Whatever the result of the Labour leadership elections, Jeremy Corbyn's campaign has succeeded in bringing important policy possibilities into common view. Not least among these is his position on arms conversion: a single shift on defence, foreign and industrial relations which could also resolve a long-standing internal tension on the left.
Like many of the ideas put forward by the campaign, arms conversion is not entirely new—just the logical conclusion of certain principles which have long been sidelined in favour of other interests. When critics describe this as a summer of madness, it is good to remind them of that long-running context.
A policy with a past also has a future
Seymour Melman, author of The Permanent War Economy and Pentagon Capitalism and the symbolic father of arms conversion defined it as:
'The formulation, planning and execution of the organisational, technical, occupational and economic changes required to turn factories, laboratories, training institutions, bases and other facilities from military to civilian use.'
Defence cuts, with a corresponding transfer of resources to more socially desirable ends, have been the policy of the Labour left and large sections of the trade union movement for many years. However this has always confronted workers in the arms industry with a dilemma. When weapons cancellations have been made—as with the Blue Streak missile in 1972, or TSR-2 aircraft in 1965—workers and representatives have had to argue against unions' own national policies and in favour of retaining weapons projects to preserve jobs.
In the absence of concrete proposals for alternative work from policymakers, governments, national unions and academics, arms workers have continually been presented with a false choice: weapons production or the dole. The real choice should have been between weapons production and socially useful products to meet society's unmet needs. Workers will only accept or even campaign for defence cuts, if they know that guaranteed alternative employment exists. This is why Jeremy Corbyn's proposals for arms conversion have been central to gaining their support, or at least neutrality, so far.
Corbyn does not stand alone. The measures reflect a broad consensus on conversion arising out of the mid-1970s, when a huge amount of work was undertaken on the idea in the UK and internationally. It produced detailed proposals for a National Arms Conversion Unit in the UK and a federal Defence Economic Adjustment Act to establish a similar body in the United States.
In 1974, Lucas Aerospace workers rejected the false choice between armaments and unemployment. Their multi-union Combine shop stewards' committee drew up a conversion plan which proposed to save those jobs threatened by Labour's proposed defence cuts. Workers' skills and facilities would be converted to production of social benefit: wind turbines, hybrid car engines, cheap heating systems and medical products such as kidney machines. The Combine's corporate plan—A contingency strategy as a positive alternative to recession and redundancies—rapidly gained widespread support and became an international cause célèbre.
Such developments were adopted as the policy of the Labour Party, major trade unions and many interested organisations. Labour's Programme for Britain at the 1976 conference stated: 'This sort of conversion should be seen as an implicit component of the Government's industrial strategy … Defence conversion should be seen as a special case in an overall industrial strategy.'
Later, the Labour party national executive put forward Defence: Conversion and Costs. Endorsed by conference, it committed Labour to 'establish a national agency for industrial conversion and recovery under the Secretary of State for Industry.'
Tony Benn presents a plan for nationalisation of the aircraft industry to the cabinet
Arms around the world
The Combine committee's plan and responses to it demonstrated for the first time that workers were perfectly capable of the alternative planning necessary to conversion. The Engineer magazine referred to it as 'a twentieth century version of the industrial revolution.' As federal and state legislation was being developed in the US to support conversion initiatives, the Combine's model aroused great interest. Lucas workers made several speaking tours of the US, and the cultural exchange gave representatives trans-Atlantic insight into proposed laws and their supporters.
On the back of the anti-Vietnam movement, an alliance of peace groups, churches, trade unions and others recognised that international negotiations on weapons reduction were constantly being thwarted by the jobs issue—the lack of alternative proposals for work. The federal legislation they proposed would give workers, management and communities the rights and resources to develop Lucas Combine-style plans to remove the jobs issue from defence budget debates.
A pamphlet circulated by American arms conversion campaigners in the 1970s
For example: the Defence Economic Adjustment (DEA) Act, sponsored by former Democratic presidential nominee George McGovern in 1977, proposed to establish in the executive office of the President a DEA Council. This would consist of one third each unions, non-defence business and cabinet members. This would encourage state and local governments and others agencies to prepare concrete plans for non-military projects.
The DEA Act would also have established an alternative use committee at every military facility consisting of management, labour and members of the community. Together they would draw up conversion plans and finding would be provided.
Additionally, workers converting from arms production would have been provided with a salary and benefits for up to two years by a federal Workers' Economic Adjustment Reserve fund—financed by a 1.25 per cent levy on defence contracts.
Individual states responded in various ways. Pennsylvania considered the establishment of a State Economic Adjustment Board. Massachusetts passed an act to establish an Economic Diversification Corporation. Minnesota passed an Economic Renewal Act which established a State Economic Conversion Task Force. These initiatives encompassed the wider economy as well as the arms industries, hence the term economic conversion.
Given the politics of the period, neither this proposal nor several variants of it were ever passed at federal level. But they do provide a carefully crafted model worthy of consideration today for a UK Arms Conversion Agency. Had such ambitious legislation existed in Britain at the time of the Lucas Aerospace dispute, it would have been of great value to the workers. The detail of the US proposals was well received in the UK just as the concept of a statutory basis for conversion was being aired. In 1983, the Transport and General Workers' Union—now part of Unite—called for a statutory National Industrial Conversion committee, detailing its brief. In 1987, Sheffield City Council held a local authority conversion conference addressed by the chairman of the Minnesota Task Force. The conference produced detailed proposals for a local authority-based National Conversion Unit building on the Nuclear Free Zones conversion policy.
The TGWU's plan for conversion, laid out in 1983
If we are to move forward to establish an Arms Conversion Agency, we don't have to start from a blank sheet. There is much to do, but much has been done already, an existing mass experience and information on the subject. What is most glaringly obvious to those engaged in the struggle though, is this: conversion is primarily a political, not technical, issue.
A laser-guided approach
Seymour Melman believed that arms conversion entailed economic or industrial conversion, processes applied to the economy as a whole with the objective of replacing old industries with new. This goes hand in hand with political transformation.
Writing about the process of conversion at the shuttering Charleston Naval Shipyard in South Carolina, which became the largest commercial base on the east coast in 1996, labour scholar Lance Compa observed:
'The importance of economic conversion as a rallying movement for trade unionists and peace activists lies in the political conversion it implies: the transformation of workers and their communities from passive, mute victims of employer decisions to active, shaping creators of new purposes for their skills and resources …
'The movement for economic conversion also has a basic educational thrust, pushing unions and their members to see the connections between high military spending and long term damage to the economy and to the labour movement. Only government has … the leverage to compel companies to accept conversion plans. The job of the conversion movement … is to mount a political struggle that will advance government action on conversion.'
Arms conversion can therefore be viewed as a cutting-edge policy for new economic development.
Though the two are inseparable, we need to be clear—tactically at least—whether a campaign centres on arms or economics: what would define a new conversion agency's mission? After all, we have many polluting, energy intensive and wasteful industries and activities that need radical attention in the face of climate change.
Appearing more visionary as the years pass and windows for action close, the Combine's plan placed great emphasis on converting to energy saving and efficient products. Even in the 1970s, politicians and planners knew this would be crucial. But when push came to shove, despite the fine words and policy commitments, these people melted away even faster than the vanishing Arctic ice. At times since, even their neutrality would have been an asset.
Perhaps the ultimate lesson of the Combine's campaign lies in the deep divide between those who say they want to reverse the destructive momentum of the present economy and those committed to trying to do so. Ignore that difference at your peril.
Phil Asquith was chairman of the Lucas Aerospace joint shop stewards' committee, Burnley; and an active member of the Combine committee.