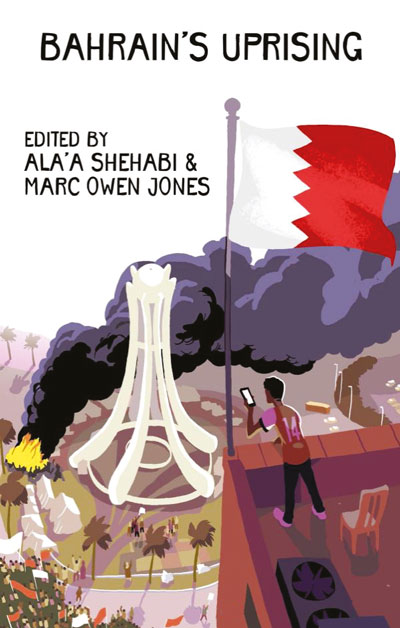 Repressive regimes offer lucrative business opportunities for others. After UK-made tanks carrying Saudi and UAE troops entered Bahrain to crush the protests in March 2011, RUSI, the British security think tank, helpfully advised that 'Suppressing dissent is not something most countries have problems with; it is doing so in an acceptable manner that poses the challenge and that is where the UK's efforts in Bahrain can help.'
Bahrain's Uprising draws together a powerful collection of interviews, speeches, short stories and more academic writings in the hope that 'many of the "lost" moments from Bahrain's uprising can at least live on in some form'.
The edited volume is divided into three parts. The first three chapters use the forms of storytelling and narration, starting with the potent speech given by a secular activist before the Supreme Court of Appeal after he was imprisoned, assaulted and sentenced to five years in prison in what he termed 'a trial against ideas'.
The second part charts the evolution of dissent and new forms of activism. Chapter 5 by Amal Khalaf explores the battle over space between protesters and the government. The regime stopped at nothing to reclaim the central 'Pearl Roundabout' from protesters. Once the site had been physically demolished, images were erased from public view, with the currency note bearing with its image taken out of circulation. The roundabout that bore witness to the Bahraini uprising had itself become an enemy of the state.
The final section charts the broader history of repression in Bahrain. Marc Owen Jones' chapter on social media and spying outlines how online spaces also posed a threat to the regime. Brutal crackdowns in villages and the destruction of mosques and protest sites were accompanied by online censorship, propaganda and surveillance of social media and websites – a reminder of the dystopian possibilities of the internet.
As the UK government prepares to celebrate the bicentenary of relations with Bahrain in 2016, this book is an essential read for anyone who wants to understand how a regime that has tortured, brutalised and killed its own people can be regarded as a close ally 'and above all, a good friend' of the UK.