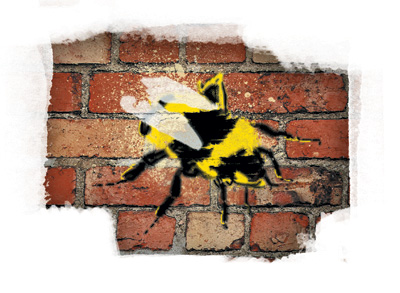 Bees pollinate much of our food, from apples to almonds, as well as flowers in gardens and parks. They play a fundamental role in supporting biodiversity, pollinating the plants and hedges that birds and other wildlife need for food and shelter. There are more than 250 species of bee in the UK, but since 1990 we've lost 20 species of wild bee, with 35 more at risk.
In December 2013, a Europe-wide ban on the use of three insecticides implicated in damaging the health of bees came into effect. The EC introduced the ban on the basis of a thorough review of the evidence by European scientists. It could greatly benefit Europe's declining populations of bees and other insect pollinators essential for our food and economy. But now the big chemical companies Bayer and Syngenta are suing the European Commission (EC) in an attempt to overturn the ban, which applies to neonicotinoid pesticides they manufacture.
What's killing our bees?
Everyone agrees that bees and other pollinators are in trouble. A large part of the problem is the loss of their habitat and food sources. For example, 97 per cent of UK grassland has gone in the past 60 years. And there is widespread agreement among scientists that pesticides have contributed to their decline.
Neonicotinoids are the main chemicals blamed in many scientific papers. As bee expert Professor Dave Goulson explains: 'Neonicotinoids, or neonics, are powerful neurotoxins, killing insects with minute doses and impairing their behaviour at much lower doses still. This is desirable when the insect is a pest, not so good when it is a useful bee.' In January 2013, the European Food Standards Agency (EFSA) concluded that three neonicotinoid pesticides (clothianidin, imidacloprid and thiamethoxam) pose an 'unacceptable risk' to bees, after conducting a review of their safety.
The effects of neonics on human health are not well-studied. However, a new EFSA study recently raised concerns about risks they may pose to the development of babies in the womb, warning that current guidance levels for acceptable exposure to acetamiprid and imidacloprid 'may not be protective enough to safeguard against developmental neurotoxicity and should be reduced'.
Yet Bayer and Syngenta are challenging the ban, arguing that 'various parasites and diseases are the true cause of poor bee health', rather than their products.
Protecting profits
The EC's ban on neonics shows that it can be a positive force in protecting the environment over the interests of corporate profit. But the Transatlantic Trade and Investment Partnership trade deal currently being negotiated could grant sweeping powers to businesses to halt EC actions that conflict with their interests, or to renegotiate existing regulations. It would green-light more challenges by chemical companies to overrule environmental protection rules – based not on evidence or even process, but simply because the decision affects their bottom line.
There are major concerns about the dangers this deal poses to citizens and the environment. 'It's unbelievable that the EU and US are discussing plans to allow companies to sue governments if they see their profits affected by a democratically agreed decision,' says Magda Stoczkiewicz, director of Friends of the Earth Europe. 'It's no exaggeration to say this is a direct attack on democracy.'
The National Farmers Union (NFU) is backing the legal challenge, citing patchy evidence and concerns a ban will harm its members' ability to farm productively and sustainably. The NFU claims 'this sustainable approach depends in part on the availability of a diverse range of pesticides'. Yet using highly toxic chemicals does little to protect the natural resources farming needs to be sustainable, such as healthy water, soils – and pollinating insects.
Not all farmers agree with the NFU. A Lincolnshire farmer told Friends of the Earth he's confident he can continue growing oilseed rape without neonics at little additional cost. As pests develop resistance, the effectiveness of neonics will decline, so new approaches would be needed anyway, he explained.
In the absence of government-funded independent advice, farmers rely heavily on 'advisors' linked to the same companies that sell pesticides and chemical fertilisers. And the government is doing very little to develop and promote practical and effective bee‑friendly solutions for farmers, such as new varieties of conventional crops resistant to pests and diseases.
After pressure from campaigners, the government was set to publish a draft national pollinator strategy in early 2014. But this will only be effective if it tackles all causes of bee decline, including the use of harmful pesticides.
Sandra Bell is Friends of the Earth's bees campaigner