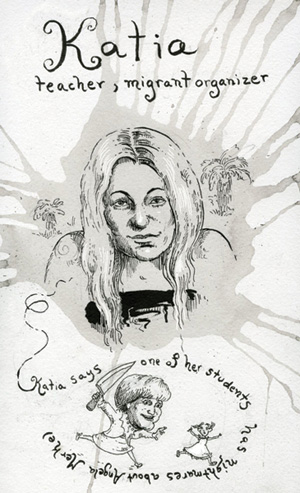 Hot off the press – well, if it had been printed – comes this sharply recorded reportage from Athens. It's only available as an ebook, which is why we can read it sooner after it was written. So if you didn't feel equipped to head over to Greece but want a flavour of the action fresh from the scene, here's your opportunity. And if you've been following news from the mainstream media, here's the under‑story you knew you were missing.
Discordia is a witty, fast-paced whip round Athens, summer 2012, wonderfully visualised by Molly Crabapple with striking, dreamy illustrations (as you can see here), and superbly narrated by Laurie Penny with her crisp, incisive delivery. Having taken as inspiration Hunter S Thompson and Ralph Steadman's 1970s writer-illustrator collaboration, Penny and Crabapple follow the established form with interviews at parties in the dawn hours and insights into their friendship, while at the same time turning it on its head to comment on the reception of their work as women, and the requisite additional 'swagger' they find they need to get the job done.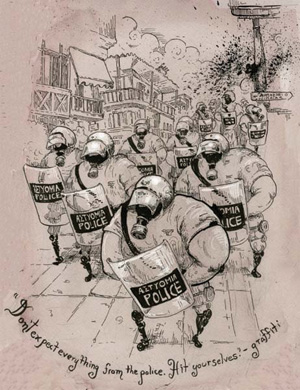 The playing out of the past four years of Greek struggle is told in part through deaths. In 2008, the police murder of 15-year-old Alexis Grigoropoulos sparked the initial uprisings. In April this year, 77-year-old Dmitris Christoulas's suicide tells of the shift from visceral anger to total despair. He shot himself in one of the most central Athens public spaces, Syntagma Square, leaving this note: 'The government has annihilated all traces for my survival, which was based on a very dignified pension that I alone paid for with no help from the state . . . I believe that young people with no future will one day take up arms and hang the traitors of this country at Syntagma Square, just like the Italians did to Mussolini in 1945.'
The ebook permits an appealing brightness to the images that would be costly in print, and the writing manages to combine all the freshness of blogging with the space for narrative threads that a book allows. From anti-racism demonstrations, to the empty offices of the national left newspaper, to nihilistic parties, Discordia makes connections to the Occupy movement, the Arab uprisings and the English riots of 2011. It warns of the rise of neo-fascism amidst withdrawal of almost any social provision. Smart, sweaty, and humorous, this is a trip to Athens well worth making – and you can get there fast online.
The two illustrations on this page are by Molly Crabapple and are taken from the book.