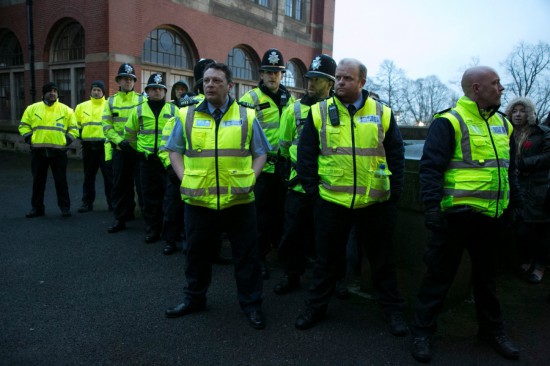 On January 29, students from across the country gathered at the University of Birmingham to discuss the future of the student movement and develop a set of shared demands opposing the privatisation of education and calling for improved pay and conditions for university workers. Following the meeting students held a demonstration on campus and proceeded to occupy the Great Hall. The occupation was broken up by security and the West Midlands Police. Students were then kettled for up to four hours and denied access to shelter, food, water and toilets. Thirteen students were eventually arrested, with one student being hospitalised. In the following account, Deborah Hermanns, a student at the University of Birmingham, describes her experience of being arrested and released without charge and the University's decision to suspend her and four other students. Deborah's account provides an unsettling insight into the increasingly hostile environment encountered by those undertaking political activity at universities in the UK.
'Arrested, suspended, then banned from elections: my student experience'
'On Wednesday January 29 I made a decision which has defined my short-term, if not long-term, future. It was a decision that I made after being kettled in the pouring rain by police for three hours. The decision I made was not to give the police my name. Maybe it was naive, maybe it was stupid, and it was probably mostly stubborn, but I did so for one simple reason: I felt I had been treated unjustly, along with all of the other kettled protesters. I knew of my right not to give the police my name as a condition to be released from a kettle, and of my right to not be arrested for it. I knew that I had done nothing wrong. I had not committed criminal damage or assault and so I had nothing to fear. Having experienced similar situations in London, but in the position of an observer, I expected to be brought to the police station, to be interviewed immediately and to be released in a few hours without charges. But that is not what happened.
Instead, I was released without charges, but only after spending 28 horrible hours in a cell—not counting the 4 hours between my actual arrest and my arrival in my temporary home. I was released to find my bail conditions essentially banning me from doing anything—from going on campus, from seeing my friends, from going to any parties or sport matches, from even sleeping in a house that is not my own. I was released to find myself temporarily suspended from my University—meaning that instead of finishing my degree in a few months I might have to spend another year as a student. And I was released to find myself banned from the elections of my own union, leaving me with no opportunity to run for the position of Vice President Education, something which I had been looking forward to, had been preparing for, and into which I had invested considerable time.
The University's reaction to the events of January 29 and the subsequent suspensions have to be seen in the wider context of harassment by University bosses against protesters. They constantly single out students who do not fit their agenda, put them through disciplinary procedures, threaten them with expulsion and generally try to intimidate them as much as possible.
As sad as it is, the University does not care about the welfare of these students, nor does it care about me or any of the other suspended students. What it cares about is its image. Instead of letting an ambulance onto campus, instead of stopping the unlawful activities of the police, University management actively encouraged those activities through collaboration with the police and statements and emails sent to staff and students.
The suspension of "only" five of the four hundred protesters shows that they are simply playing a game of odds. With no evidence whatsoever from either the police or the court—again, the only "crime" the five of us committed was to not give our name—the University decided that it was us five who destroyed poor old Joe (the clock tower) and consequently suspended us. It just looks better politically to blame five students rather than 50, doesn't it?
Furthermore, it has been shown time and time again that the University does not come down as hard on students who are accused of breaking the same university regulations when it is not in political opposition to the University. For example, students are regularly thrown out of Fab & Fresh (Birmingham Guild of Students' venue) for harassing security or sometimes worse. They then face disciplinaries and if proven guilty and worst comes to worst might be banned from going to Fab for two weeks as punishment. I, on the other hand, despite not even having been proven guilty of a single offence or having given any opportunity to defend myself, have not only been banned from going to Fab, but also any other single event, academic or non-academic, taking place on campus.
Those who have suspended us claim simply to be following the rules, yet it is obvious to a casual observer that they are using these rules in an highly unusual and excessive way. An immediate suspension, prior to any conviction, is premature, highly problematic and in this case possibly unlawful. My lawyers are currently preparing to take legal action and sue the University. However, this process could take months. Months, which neither my degree nor my candidacy in the VPE election have time to wait for.
Therefore, the Guild must finally step up now and recognise the clear political nature of the actions of the University and allow an election accessible to all candidates, including myself. As our Vice President Democracy and Resources stated yesterday, that could take different forms. If the Guild does not defend the most basic principles of union autonomy and democracy then there is serious risk of it and the University becoming an environment within which the expression of divergent and sometimes critical views are dealt with punitively. This is important not only internally, to current students and staff, but also in terms of the Guild´s external image.
Looking back on the last 2 weeks, I can say that they have been by far some of the most stressful of my life and if it had not been for the support of my fellow Defend Education activists and friends, I probably would have not been able to cope with the situation. However, being treated like a criminal by my own University for simply opening my mouth, quite loudly, has only reassured my wish to stand for the position of Vice President Education.
Our University does not care for my or your welfare, but your Student Union, the Guild of Students, should. It should be an autonomous institution which stands up to the University and consistently opposes its damaging plans. One step which will bring us closer to such a Union is delaying these elections until the suspensions are overturned. You do not have to agree with the protest that took place, you do not have to like my politics. This, however, is simply a matter of democracy, fair elections, right and wrong, of justice and injustice. Over the last two weeks the five of us have experienced injustice by the University and the Police, now it is time for students to change that. Come to the weekly Wednesday demonstrations. The next one is at 1pm by the clock tower this Wednesday'.
On February 10 a number of prominent activists, academics and politicians, including Noam Chomsky and Ken Loach,  signed an open letter condemning the actions of the University of Birmingham as being 'at odds with freedom of speech'. The letter goes on to 'condemn these suspensions in the strongest terms' and calls for the 'immediate reinstatement of the students affected'. Defend Education Birmingham has been holding frequent meetings and demonstrations demanding the reinstatement of the five suspended students. For regular updates see @DefendEdBrum