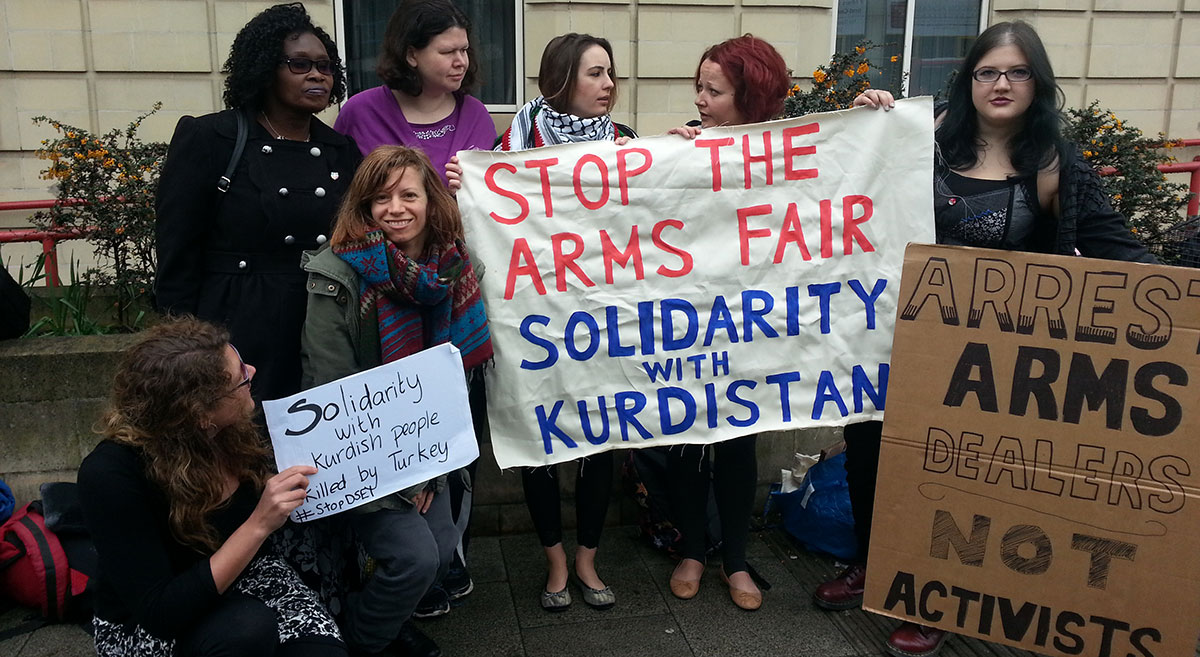 Hundreds of protesters flocked to the Excel Centre in London to try to block the DSEI arms fair – one of the largest weapons fairs in the world – last year. Earlier this month, eight of us were put on trial for attempting to obstruct the roads leading to the fair. On 15 April, the judge found all of us not guilty, as we were trying to prevent crimes from happening at the arms fair.
Of course, we were ecstatic with the result, but we feel that we should never have been on trial in the first place. At the beginning of the case, it was eight activists who were on trial, but by the end of the week, we had succeeded in bringing the corrupt activities of the arms trade to public attention. It felt as though we had successfully put Turkey, Saudi Arabia, Bahrain, DSEI and the UK government on trial.
We came from all over the world to oppose DSEI. One defendant, Javier, grew up in Chile under the military junta led by General Pinochet. 'I lived under a dictatorship for nearly ten years. I remember curfews and a general sense of fear of the police and the military due to the regime's horrific repression,' Javier told the court. 'The father of my school classmate was murdered by the secret police when I was six years old.' At the age of eighteen, Javier was part of the first group of people who publicly declared themselves as conscientious objectors to military service.
Another defendant, Isa, is from Bahrain and was forced to flee the country after being imprisoned and tortured for his participation in the 2011 revolution. During the uprising, thousands of Bahrainis protested and were crushed with force, with violent intervention from Saudi Arabia. Isa told the court that he was arrested three times in 2013, and that police held a gun to his head. He was taken to the police station and stripped and beaten until he became unconscious. The police tied his hands behind his back and beat him to try to force him to give false confessions, and they threatened to cut off his penis. Bahrain has purchased £45 million of UK weapons since the 2011 uprising, indicating that UK arms are being used against the Bahraini people.
One defendant highlighted the ongoing mass killings of Kurdish people by Turkey. Having visited Kurdistan recently, she explained to the judge about the violent curfews that have been imposed on Kurdish cities. Tanks and rockets have been firing shells and mortars into the cities, while snipers have been gunning people down on the street, including children. Instead of banning Turkey from the arms fair, the UK government welcomed the war criminals with open arms.
Other defendants stated that they were particularly concerned with the sales of arms to countries such as Saudi Arabia, Pakistan and Israel, and explained that they were compelled to act because illegal weapons, such as torture equipment, have been found at previous DSEI events.
Expert witnesses
While giving evidence, defendant Tom Franklin stated that: 'In every single previous arms fair, illegal activity has been found to be happening. We have evidence of that.'
Among our expert witnesses was Oliver Sprague from Amnesty International, who talked about the illegal weapons that have been sold at every DSEI arms fair. He also highlighted the 'legal' weapons that are used illegally. In his report, Oliver also gave evidence of arms being used in the Yemen war:
'[The Yemen] conflict has cost at least 3,000 civilian lives, 2.5 million people displaced and 82% of the population – some 21.2 million people – currently require some form on humanitarian assistance. Importantly, official delegations from countries directly involved in military action in Yemen were in receipt of official UK government invitations to the event, including Saudi Arabia, the United Arab Emirates, Egypt, Kuwait, Bahrain, Morocco and Jordan.'
Sprague told the court that Saudi Arabia is the largest recipient of UK arms. From July to September 2015, the UK government granted export licenses for £1.2 billion for bombs of the type being used in Yemen by Saudi Arabia.
Kat Hobbs of CAAT (Campaign Against the Arms Trade) gave the court an overview of Clarion Events, which organises DSEI. Hobbs said: '61 countries were formally invited to DSEI 2015 by the government, and many more were invited by Clarion, who advertised the fair as the "place to do business". Of those 61 countries, 14 are classified as being authoritarian and six are at war, including Saudi Arabia and Turkey.'
Next steps

Since winning our case, there has been much media coverage questioning of the legality of the arms fair. However, we want to stress that we are opposed to all weapons that are being produced for corporate profit, and we are against all wars where these weapons are used for imperialist gains and domination.
The Parliamentary Committee on Arms Export Controls has responded to the trial by promising to look at the legality of DSEI and how it fits in with the Arms Trade Treaty. This usually results in a lot of rhetoric and cosmetic changes, but the arms sales to human rights abusers will continue – not least because 'legal' arms can be used for war crimes, but also because regardless of who they are sold to, there is every chance that they will fall into different hands down the line. We have seen a decade of faux hand-wringing and promises to do better every time that wrongdoing at DSEI has been highlighted, but nothing changes.
The problem is the whole arms trade, which makes its billions in profit from murder. As Andrew Feinstein writes in his book The Shadow World: 'The arms trade operates on collusion between world leaders, intelligence operatives, corporations at the cutting edge of technological development, financiers and bankers, transporters, shady middlemen, money launderers and common criminals.'

We are certain that whatever steps officials may say that they are taking to regulate the arms fair, there can never be an arms trade that is legitimate. So until DSEI is shut down, we will be back in force to try to prevent it from taking place. We came from the UK, Bahrain, Belgium, Chile and Peru to oppose DSEI. The arms trade takes place on a global scale, and so our resistance has no borders.
Take action: Visit the CAAT website to pledge to shut down the arms fair when it next takes place in 2017. Thanks to all the defendants for contributing to this article.