Read the first and second instalment of #AndABlackWomanAtThat.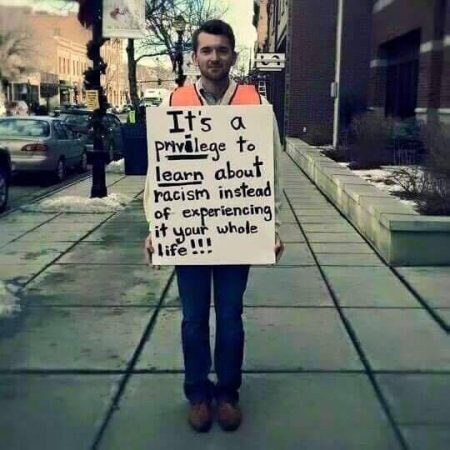 'There's no black in the union jack!' the stranger screamed, so close to my face I could feel his breath. Aged sixteen, this middle-aged white man towered over me. But the profound feeling of smallness that washed over me wasn't about height; it was about being told here in Bangor, in the town I'd grown up in, that I had no place. That and the silence that followed.
I was out with a group of friends and this man had just emerged from the crowd to shout in my face. I looked around, waiting for a reaction that wasn't coming. I knew then I was on my own and the responsibility of calling this grown man out was solely on me. We can't always shoulder the weight of that responsibility. Sometimes it's not safe or we're cut too deep to speak. Not today, I thought, although it wasn't until he laid his hands on me that I pushed him away. Only then did my friends have anything to say. They pulled me away and told me I needed to calm down.
On holiday some years later I was sat around a table with a group of friends and overheard the white guy behind me say '…Where I'm from, we call each other nigger all the time and it's fine, it's not racist.' I clocked his accent and realised we were both from the same area. I flashed back to all the times growing up in Bangor when my friends called me by that word and I pretended it was fine whilst my insides churned. Anger flared. But then I remembered being told to calm down whenever I'd find the courage to stand up for myself, reclaim some of the power and dignity being stripped from me or defend my personal space. I glanced around me, it didn't seem safe to speak, so I just listened, said nothing and got angry with myself.
Sometimes, that's all you can do, because reacting and engaging can be triggering, dangerous, damaging and just too exhausting all on your own. But looking back at it now, I refuse to be angry with myself anymore for not speaking out every single time I'm confronted with discrimination. But I am hurt by the people who sat around him nodding because it was easier to ignore than to engage. For us, the pain of confronting racial hatred is so much greater and we don't get to ignore it, not a day in our lives. If you are a true ally or a true friend, then neither should you.
That said, there's a balance to strike. This is not a green light to go out feeling like you have to be the fighting force for your BME mates and comrades. Sometimes we won't need you to speak for us. Sometimes we'll want to speak for ourselves. Being my ally is not the same as being a 'white knight' and you don't have to get it perfectly right from the start to be a good ally. It's a learning process that takes time; maybe a lifetime. But what allyship does require is that you are committed to that process, even – if not especially – when it's awkward or painful.
Issues of power and privilege are hard to grasp and fully understand. There is a lot of contradicting information about how to be a good ally. There is no 10 Step Guide. But here's a few from me to get you started.
1) Admit you don't 'get it' – and ask
Different people will have different answers, in different situations. Being an ally is about knowing how to support the individuals in your life; when to step in and when to step back. And when you're not sure, having the humility to ask.
If you don't feel close and comfortable enough with the person to directly raise the issue face-to-face, take the effort to look elsewhere. There are white spaces, social media groups and online magazines where people write about and discuss this stuff, (such as Gal-dem, Everyday Feminism and Media Diversified) taking the sole responsibility from those from marginalised communities to educate people on their pain. Your single black friend is not the spokesperson for the whole community and if we really want to progress and build stronger movements, communities, families and friendship groups then white allies need to be as committed have to be in confronting racism whenever and wherever it rears its head.
2)  Educate yourself
Even if you have close friends who you feel comfortable asking questions of, that doesn't mean it's fair to expect them to do all the work for you. To quote Mia Mckenzie, the 'people who experience racism, misogyny, ableism, queerphobia, transphobia, classism etc. are exhausted.' And always having to teach or show our pain, even when that means putting ourselves in dangerous or damaging situations, is the most exhausting part. And if anything, it can be particularly painful in close relationships. Teaching about power and privilege cannot continue like this.
The biggest change we need to see is white people stepping up to the plate to self-educate by reading the writings and listening to the voices of BME thinkers instead of leaving all the burden on those you meet and work with. By looking solely at the individual and not the systems that enforce oppression we are doomed to repeat old patterns. And sooner or later, however much strength and patience we can muster – it's too heavy a weight to carry alone. And we shouldn't have to.
3) Speak Up
This is the most important rule, and it's about more than trying to be quieter than the quietest BME person in a given conversation. Being an ally isn't about shutting up and leaving us to our own liberation. We need more from you than that. For the sake of all the black and brown people hurt and traumatised by clumsy attempts to tackle power and privilege without due care, the current method used in activist circles needs to change. We need pro-active, collective work towards making safe spaces empowering spaces. Want to be equals at the top, not the bottom; in resistance, not in silence. So if there's an imbalance in your group in terms of who's speaking, putting forward ideas and getting access to resources – name it as a problem and act on it, because recognition without action changes nothing.
4) Show respect
It's one thing to say that the exploited and oppressed can teach about the system we live in and have a central role in transforming it. It's another to live those values. Living them means listening actively and respectfully when testimony is being shared: without interrogating, dismissing or just planning our next intervention.
Discussing and dealing with power and privilege isn't a favour we're asking for, when we enter rooms where these painful discussions have to be had; it is a gift we give to others, to empower the movement and make society a freer and fairer place for everyone. Whenever someone shares their story, it is powerful but it is also difficult. And it deserves more than a silent audience; it merits respect and gratitude.
'Political projects of transformation necessarily involve a fundamental reconstitution of ourselves as well. However, for this process to work, individual transformation must occur concurrently with social and political transformation. That is, the undoing of privilege occurs not by individuals confessing their privileges or trying to think themselves into a new subject position, but through the creation of collective structures that dismantle the systems that enable these privileges.' – [Andrea Smith]