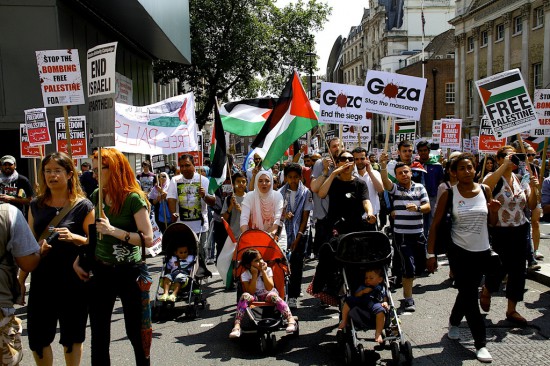 I was one of the tens of thousands that took to the streets of London last Saturday's to protest against Israel's latest military onslaught of Gaza. People had travelled from all around the country to get to the demonstration in London. As the Palestinian death toll continues to rise after almost two weeks of Israeli bombardment of the Gaza strip, it was a visceral and overwhelming show of solidarity for the people of Gaza – surely, British values at their best.
As huge crowds of people gathered at Downing Street there was anger at David Cameron's diplomatic and military support for the Israeli government, with people chanting "shame on you", and calling for the British government to condemn the Israel military assault. I spoke with Azimah, who had spent six hours on a coach travelling down from Preston to join the demonstration; "I really wanted to be here, especially [the demonstration] at Downing Street. It's devastating what's happening and we need to raise awareness and demand an end to the ongoing violence and siege of Gaza".
It's a 3 mile walk from Downing Street to the Israeli embassy, quite a distance in a crowd of some 50,000 people and with the sun shining down on us, but amongst the anger and outrage there was a determined sense of action. Amongst the cheers of "free free Palestine", there were chants of "there's only one course of action; boycott, divestment, sanctions", with many passersby clapping and cheering their support. Some people held up the names of the many children killed by the Israeli army, and there was spontaneous booing as we marched past shops and businesses with links to Israel.
At the demonstration I spoke with Ellie from London Palestine Action, a group of activists in London campaigning against Israeli apartheid, who just the day before had occupied the cabinet office to demand an arms embargo on Israel. "Between 2008 and 2012 the UK granted £180 million worth of arms export licenses to Israel", she tells me. "British companies like BAE systems get government support to sell arms to Israel, and they are using that to massacre civilians."
Recent UK military exports to Israel include components for F16 fighter jets, assault rifles, armoured vehicles and ammunition. 31 different UK companies export arms to Israel. 64 public figures, including seven Nobel Peace Prize winners, have now called for an arms embargo on Israel.
Outside the Israeli embassy, speakers lined up to share their message with the crowds. George Galloway took to the stage (with just a few heckles) and spoke of the double standards of the front page media reporting of the killing of civilians of the MH17 plane over Ukraine and asked "Why is the blood in Ukraine so much more noteworthy than the blood in Gaza?". Tariq Ali called for the campaign for boycott, divestment and sanctions against Israeli to continue; "The BDS campaign is the only way we can help, consistently and in the longterm to isolate this state and make its people see that what they are doing is unacceptable to the world. We did it to South Africa. Lets do it to Israel."
Amidst loud cheers from the crowd, Leah Levane from Jews for Justice for Palestinians said; "From Deir Yassin, and Shatila and Sabra, from Operation Cast Lead, Pillars of Defence and the appalling travesty of the Prawer plan – destroying and moving out the Bedouin in Israel – and the 27,000 house demolitions and now [Operation] Brothers Keeper and [Operation] Protective Edge. It goes on and on, and on. In response to this litany of outrages and as a voice for our Jewish organisation and many throughout the world… who categorically disassociates themselves from the Israeli government and the Israeli armed forces and the Israeli settlers. From the depths of our being, we proclaim in sorrow, in anger, loud and clear; Israel you do not speak for us, we come from a different tradition. We come from the tradition that recognises that centuries of anti-semitism means we must stand with the oppressed, not become the oppressor. Not in our name."
As the horrific onslaught of Gaza continues, and the Palestinian death toll today nears 600, Saturday's protest was a humbling and uplifting show of solidarity. It might be hard to feel any sense of hope, but demonstrations like this and around the world show that the Israeli government is becoming more isolated, if not yet by other governments, but by people around the world.
For a list of 6 simple actions you can take to support Palestinians see here.