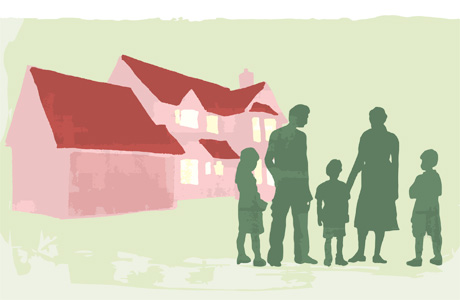 The current crisis of capitalism and the state has triggered one of the many moral panics about our benefits system that have recurred in UK history since the first national Poor Law was enacted in 1601. As always this panic includes hand-wringing about women whose lifestyles and behaviour threaten the domestic and public order and undermine economic progress.
What is distinctive about this panic, however, is that it involves a dim recognition that the whole tax-benefits system is malfunctioning and that 'disorderly' women might be a symptom of a far deeper set of issues about individual autonomy, the family, work, social cohesion and national prosperity. The idea of the proposed 'universal credit', which will replace a large number of means-tested benefits with a single one (which is strictly neither universal nor a credit), was hatched just before the crisis by the Conservative think-tank, the Centre for Social Justice, for reasons that had nothing to do with austerity and cuts.
Our benefits system owes its existence to the recognition by the government of Elizabeth I that some groups in society were not receiving an income sufficient for subsistence, either through property holdings, employment and the family or through charity and the church. But the government then, and ever since, could not resist the temptation to combine provision of income to the groups it identified as needy with administrative and moral discipline for those it saw as threats to the social order.
The authorities set up to give income support to the poor of each parish were also empowered to set up workhouses for the 'idle sturdy beggars' who disfigured the towns and cities, to whip or conscript into the military the 'footloose vagabonds' who roamed the countryside, and to confine and discipline the 'whores and harlots' who defied their husbands' authority and shamed public morals. Today's version of this policy is called the Work Programme.
Outdated benefits
Two things have changed since 1601, and they have made the situation much more complicated without improving it for those directly affected. First, the state found that, during a period of falling real wages and high public spending because of wars, it could not rely on property taxes to supply sufficient revenue, so it introduced an income tax in 1799. Originally just falling on the rich, its scope has gradually spread down the income scale, so that now even many of those receiving benefits are also paying tax on anything they earn.
Second, successive governments since 1908 have introduced benefits that are not linked to poverty itself, and that do not involve coercive conditions and loss of autonomy. The first of these was retirement pensions, and in 1948 a whole range of benefits for unemployment, sickness and long-term disability were based on National Insurance contributions, and not means tested.
Two features of the latter scheme made its effects less significant for women than for men. First, all the assumptions built into the rules on contributions and eligibility treated them as 'dependants' of their husbands if they were married and regarded their primary role as being in the home. Second, the rates of benefits were very low compared with other affluent countries, so the scheme left a growing proportion of people still dependent on means-tested provision, with all its stigma and complexity, while making the calculation of their need and entitlement far more difficult for them and the authorities.
The only new system that was unequivocally advantageous for all women was child benefit, originally called family allowance and pioneered by Eleanor Rathbone in the 1920s. Eventually this gave all women with children an unconditional sum, which was in their control, did not involve pleasing men (either partners or officials) and did not affect their eligibility for other benefits.
These advantages of child benefit are still unique; in the whole benefits system, it is the only one that unequivocally increases women's autonomy. If child benefit was doubled, far more women would be able to choose the hours they worked, to leave abusive relationships and to avoid participation in meaningless government 'training' programmes. Better still, if all women received their whole benefits entitlement, or their income tax allowance, as a weekly cash payment like child benefit, then the demands of women's movements would have been significantly advanced.
But best of all would be if men too were paid their benefits entitlements and income tax allowances in this form. It would mean that they were no longer required to seek full-time employment, and would be free to negotiate a shared responsibility for child care and domestic work, to participate in community work (which has always been done mainly by women) – and to refuse unpaid roles in Poundland under the Work Programme.
A citizen's income
Such an idea sounds unfeasible, but this is exactly how it already is in Alaska and in Iran, in parts of Namibia and Brazil, and will soon be in Mongolia. It is called a 'citizen's income' or 'basic income', people like Tom Paine and Bertrand Russell have been advocating it since the 1790s, and perhaps its time has come.
The current crisis has brought about a questioning of the viability of the tax-benefits system that goes well beyond 'affordability'. The universal credit reform is not primarily an austerity measure, but a half-baked attempt to address the perennial issues of disincentives to work, saving and domestic stability that were built into the 1601 law and have resurfaced in every recession and fiscal crisis ever since.
But as an opportunity the crisis goes deeper than this. Since the share of GNP going to capital has risen to around 50 per cent, and median earnings have failed to rise for decades, it is time to recognise that the future of income security cannot lie in the old Labourist principle. The idea of 'full employment' no longer makes sense when so many work part-time or are self-employed. We need the security of a citizen's income to facilitate creativity and flexibility, not policies that try to put us back in that box.
Women never did get such a good deal from Labourism. This may be a once-in-a-lifetime opportunity for women to campaign for a citizen's income, and for feminists to make alliances with other movements for its implementation. There were campaigns in the Great Depression of the 1930s, and many intellectuals then favoured it over Beveridge's social insurance scheme. That has had a 70-year trial and, like every other reform of the tax-benefit system since 1601, it has failed to meet the challenges of economic and social development. It is time to try something new.