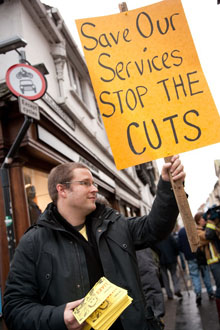 Across Britain, local groups are organising. False Economy lists an impressive 100-plus anti-cuts campaigns – everything from three people painting a banner to groups with hundreds of members. The anti-cuts movement has not only reinvigorated local campaigning, but also raised important questions – crucially, asking how campaigns can involve people who are angry and want to take action but are not used to political or trade union organising.
Oxford Save Our Services (SOS) is one among the plethora of local anti-cuts campaigns. We join them on a freezing day in central Oxford as a group of residents including pensioners, students, and benefit recipients take turns to talk into a megaphone. All are dressed in high-vis jackets; they call themselves the 'Uninvisible People'.
A man with long dark hair steps up. He's just come from a training course to get off benefits and into work, which he describes as 'pointless, patronising and useless'. A mum with her daughter tells the crowd that 'this government hates single mothers' and describes how she struggled to put herself through university as a single parent and 'now can't get a job'. Students and sixth formers stand up to give their messages of support and solidarity.
None of these speakers are seasoned activists – some were just passing by – but they speak passionately to the modest crowd. The first slot on the local BBC News features one of the protesters, a man named Jacques. A father of a profoundly disabled girl, he describes how service cuts mean his daughter is to be evicted, against her will, from her care home. Jacques calls this 'a throwing away of 30 years of progress in disabled rights'. He had received elementary media training from another Oxford SOS activist the night before. Earlier, on the breakfast show, he'd told the government to tax corporate dodgers, not the disabled. The news then switches to the response given by the Conservative Oxfordshire County Council chief, Keith Mitchell, who tells the disabled protesters to 'get real … get off your soap box and come and start making the Big Society happen'. But those whose lives will be harmed by the cuts would rather fight for the services they're entitled to than volunteer to fill the gaps left by the state's failures.
On the streets
During the past few months, town centres have seen a myriad of anti-cuts actions. In Bristol, the Anti Cuts Alliance joined with other groups in the south west to mobilise more than 3,000 people for its rally. Stalls and petitioning have become a regular feature of Saturday high streets as groups strive to involve as many people as possible. Town hall lobbies have taken on a new urgency, with demos being called as councillors vote on the cuts.
There have also been single-issue actions, such as the library read-ins organised by Save Doncaster Libraries. These are often supported by groups opposing all cuts – for example, the Lewisham Anti Cuts Alliance has spent time supporting a campaign to save Opening Doors, a free employment and advice service currently under threat.
Many groups have joined the UK Uncut actions against corporate tax avoidance. Manchester Anti-Cuts has been protesting outside and blockading branches of Topshop, Vodafone and Boots. In December, supporters even donned 'Scrooge Santa' outfits for a mass demonstration.
School and university students have been active in their own towns. In Oxford students first occupied the symbolic Bodleian Library, then the county hall and finally the Conservative Club. Oxford SOS has held 'mapping the cuts' events in which residents tour the town to map exactly where the cuts will fall. But for Bethan Jones, an activist with Oxford SOS, it is the Uninvisible People protest that best expresses SOS's ethos: 'We empower each other to fight by making our own stories heard and the injustice of these cuts clearly visible.'
Community organising
Despite the range of actions that have already occurred, it's still early days in the battle to protect public services and social benefits. Most anti-cuts groups were formed at most six months ago, with many starting more recently. There are challenges aplenty for this new movement as it tries to create an effective and inclusive resistance. In their struggle to achieve this, people are testing out different approaches.
Oxford SOS was set up specifically to mobilise those who use public services. It is different from many other groups because it is independent of both unions and political parties. It aims to campaign alongside trade unions and other anti-cuts groups while maintaining its independence.
Of course, organising outside established networks has its disadvantages. Oxford SOS's first gathering featured four lonely activists wondering how they were ever going to engage a wider community. However the group started growing and it has seen a variety of public service users joining the campaign. It now has 60 active members and 400 people on its mailing list. Oxford SOS is committed to non-hierarchical organisation. 'If you don't like, or are uncomfortable with, the way others organise, then it's not always best to shrug and put up with it,' Bethan Jones comments. The group is working closely with unions and other campaigners within the Oxfordshire Anti Cuts Alliance. Bethan Jones says that 'different groups can sometimes work together more effectively if it is as equals, with mutual respect for each other. The people who organise the alliance don't try to control us, and it is an excellent forum for deciding on joint activity and building solidarity.'
Oxford SOS is not the only group to stress its independence. Manchester Anti-Cuts has also organised autonomously from the trade unions. It aims to bring together a wide range of anti‑cuts campaigners, using a diversity of tactics that include direct action, popular education and the use of social media. The group is united by a shared broader analysis. 'We see the current movement against cuts as part of a broader anti-capitalist movement,' explains activist Andy Bowman, 'with the current political and economic system as part of the problem.' Like Oxford SOS, the group is forming ties with unions, co-organising an anti-cuts conference with the Greater Manchester TUC. Yet, like Oxford SOS, it also wants to maintain its own independent space.
These groups are not the norm, however. More usual are broader alliances that invite trade union, local party and community group members to affiliate. The Bristol and District Anti-Cuts Alliance is one such body, with 80 active members and 200 people on its email list. The initiative came out of the NUT, which underwrites the group financially (one advantage of forming alliances is pooling resources, including time, skills and, of course, money). Politically, a wide spectrum of people are part of the alliance, with members coming from the Socialist Workers Party, Socialist Party, IWW, Labour and the Greens, who are formally affiliated. There are also many anarchist members. Perhaps remarkably, sectarianism has been minimal and the group has clearly formed a strong and vibrant alliance, although activists acknowledge that there can be tensions.
The Lewisham Anti Cuts Alliance is also comprised of a wide range of unions, political groups and activists. Like the Bristol alliance, it strives for non-sectarianism with the aim of encouraging democratic and accountable organising. Kirsten Forkert is a UCU union member in the alliance. She recognises the importance of unions forming new links with communities outside their usual ranks. 'The cuts affect us in many ways – not only in terms of jobs, but in terms of housing, benefits, education, and more. We're now in a situation where unions have to become social movement organisations,' she says.
Increasingly, the focal point for unions is the national anti‑cuts march on 26 March. NUT North West is chartering three trains for the march and organisers have been visiting schools to encourage non-unionised teachers to join.
Successful resistance
From its small beginnings, Oxford SOS has developed into a group that represents and involves service users who will be most affected by the cuts. A few key principles have helped it achieve this goal. First, it recognised from the outset that being accessible and open to people is something that needs thinking about. Its meetings are very action-focused, and seek to ensure that everyone takes on something. People are asked to brainstorm and form working groups, so that participants are protagonists from the start.
Second, the group understands the power of its own voices. Almost all the people that speak to the media for Oxford SOS are individuals with tough personal stories to tell. By training these people in basic media skills the group also ensures that key political messages are heard; otherwise the media often depoliticise people's stories, turning them from social commentary into individual tragedy.
Finally, Oxford SOS makes use of skills and resources people already have, encouraging them to take on particular tasks so they can become involved in the way they feel is most appropriate for them. 'It's worth calling out for those people and asking them to do small, discrete, even apolitical tasks. They won't take long to get hooked,' Bethan Jones says. The campaign has people working on video, social media, design, testimonials, direct action and community outreach. In addition, documentary photographer Kirk Ellingham has just joined the group to record how the cuts will affect Oxford's most vulnerable residents.
Other groups have also recognised the importance of offering people different ways to become involved. Despite Bristol Alliance's large meetings and extensive contact list, it has struggled to get supporters to take on tasks. To solve this it is reorganising into sector groups (education, health, council workers and so on) and working groups (events, communications and so on). By doing this the Alliance hopes to initiate a new flurry of campaigning activity.
Local concerns
Focusing specifically on local anti-cuts campaigning has raised strategic problems for many groups. One key issue is what campaigners can ask of Labour or Green councillors. Michael Calderbank explores the problem in detail elsewhere in this issue, asking how groups can pressure councillors to be more than delivery mechanisms for the coalition's cuts.
Another contentious issue is whether local anti-cuts campaigns should focus on specific areas of social provision, such as housing, and try to exact concessions on these. Several groups have achieved some success on this basis. However, some are wary that this may simply redistribute cuts onto other, less visible groups. In Oxford, councillors organised a public meeting at which they asked residents where the cuts should fall. Oxford SOS members attended the meeting to speak out against such a choice, declaring that the council was really asking its residents to choose whose rights should be violated.
By taking on the full range of cuts, though, groups recognise that their campaigns can feel abstract and removed from people's immediate concerns. Most groups have adopted an approach of showing solidarity with single-issue campaigns but situating local struggles in the broader context of political alternatives to the cuts in general. 'Nimbyism' (not in my back yard) is still a fear, nonetheless, and some groups have already heard people arguing that councils should 'cut that service, not this one that we rely on'.
Finally, there is an uncertainty about national anti-cuts campaigns and how local groups should best become involved in them. A number of local activists express confusion about the national picture and groups that are already wary of potential tensions in their newly formed alliances fear that getting involved in national campaigning might cause internal problems.
Rejecting sectarianism
For all the absence of clear leadership in the anti-cuts campaign, though, there seems to be much less sectarianism than might have been expected. Currently the movement has the potential to move beyond previous failures of the left and to keep activists working together. Whether groups form locality-based alliances or organise more independently, it is crucial that they remain non-sectarian and committed to working with others who are against the cuts.
So far the movement has shown it is capable of achieving success. With concessions on fees, corporate tax avoidance, and school sports partnerships, as well as splits already becoming evident within both coalition parties, we should certainly be hopeful for the future.
At Oxford's Uninvisible People protest, one girl holds a placard that reads: 'Are you sure you will never be old, disabled or poor?' 'This is everybody's struggle,' she says. 'We have to win it, and we will.'
Jim Cranshaw has spent the past six months organising with Oxford Save Our Services.
In future issues of Red Pepper, Peter Lazenby will be tracking the growing resistance to the cuts. If your union, political party branch, community or voluntary organisation is joining the fightback, let us know. Email: pete@redpepper.org.uk