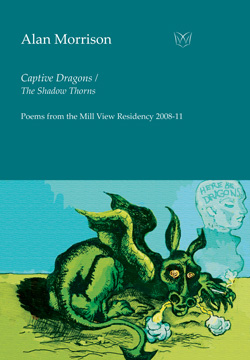 Alan Morrison comes from a tradition of political poetry stretching from Percy Bysshe Shelley (The Mask of Anarchy) and W H Auden (Spain), through to Tony Harrison (V), and Adrian Mitchell (Tell Me Lies About Vietnam/Iraq). He's a serious-minded poet, quick and scholarly with a generous sense of humour. With his contribution to Emergency Verse – Poetry in Defence of the Welfare State (Caparison 2011) you see where his political allegiances lie. He doesn't just talk a good game, though, he gets stuck in, and during 2008 to 2011 was poet-in-residence at Brighton's Mill View psychiatric hospital.
There he pieced together Captive Dragons, his latest collection. It features picaresque observations about the patients/characters he encountered as well as an underlying polemical thrust, critiquing successive government policies on mental illness and the quality and relevance of treatment received. All of this is encompassed within a fantastic lattice of language, redolent of seaside living:
'Lime-milkshake sea that recrudesces on a cluttered beach
Chuntering with pebbles and needles'
'Under scientific spells, jinxes of shrinks, trick-cyclists,
Certificated sorcerers, alchemists of medications;
Tantric dragons transparently jacketed — scapegoats,
Possibly; drowned shouters of a seawater society
Tanning its back to panicked gasps; tortuous sculptures
Of corporate ectoplasms'
The juxtaposition of demotic and classical in this epic verse — 'felt-tipped', 'bum fluffed' alongside 'Hylases snared by Naiads' — takes the sting out of some of the more abstruse erudition, which can test the reader. And the Cantos I-XXXV (from which the above lines are taken), sinewy and demanding, come with extensive notes that are of themselves richly rewarding. These are followed by The Shadow Thorns, a series of 19 more personalised poems; reveries on his time working with the patients. 'Lil of the twitches' is one:
'How ironic to be termed mentally ill
When it's heightened sanity prompts the spill
Of her tired haemoglobin — a simple
Cut like the brush of a stinging nettle
On milky wrist, then berry-juice trickle
And slow ebb to a ruby bath; yet she
Fails at every attempt to release
Enough of the blood, or is punctually
Disturbed by housemates needing to empty
Their bladders in the night — she really needs
A less rusty lock on the lavatory . . . '
This genuine affinity with people teetering on the edge, and the political commitment that is concomitant to righting wrongs, supporting holistic care and believing in people rather than dimming the lights with a 'chemical cosh', flows from his own personal history. 'I can at least say that I was converted to socialism,' he tells me. 'Growing up in relative poverty between 11 to 16 in the late Eighties left an indelible impression on me, rinsed me of any childish allegiances such as patriotism, instilled in me an intense distrust of capitalism and political Conservatism, particularly as distilled in Thatcherism, and basically woke me up to what mattered in life: a roof over the head, sustenance, somewhere warm and dry to sleep, and the inalienable right of every human being to have the same.'
In capitalist industrial society we see instead the 'expediency factor', towards mental illness as much else. Many breakdowns are due to uncompromising work stress and yet governments seem to think that people can be swiftly reassessed through rigged criteria by profiteer companies such as Atos and thus be found 'fit to work'. Conveniently, all this chimes with the time frames of economic demands, not those of the person's condition, which can be chronic and prone to relapse.
Morrison says: 'It's as if patients are treated like faulty work units, put through revolving doors of psychiatric hospitals, pumped up with drugs and charged up like batteries. ECT [electro-convulsive 'therapy'] is still used sometimes in order to get them 'fit for work' again. It's dehumanising and the least likely means to help them recover.'
He describes himself as a democratic socialist, even conceivably a 'Christian socialist': a non-practising Catholic but a believer that Christianity and socialism are essentially the same thing. Emergency Verse had 112 poets including Michael Horovitz, and many donated small sums towards publication, most notably Michael Rosen, who paid for half the final print cost. Feted in the left-wing press, it was inevitably attacked in establishment quarters, and inexplicably overlooked by some more progressive magazines. It was the first verse response to the austerity agenda, and was named Emergency Verse as a direct riposte to George Osborne's 'emergency' budget of 2010. Its sequel, Robin Hood Book: verse versus austerity, will include poems from such luminaries as Heathcote Williams, and has as its patron PCS union leader Mark Serwotka.
It was a different labour leader altogether, Keir Hardie, who brought Morrison to earlier political attention. His most political book, Keir Hardie Street (Smokestack Books 2010), is a hagiographical tribute to the life of Labour's first leader. Critics referred to it as 'an intervention': an attempt to reignite the broken narrative of the British socialist tradition through a literary medium. Much of it is written in a sort of cockney pastiche (influenced strongly by both John Davidson's 'Thirty Bob a Week' and T S Eliot's 'The Waste Land'). So you get:
'The city pricks up higgledy-piggledy against Calvary skyline:
A pencil-rub of pea-souped rooftops bruising on the paper arm
Of the street urchin pale, pearly horizon –
Soon brushed away by the charlady sun.'
And:
'The Diggers pitched a Golden Age at St George's Hill
Ploughed Cobham clod with egalitarian till;
Robert Owen's workshop co-ops hammered out a hew
To chop off Class's branches; the Chartist martyrs
Trampled by plumed hooves at Peterloo;
The red-hearted Romantics, courting Napoleonics'
The prolific nature of Morrison's writing has much to do with an obsessive personality. Epic poems can go through more than 100 redrafts. 'Inescapably, my obsessional side plays a big part in my productivity and intensity of application to poetry,' he says. 'In terms of the subject of this particular book, I sum the work up, distinctly un-commercially, as a poetical exploration of psychoses and schizophrenia from a neurotic perspective.' A hard sell if ever there was one.
R D Laing, whose controversial 'anti-psychiatry' dialectics have gone out of mainstream fashion, influenced the book. Morrison shares Laing's central tenet that 'mental illness' is often a rational response to an irrational society. Neurological conditions aside (as those are often determined biologically), there's a case to argue that mental illness is as much a socio-political pathology as a personal or chemical one, that society plays a huge part in shaping our psychologies and arguably those perceived as in need of therapy to help them cope better are in a sense being patched up by the same society that has damaged them in the first place. Thomas Szasz's Myth of Mental Illness is a case in point.
'There is a paradox of responsibility here,' says Morrison, 'and I don't think society has yet faced up to this. Hence the metaphor of dragons: a myth created to make something actually very human sound grotesque and frightening. It also taps into the old phrase on maps, "here be dragons", to denote uncharted areas. I use this as the key metaphor to symbolise the right-hand side of the brain, which is still relatively uncharted. It is that side of the brain from which both psychiatric pathology and creativity issue.'
He believes, like Laing, that creative expression is often one of the most beneficial routes towards mental healing since it allows people to objectify their thoughts and feelings through self-expression. 'Poems often come almost instinctively to those suffering psychotic illnesses such as schizophrenia,' he continues, 'where the line between the literal and the symbolic seem blurred, and there is an almost primal capacity at metaphor, the chief ingredient of poetry. I've seen many in-patients come more to terms with themselves and heal over through writing poetry.'
Like Laing again, he is suspicious of the 'medicative hegemony' in modern psychiatry, which he claims often seems as incentivised by pharmaceutical profiteering as by actual benefits to patients and their conditions. Morrison, a poet and socialist to the core.
Captive Dragons/The Shadow Thorns is published by Waterloo Press