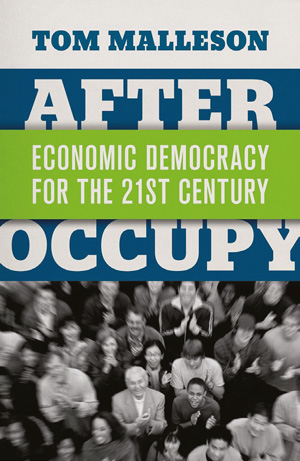 So we believe that a society that values people over profit is possible. But if not through armed revolution, how do we get there? On a big scale, what would grassroots control over our economies look like? In After Occupy, Tom Malleson examines some of capitalism's most coercive institutions: the workplace, the marketplace, the system of finance and investment. He doesn't have faith in tiny reforms, nor does he believe we can 'smash capitalism' in one historic moment. Instead, he thinks it's feasible for people to democratise their economies, and his project is imagining a path of transition.
After Occupy stitches together diverse experiments in economic democratisation, from Italian worker co-ops to Malaysian market regulations to a concept of 'participatory budgeting' that began in Porto Alegre, Brazil. Malleson gives each model a fair and robust analysis, then asks how it could be tweaked, scaled up and embedded into the fabric of a society.
What legal and economic frameworks would enable ordinary people to start worker co-ops? Could we reduce inequality in the market system, so that it functions more like a simple – and non-exploitative – farmers' market? Could we gain control over whether to invest in oil or solar, in 'highways or high-speed train systems'?
The book began as a PhD thesis and to some extent it shows. Malleson doesn't depict the stories of social and political struggle behind his real-world examples. More often, he reviews the existing literature or critiques neoliberal theory, and some of this may feel dry to the general reader. But overall, After Occupy is accessible, engaging and a prime example of academic work reaching beyond a niche circle to influence a broader public.
Malleson's proposals to democratise economies are incremental but not superficial; they aim to shift power relations more fundamentally. As the author recognises, it would probably take an activist battle to achieve almost any of these changes. The book doesn't leave us with a strategy for creating the political will to transform our institutions. It's nonetheless powerful for activists, providing a set of well-reasoned demands to consider for the next time you occupy a bank, negotiate with an employer or lobby your local politician. The ideas are practical enough that they just might succeed and radical enough to mean something.