Photo rights: East End Sisters
Thank you for sending us your news. Did we miss something? Feel free to add more below.
Cleaners win living wage after longest strike in City of London
After 43 days of continuous all out strike action, Victor Manuel, one of the cleaners on strike said: "This is a great victory but we will continue to fight for our cause, until they reinstate our colleagues and recognise our union. We're not tired or afraid of anyone or anything. Unity brings victory and we will win." Read more.
Sisters Uncut occupation thrives
Hackney has over 1,000 empty homes. At the same time, 60 per cent of women fleeing domestic violence in the borough are turned away from refuges because of lack of space. East End Sisters Uncut have occupied one of these empty homes to highlight the fact that these houses are fit for living, and should go to people that need them. They already made some progress in negotiating their demands with the deputy Mayor of Hackney, and describe their recent community sports day as "Probably the best day of our lives!" Read more.
Black Lives Matter movement rises in the UK
It took just two days for 20-year-old poet Aliyah Hasinah and her friend Olivia Brown to organise a Black Lives Matter demonstration in their hometown, Birmingham. More than 1,000 people showed up. With gatherings across the UK a movement is growing to resist racism and police brutality. National day of action: 5 August. Read more.
Taxes for Peace Bill read in Parliament
The Bill called for a mechanism allowing taxpayers to self-certify as a conscientious objectors on their tax return, and have the military portion of their taxes directed into a fund designated for non-military security. It was read on Tuesday 19 July without objection, and scheduled for a second reading on 2 December, formally supported by 11 MPs. Read more.
Disabled People's Manifesto launches in Bristol
The manifesto calls upon all in the city to view the barriers disabled people experience as missed opportunities to benefit the whole of the city. One of the issues raised in the manifesto has already been addressed by the newly elected Mayor, namely the lifting of parking restrictions for Blue Badge holders in resident parking zones. Read more.
Tesco bows to pressure against John West Tuna
Tesco will remove a proportion of John West products from its shelves, punishing the brand for its destructive fishing practices. Ariana Densham, Greenpeace oceans campaigner said "We know that this move by Tesco is going to cost John West millions. How long will it take for them and their owner Thai Union to work out that stripping our oceans of life is a dead-end business strategy?" Read more.
World's largest wealth fund divests from Western Sahara oil search
The Norwegian sovereign wealth fund, worth  $834 billion and owning around 1.3 percent of all listed global shares, stated that: "The Council recommends the exclusion (of Cairn and Kosmos)… due to an unacceptable risk of the companies contributing to serious violations of fundamental ethical norms through their hydrocarbon exploration offshore Western Sahara". Read more.
Colombia and Farc rebels sign historic ceasefire
The Colombian government and Farc guerrillas have declared the final day of one of the world's oldest wars with the signing of a ceasefire agreement to end more than 50 years of bloodshed. Read more.
Sadiq Khan promises a new public energy company for the capital
Within just six months the Switched On campaign has pushed this proposal on to the mayor's agenda. They have been building the case for a London public energy company that cuts fuel bills and cuts polluting emissions. A company run by and for Londoners, controlled democratically, oriented around people not profit. Read more.
Water cannons to be sold off
Three water cannons bought by Boris Johnson will be sold off for more than £200,000 without ever having been used, Sadiq Khan has announced. The Mayor said London was currently paying to store them, despite them not being able to be used and the cannons sale would raise money for youth services. Read more.
Hope Not Hate hosts over 100 #MoreInCommon events across UK
#MoreInCommon is a national a campaign to bring communities back together after the toxic nature of the Referendum debate. One meeting was held in Aberystwyth, a town that has been a constant source of good news – the first in Wales to resettle Syrian refugees who have recently been handing out flowers by way of thanks. Read more.
Landmatters eco-community in Devon wins fight to remain
An eco-community which produces its own power has been given permanent planning permission after a 10 year battle. Landmatters, which includes 16 adults and seven children, live on 42 acres of land it owns near Totnes in Devon. Granting permanent permission South Hams District Council said its "low impact way of life" was "not damaging". Read more.
Fawley oil refinery workers win equal pay for foreign workers
Following strike action, workers at the refinery have won a 'pay parity' victory in a dispute that saw foreign workers being paid half that of UK workers at the Southampton site. Read more.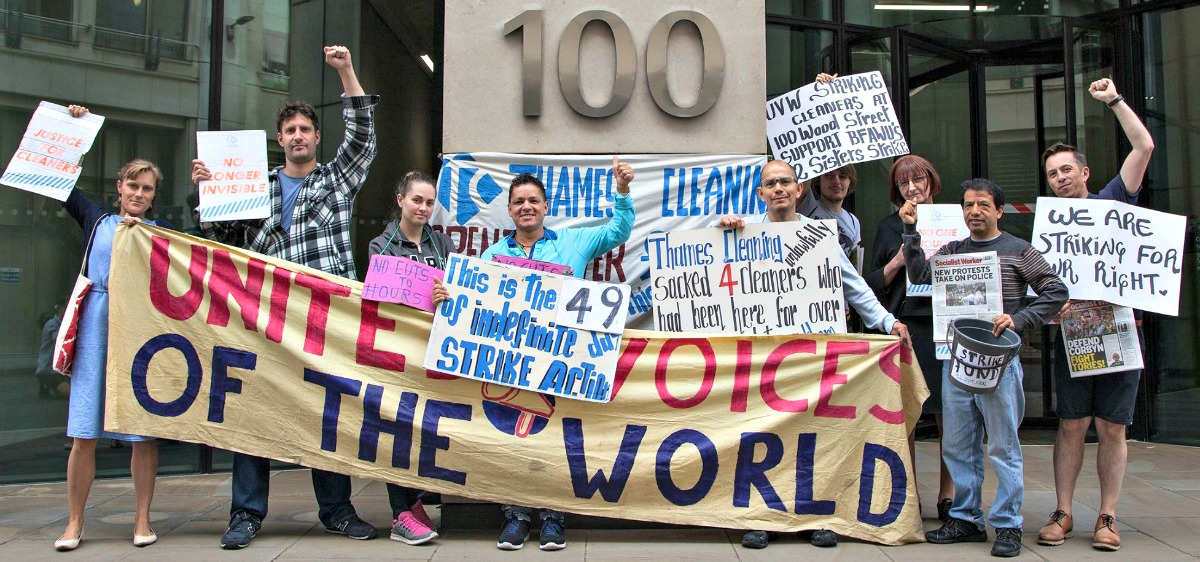 Photo – cleaners on strike, credit: United Voices of the World Union