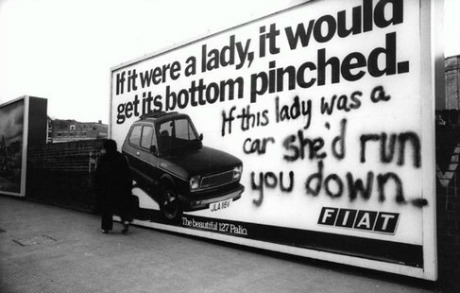 When groups like the Billboard Liberation Front and Billboard Utilising Graffitists Against Unhealthy Promotions (BUGA UP) emerged in the 1970s, their handiwork took cigarette and alcohol promoters to task. Their subtle adjustments caused passersby to pause: 'Marlbore Man'? It was the beginning of a tactic since developed by environmentalists, feminists and anti-capitalists: the subversion of advertising to remind us that we are being lied to.
Today advertising is everywhere and ad-free space is continuing to shrink. Fortunately, it doesn't take much to challenge the corporations and politicians creating this visual pollution. Parody is our weapon. Paper is our tool. We have a right to reply.
1 Select your target
The motivation to subvertise is generally straightforward: to challenge the promotion of mass-consumerism plastered before us. With so many misguided messages to be corrected, you need to decide where to start. The unethical behaviour of a particular brand? The negative impact of a whole industry? The casual misogyny in so many ads? Mass consumerism itself?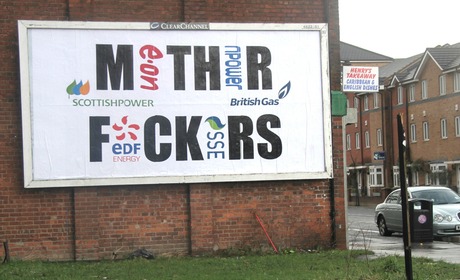 2 Choose your approach
Deciding this will help you choose your approach. Classic subvertisements seek to reply to or answer an advert's message through subtle alteration. If there is no text to improve, you might want to reply directly by adding something entirely new. This might be a one-off, targeting a specific poster, or you might consider a more versatile approach, open to repeat application and forming part of a broader campaign. In the latter case, consider using a motif. Co-opt a logo or slogan and turn it on its head, or create your own.
3 Find the right words
Subvertisements should cause people to double-take, then think. They stick in the memory better if they are funny. Look for easy targets, as with McDonald's 'I'm loving it', which transforms readily into 'I'm sick of it'. Obscuring letters and parts of letters also works: 'Starbucks Coffee', anyone?
You don't have to be subtle or high-tech, though. A spray-painted response can work wonders, while 'Ad-Free Zone' is a clear stamp of public opinion. Pick the approach that matches your aim.
Overlays are easy to make and paste onto ads. Try to match fonts and background colours and print out the letters you need. Don't worry about looking perfect for small changes. Use a photocopier to enlarge the overlays, cutting the original into tiles first and reassembling the larger copies afterwards. Attach with wallpaper paste and a paint brush or broom for higher targets. Add PVA glues to the mix for quick setting and waterproofing.
New technologies are making it easier to replicate lettering or skilfully create whole pastiche posters. Some ads can be found online but photographing the target is another way to make matches – just don't attract attention to yourself when doing it. For more intricate changes, put a high-res image in Photoshop or build a copy from scratch.
Stickers are another option, particularly for ongoing campaigns. Prepare a batch for quick hits on multiple street level targets. Blank speech bubble shapes are a perfect canvas for random advert improvement artists, bringing silent models to life whenever the inspiration hits them. Use a thick pen and beware of spelling and grammatical errors, which undermine even the wittiest effort. The same goes for spray can enhancers.
5 Be prepared
Safety and security are your main considerations, whatever size the target. Think about your approach and escape routes, and the number of people needed for the job. For larger ads/longer jobs, a lookout is vital. Never attempt climbs alone. Plan communication signals in advance. Keep yourself clean and don't leave anything behind. Use cheap materials and test spray cans for duds.
While the cover of darkness is sometimes useful, it can also be dangerous. Look the part and you'll get away with daylight work: put on some overalls, grab a ladder and look out for billboard maintenance vans as well as police.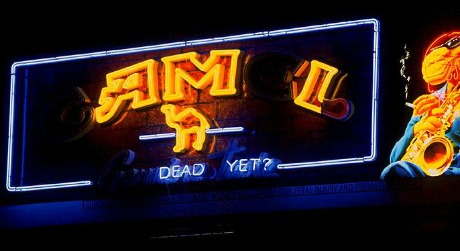 Image from www.billboardliberation.com
6 Aim higher
Document and share your work, under your group name or personal pseudonym. Send photos to online communities for a wide audience, and celebrate what other artists and liberators are doing.
Remember that billboards are just one avenue for questionable promotions. Product placement, branding, sponsorships and giveaways allow consumerism to infiltrate our waking lives. In our branded clothing we become walking adverts for the things we are compelled to buy. We are the capitalists' dream.
Turn their tools against them, however, and it's a nightmare. Movements across the world are getting imaginative, creating parody events and promotional stunts. Fake newspapers, flyers and websites are tweaking brands' styles and slogans into something far more honest. Over-enthusiastic company supporters are turning promotional events into embarrassing spectacles. Join in, and culture jam wherever you can.