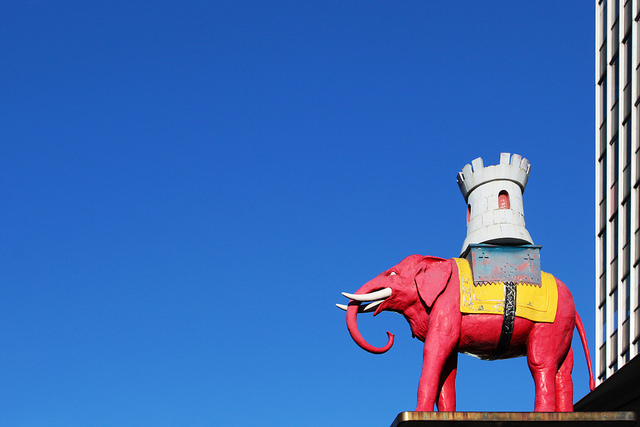 On a busy road in South London stands the Elephant and Castle shopping centre, its eponymous elephant standing in defiance of the encroachment of gentrification.
When it was built in 1965, it was the first covered shopping centre in Europe – lauded as the future. But now, for the developers, investors and planners who get to make the decisions about London's future, the shopping centre – the beating heart of the neighbourhood, and a jumble of independent shops, restaurants and kiosks – is rapidly becoming the past.
With over 100 Latin-American owned business in and around the site, the shopping centre performs a vital function of affordability, accessibility and community to London's Latin American population.  But it also sits in the heart of an 'Opportunity Area' – an area designated by the Mayor's London Plan as appropriate for intense development, and so it might seem, the writing is on the wall for the shopping centre and its community.
Delancey, an offshore company, is proposing to demolish the shopping centre, replacing it with a mix of homes and retail units, and an outpost for London College of Communication. Just 3% of the homes will be at social rent. Most of the 'affordable' homes will only be so for those who earn more than £50,000 a year. Only 5% of the new retail units would be affordable for the current traders.
The level of opposition to Delancey's plans has been fierce, with challenge from groups including Latin Elephant, students and staff of LCC, Southwark Notes, Defend Council Housing, local councillors and the campaign group Up the Elephant.
The two sides' opposing visions of London collided last week at Southwark Council offices, in the meeting of a Local Authority planning committee. Delancey's team of lawyers came face to face with representatives of the traders and locals, who were demanding decent levels of social housing and affordable rents for traders. The outcome seemed almost inevitable.  
But in a testament to the campaigners, who ensured that over 600 objections were submitted to Delancey's plans, the meeting witnessed a deviation from the script. The proposal was voted down by the planning committee. For once – and perhaps only temporarily as the decision will come before a second meeting on 30th January – the wants and needs of local communities had more force than London's development machine.
But why is it that the planning system, which is supposed to inject democracy into development, so often results in the opposite: building and places which only serve a narrow, monied subsection of society? Why is that to get any benefits out of development – affordable homes, accessible places, public space – communities have to mobilise a campaign to fight every development? What has gone wrong?
The development machine
Cities have always changed. But change in London has become synonymous with privation, displacement and gentrification, fuelling a deep housing crisis. To understand why this is, we have to look at the system of the development in London, the land trading system that sits underneath it, and the planning system which facilitates bad development rather than standing in its way.
The vast majority of development in the UK is undertaken by private companies. This wasn't always the case. In the mid-20th century, until the neoliberal capture of British politics in 1979, much of the country's development was undertaken by the government. Councils were required to identify housing need in their area, and build to meet it. In the immediate aftermath of the second world war, standards were usually high. The results were millions of affordable homes, and developments which provided a place in the city for those who might otherwise be pushed out.
Over time quality standards reduced, but until '79 it was still accepted by both Labour and the Tories that the government should play a major role in building our towns and cities. This belief has been lost without trace, and with it has departed our ability to guarantee that neighbourhoods, towns and cities meet the needs of their populations.
Development and regeneration is now mostly delivered by private entities, or complicated public-private partnerships, backed by little or no government funding. Developers receive lucrative long-term contracts and valuable land as part of the deals. Local government has become distanced from housing provision, central government funding for social housing has been reduced, and the business models of private companies have become the blueprints for our communities.
Viability city
Private developers are now relied on to deliver public goods, and those public goods are to be extracted through the planning system. Local authorities have plans which stipulate how much affordable housing they need in the area. Developers bring plans before planning committees which invariably don't meet those requirements. Then the negotiations start.
Developers are required to provide affordable housing as a result of gaining planning permission by the Town and Country Planning Act (1990). However, developers are also able to plead 'financial inviability' to avoid this. The planning system assumes that developers should make a 20% profit margin on each site, and this can be used to claim that any requirement for affordable housing would mean their schemes are not commercially viable (often by minimising their projected sales, and maximising their projected costs, not least the cost of land). Using these assessments to 'prove' that profits would be insufficient is enough to waive the affordable housing quota.
Underpinning the development system is a land system, and the price of land is set by the price that developers are willing to pay for it. If developers can assume that they are able to ignore, or negotiate away, affordable housing quotas and other public goods, then they can pay more for a piece of land. And, of course, the price they paid for land will play a role in dictating any viability assessment of the scheme. The result: a rigged system. Developers with the most aggressive business models will pay the most and win the land auction, and build the fewest affordable homes.
Taking back control
Property developers, in the words of Nye Bevan, are not 'plannable instruments'. They cannot be relied on to build the places we want and need. The viability sham makes this absolutely clear.
Property development might seem like any other industry. But looked at another way, it's actually a vital public service. The built environment is a fundamental basis for a decent life. At Elephant and Castle we have seen another example of what happens when public service is left to private companies, devoid of accountability. The plans for local areas are built on profitability, not need, and communities have to fight to get even a basic level of community benefit out of the development process.
Our reliance on developers means that what gets built has become fundamentally decoupled from need. If we want to start fixing the housing crisis, and ensure that the inclusive, fair version of London represented by the traders at Elephant and Castle wins, then we have to stop relying on developers to make that city for us. The Government needs to get back into development, and development should be guided by what communities actually need. If we want decent places, built for people, not shareholders, then we are going to have to do it ourselves.