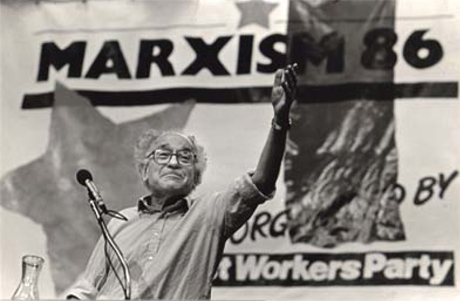 For more than three decades socialists and others on the radical left have had to swim against a powerful and long-lasting political tide. Throughout the older capitalist economies, but nowhere more so than in Britain, they have had to come to terms with defeats for the organised labour movement, lower living standards, mass unemployment, wholesale de-industrialisation and the destruction of vibrant local communities.
Of course the picture has not been entirely bleak. Feminists and anti-racists have had significant successes in overcoming ancient gender and ethnic prejudices, the green movement has pushed fundamental issues of sustainable development into the heart of political discourse, human rights reformers have helped shape law – domestic and international – in ways that have weakened dictators everywhere.
But even as world capitalism is gripped by the most profound crisis since the 1930s, the political influence of the left remains fragmented and diminished. Social democratic parties find themselves in opposition almost everywhere in Europe. Far from this leading to increased support for the far left, revolutionary groups appear stagnant and gripped by one variety or another of sectarianism.
The obvious question is 'Why?' The publication of Ian Birchall's massive biography of Tony Cliff – the charismatic leader of the International Socialists/Socialist Workers Party, still the largest and most successful of the far-left organisations in Britain – throws some light on some of the problems.
A veteran supporter of Cliff, Birchall's account of the life of this extraordinary man and his extraordinary commitment to the socialist cause is well written. In judging his strengths and weaknesses, Birchall is reasonably balanced. The story of Cliff and the SWP contains various lessons – some positive but also many negative – for socialists today.
Radicalised and stateless
Cliff's life can be told very simply. Born in British-ruled Palestine in 1917, Ygael Gluckstein was the son of an immigrant Zionist family. He only adopted the nom-de-plume of Tony Cliff when he came to Britain after the second world war. Radicalised as a teenager, he rejected Zionism and gravitated, via left socialist organisations, to a tiny group of Jewish and Arab Trotskyists in Palestine during the 1930s.
Having been imprisoned by the British, Cliff arrived in Britain in 1947 with his lifelong partner Chanie Rosenberg. Given residency rights thanks to her British passport, Cliff remained stateless all his life. He soon joined the Revolutionary Communist Party – the British section of the Trotskyist Fourth International – and spent the rest of his life as a revolutionary socialist. He died, as he lived, with almost complete indifference to wealth or social advancement.
To get a real appreciation of the impact Cliff could make, Birchall rightly says it was best to hear him speak. He had few equals as an orator – in spite of (sometimes because of) his fractured English. 'It is time for comrades to pull their socks seriously,' I once heard him solemnly declare. But it was as an innovative thinker and as a Marxist willing to revise and rethink some hallowed orthodoxies of the revolutionary left that he really made his mark. Birchall rightly stresses the importance of the post-war years, after the disintegration of the RCP, for Cliff's intellectual development.
Two things became clear to him at that time. Revolutionary socialists had to accept that capitalism was not on the point of collapse but had begun a potentially long period of expansion. He explained this in terms of the vast role of arms expenditure (the 'permanent arms economy') in acting to stabilise the system at least temporarily.
The second was that the totalitarian monstrosities masquerading as 'socialism' in Stalin's Russia and its satellite states were in reality a new form of exploitative class society, which he understood as a form of state capitalism. Neither approach was totally original, but in a stream of books and other writing Cliff sought to integrate his insights into Marx's own way of thinking about capital.
From Luxemburg to Lenin
In the early 1960s Cliff emphasised the more libertarian approach to party building of the great German revolutionary socialist, Rosa Luxemburg. He wrote that she 'had a much earlier and clearer view of the role of the labour bureaucracy than Lenin or Trotsky.'
This approach was important in recruiting members from a new generation of young socialists, CND and peace activists. By the late 1960s, a tiny club of a few dozen members (Socialist Review) had grown into an organisation of thousands (the International Socialists). Disgusted by the first Wilson-led Labour government's support for the US war in Vietnam, IS supporters left the Labour Party in droves. After the May événements in France in 1968, however, Cliff began to revert to a more Leninist concept of a democratic centralist party.
As British capitalism encountered its first serious problems after the post-war boom, the IS began to recruit important groups of trade unionists in engineering, the docks, the steel industry and the coal mines. Birchall rightly stresses the importance of other socialist intellectuals who contributed to the development of the IS at that time. They included the economist Michael Kidron, philosopher Alasdair MacIntyre, psychologist Peter Sedgwick, historian Ray Challinor and an impressive cohort of working-class intellectuals such as Jim Higgins, Duncan Hallas and Geoff Carlsson. During the last major upsurge in working-class industrial and political militancy, in the late 1960s and early 1970s, the IS organisation expanded to a membership of several thousand, had a paper (Socialist Worker) that at its peak sold tens of thousands each week, and had a modest but growing implantation among shop stewards and other active trade unionists.
The changed political mood that followed the election of the 1974 Labour government triggered a series of disputes, first about how to react to the new situation and then over the relationship between the party and sympathetic trade union rank-and-file bodies. Finally, divisions emerged over abuses of internal party democracy. Cliff's earlier emphasis on the 'need to learn from workers, not merely to seek to teach' was replaced by an increasing insistence that the party knew best.
It all led to a bitter split within the IS, the expulsion and resignation of hundreds of members (including dozens of key shop steward militants) and the subsequent proclamation of the Socialist Workers Party by Cliff and his supporters. I was one of those who parted company with Cliff. A deepening sectarianism in his politics over the next 30 years generated a small army of ex-members.
Cliff, like all of us, was a flawed individual. Personally warm and with an infectious sense of humour rare among revolutionary leaders, he was ruthless in conducting polemics against those who disagreed with him. Longstanding comrades were abandoned without hesitation. The SWP reacted to the weakening of the working-class movement with ever more frenetic campaigns and abrupt and often contradictory tactical switches. Birchall suggests this was a price worth paying for the survival of the SWP.
Birchall acknowledges the process by which Cliff's creative 'revisionism' gave way to a more sterile orthodoxy in later years and notes Cliff's frequently disastrous handling of human relations. He even accepts that the nature and character of the socialist goals that seemed so obvious in the past are now less clear and predicts that it may not be easy to recognise 'the Old Red Mole' when it eventually resurfaces.
New questions
Neither Cliff, nor those who broke with him, fully understood the economic and social transformation taking place around us. Class, of course, remains a reality today. But there has been a significant erosion of class consciousness (what Marx called 'a class for itself', not just 'a class in itself') and the loss of many working-class social, cultural and educational organisations and traditions.
There are new questions to be asked. Is the fragmentation of class now being mediated by new awareness of community, of sustainable development and other forms of human solidarity? This was something detected by the late Michael Kidron in his last, unfinished, magnum opus, but now much in need of development.
Birchall's biography does not recognise that the future of the political party as an organisational form is open to question, nor that the Leninist version of 'democratic centralism' is now profoundly anachronistic. Lenin never envisaged a democratic centralist party having to survive for decades without a revolutionary opportunity. Cliff himself once declared during the 1970s that if the party did not succeed it would have to be re-invented.
In the decades after the failure of the 1848 revolutions, socialists and other radicals in Britain and elsewhere in Europe also had to face a bewildering series of economic and social changes. The demise of the old artisan economy and the rise of industrial mass production brought with it a steady decline in the influence of the radical and insurrectionary Jacobin and Chartist politics that had spearheaded the revolutionary challenge to the old semi-feudal order.
We face comparable challenges today. However, breaks with the past are rarely total in history. A new generation of socialists, libertarians, greens, trade unionists and social activists now confront a familiar challenge – how to forge the emerging centres of opposition to a crisis-ridden capitalism and a feral ruling class into a politically coherent force for change.
Trotskyists sometimes speak of the need for 'transitional programmes' on the way to socialism. But the need today is for a more comprehensive transitional politics. Serious anti-capitalist politics in response to the crisis of globalisation calls for new forms of supra-national democracy, just as national democracy was central to radical change in the 19th century.
Ian Birchall's account of the life of a man who influenced tens of thousands of socialists – including many who have moved beyond and away from the model of the SWP – should stimulate others to address these issues. But as Tony Cliff always insisted: 'Revolutionary socialist politics has to be a politics of hope to be truly revolutionary.'
Tony Cliff: A Marxist for His Time, by Ian Birchall, is published by Bookmarks. www.bookmarksbookshop.co.uk