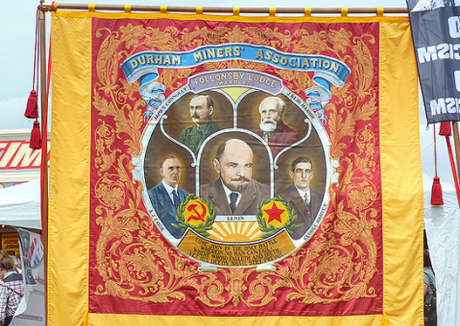 Although their histories are quite different, the British Labour Party and our US Democrats have one thing in common: both like to avoid too much public cuddling with workers—particularly, any sector of the organised working class whose militant struggles with management might force them to reveal which side they're really on. In America, the Democratic Party's longstanding treatment of labour as just another "special interest" has set the stage for endless political disappointment. In the UK, distancing yourself from the traditional culture of unionism is harder, but not impossible for a centre-left politician to do, as former Prime Minister Tony Blair demonstrated when he campaigned successfully as the leader of "New Labour" in the mid-1990s (and then proceeded to tarnish that brand as well).
Three million workers remain formally affiliated with Blair's Party, via TUC unions, and the word "labour" has not yet been dropped from its name. So here, trade unionists still expect some loyalty from the party that has traditionally spoken for them.
For much of the 20th century, party leaders paid dutiful homage to Labour's working class roots by joining the annual pilgrimage to the Durham Miners' Gala. Also known as "The Big Meeting," the Gala has been held for the last 128 years. The event remains the largest single union-sponsored gathering of working class voters in the UK and a very moving celebration of coal mining history, art, culture, and music.
In Durham, the last deep mine closed 19 years ago. So here and elsewhere, the National Union of Mineworkers (NUM), like the United Mine Workers of America (UMWA), is a sad shadow of its former organisational self. Only a few thousand underground miners remain in a handful of surviving pits. But, on 14 July, thousands of NUM retirees and their families, affiliated with the union's still-functioning lodges, paraded behind their eighty elaborately illustrated banners through the narrow streets of Durham.
Avoiding photo-ops with Arthur
Three decades ago—before the coal industry downsizing—the UK employed 170,000 miners in more than 180 collieries. Its solidaristic communities were soon convulsed by the epic strike battle between Margaret Thatcher and the NUM, headed by Arthur Scargill.
As Guardian columnist Seumas Milne recounts in The Enemy Within, his definitive study of NUM-busting by the Tories, then-Labour Party leader Neil Kinnock was also discomfited by the blue-collar militancy of the miners. According to Milne, Kinnock 'felt impotent and humiliated during the 1984-85 strike.' He viewed Scargill 'as a deeply unwelcome presence in the new-model Labour Party he was trying to create' more than a decade before Blair had better luck with the same modernising project.
The faint-hearted Kinnock made his last appearance at the Miners' Gala in 1989—when a crowd of 50,000 jammed the Old Racecourse. After that, he and his successors—John Smith, Tony Blair, and Gordon Brown–all avoided Durham like the plague, so they wouldn't be trapped on the balcony of the County Hotel, reviewing the troops with left-wing union generals like Scargill. Such carefully calculated snubs were, in Milne's view, designed 'to bury the spectre of class politics and trade union militancy which haunted Labour's effort to construct a post-social democratic electoral machine.'
Why the coast was clear this year
This year Bob Crow was not speaking at the Big Meeting, present though he was as a welcome and honoured guest of the Durham Miners. This cleared the way for Miliband to be the featured speaker that Saturday afternoon. In the run-up to the Gala, local miners association official Dave Hopper expressed retroactive relief that Blair, unlike Miliband, had never darkened Durham's door during the party leadership's long boycott of the event. 'Blair spent his time starting wars and wrecking the health service,' Hopper told the Durham Times earlier this month. 'He would have besmirched the platform.'
Hopper praised the current leader's display of 'courage' in coming and promised, as chair of the event, to ensure a polite reception. 'You can't stop people who don't want to listen,' the retired miner noted. 'But let's hear what he has to say.' Hopper predicted that most Gala attendees would be 'quite pleased' to have Miliband since 'the County Council has been Labour controlled for 93 years, all borough councils have vast Labour majorities, and every constituency regularly elects Labour MPs.' Even in two neighbouring counties, 'the Tories and the liberals were obliterated,' Hopper boasted. 'They represent the interests of big business and capitalism and we want no truck with them!'
A 'friend' among comrades
In The Guardian, Lady Warsi, a baroness born in Pakistan and the Tories' national party co-chair, seemed equally enthused about Miliband's 14 July travel plans. Calling him 'Red Ed,' she hailed the end of '23 years of silence from the Labour leadership at the Gala,' and predicted that his appearance there would 'drive the Labour Party away from the centre ground of British politics.' She accused Miliband of 'cozy[ing] up to his militant, left-wing union paymasters.'
Seated among the speakers' at the Gala last Saturday, Miliband was definitely rubbing elbows with top officials of the General, Municipal, and Boilermakers' (GMB), the Public and Commercial Services union (PCS), and the shrunken NUM, not to mention two Spanish miners who came directly from highway blockades in Asturias and left with £10,000 to support their pit closure resistance.
Neatly attired in a red tie and dark suit, the 42 year old Labour leader looked every bit like an up-and-coming young London banker or accountant, who had strayed, by accident, onto a country fairground filled with tens of thousands of white working class north easterners. Few of the latter were dressed like anyone on the platform, with the exception of the T-shirt-wearing Spaniards and 87-year old Tony Benn, who kept his rambling wear on, instead of displaying his Sunday best.
On the perimeter of the Old Racecourse, many Gala-goers were enjoying themselves on the ferris wheel and Helter-Skelter ride, at the Fun House and Crazy Circus, and inside an attraction called 'Jungle Madness'. But thousands also stood stock still, in front of the speaker's platform, listening to two-hours worth of verbal barrages against the 'Con-Dems' in Westminster. At one point, Dave Hopper, who was chairing the event, seemed to take notice of the different sartorial tastes of those on platform as opposed to the thousands of Labour loyalists standing patiently before them on the grass. 'We're getting surrounded by lawyers and barristers up here,' he joked.
Restoring the right to strike?
Fortunately, one member of the bar, who spoke before Miliband, did what no union official on the platform dared: he directly challenged the new party leader to strengthen national labour law when and if Labour defeats the Tories. Longtime NUM barrister John Hendy QC displayed a sharp wit, in his open-air tutorial on the current state of collective bargaining in Britain. First he turned to Miliband and cheekily told him to get his pencil out so he could 'take a note' on what was being said. Then he informed the appreciative crowd: 'I want to talk about trade union rights, and I will be short because we don't have any.'
The tall, white-haired Hendy quickly chronicled the disastrous decline in collective bargaining coverage, from 80 per cent of the workforce in 1979 to 30 per cent today. He blamed not just Thatcher, but Blair for 'British laws on trade unions that are now the most restrictive in the western world.' He effectively linked declining union density to the UK's increase in poverty, income inequality, and various social ills. He pointed out that workers' rights 'are human rights guaranteed in international treaties, and binding on this country.'
'What we need,' Hendy concluded, 'are trade union rights, like the right to strike, the power to take industrial action.' And then, turning to Miliband again, he said: 'Ed, you now have a respectable, unimpeachable, legal argument for reinstating these rights.'
New battle of Britain?
Miliband's own Obama-esque oration was a mere 11 minutes long. His prepared text contained no mention of collective bargaining and he never deviated from it, in response to Hendy. His carefully scripted cadences elicited only a few scattered catcalls from within the vast crowd, which he addressed as 'friends,' not 'comrades,' the old school salutation favoured by other speakers. As Miliband summed up Labour's destiny last Saturday, it is 'to rebuild our country…on the values of the people of Britain: responsibility, community, fairness, equality, and justice. That's our mission, that's our task, that's the battle we can win together.'
His (only slightly less vague) agenda for day one of a future Miliband government included breaking up the banks and/or taxing bankers' bonuses, ending energy rip-offs, and curbing the power of press moguls like Rupert Murdoch. To whet the appetite of those present, he invoked the memory of past Labour PMs like Attlee and Wilson (wisely leaving Blair off his list).
As local party officials and visiting union dignitaries filed off the stage, an impressive throng of spectators surrounded Miliband, shaking his hand, patting him on the back, and thrusting program books his way to be autographed. While 'Red Ed' made his way slowly to the Labour tent, I shook hands with Tony Benn instead. The aging lion of the British left had just spent his 51st 'Big Meeting' hunched over in a folding chair near the edge of the platform, smoking his pipe, and seemingly lost in thought. A former cabinet member and MP for five decades, Benn was introduced to the crowd only in passing. As he walked away unsteadily afterwards, aided by a young assistant, a few other longtime fans greeted him reverently.
As Hendy departed the stage, I asked him what Miliband's non-response portended for labour law reform in the UK. 'His pencil must have been blunt,' he said with a smile, adding that 'we're still working on it and we'll get there in the end.' At a post-Gala screening of a documentary called 'Will and Testament', which chronicles Benn's career, the old socialist was similarly upbeat, but more protective of the new boy who had failed to pick up the gauntlet thrown his way.
In a Q&A session after the film, I queried Benn about Miliband's performance. He agreed that 'the rights of trade unionists need to be restored' and that Hendy's points were 'powerfully made'. But, in his view, Miliband had shown adequate union sympathy at the Gala. According to Benn, if the party leader addresses workers' rights in the future, he will 'be taking on some formidable opponents and he knows it'.
But overcoming such foes won't be possible without mobilising Labour's traditional base, plus many new recruits to the party. If Miliband isn't even willing to pander, Obama-style, to a pro-union crowd—by applauding collective bargaining–he's certainly not going to defend the practice before a national audience or make strengthening unions a post-election priority. And the result of that political positioning will be exactly what workers have gotten, in the UA, from their own 'friend of labour' since he entered the White House four years ago.
Steve Early is a labour journalist, lawyer, and organizer who has been active in unions since 1972. In the mid-1970s, he worked for the United Mine Workers of America and travelled widely in the US coalfields. He is the author, most recently, of The Civil Wars in US Labor, from Haymarket Books, which chronicles the failure of labour law reform under President Obama. He can be reached at Lsupport@aol.com