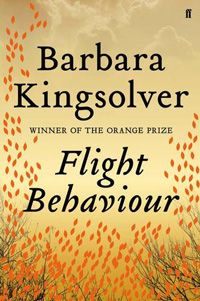 For her latest novel Barbara Kingsolver highlights the transnational, biospheric and personal consequences of climate change through exploring the life of a young, disaffected farmer's wife in Tennessee. Dellarobia Turner's life is turned upside down when she witnesses what she believes to be a miracle – an entire valley that seems to be alight in an orange flame. In fact it's the entire migratory population of North American monarch butterflies.
Dellarobia's attempt to understand how this has happened brings her into conflict with her family and her community. The patriarchal relationship with her in-laws that she challenges at home is coupled with her struggles against the multiple levels of exploitation of consumerism. Too poor to buy Christmas presents for her children, Dellarobia 'looked over the bins of tinselly junk and felt despair … There had to be armies of factory workers making this slapdash stuff, underpaid people cranking out things for underpaid people to buy and use up, living their lives mostly to cancel each other out. A worldwide entrapment of bottom feeders.' Disaffection with an oppressive and monotonous home life is a synecdoche for a more general struggle with the world Dellarobia sees around her.
Kingsolver's thoughtful crafting of the story questions the motives driving climate change denial in a precarious world. The failure of the US media to provide accurate information in favour of advertising profits and viewer rating is tackled alongside the inaccessibility of academic science for those in the US who are likely to be most affected by climate change – the rural poor and migrants fleeing various catastrophic disasters.
The scandal of market-based responses and the dilemmas of the daily grind of poverty are also weaved into the novel as Dellarobia determinedly fights against logging the mountain – the butterflies' home – for quick cash: 'If we log the mountain, then the trees are gone. But the debt isn't. Does it make sense to turn everything upside down to make one payment?'
The narrative is compelling, yet not always subtle, and the imagery and religious symbolism feel somewhat overdone by the end. But the integrity of Kingsolver's environmental and political messages makes Flight Behaviour a rich and captivating read.