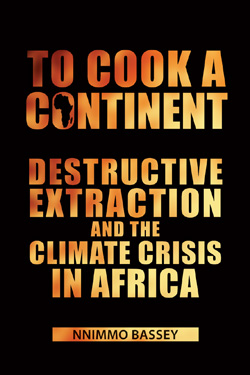 As director of Environmental Rights Action in Nigeria, chair of the international Friends of the Earth network and one of Time magazine's 'heroes of the environment', Nnimmo Bassey is one of the better known names of the African climate movement. To Cook a Continent is a reminder of how rarely such perspectives are heard in Europe – and how distinctively different such views can be.
The first chapters tell the story of resource colonialism on the continent, from the European invasions to the International Monetary Fund programmes of the 1980s.
This is followed by a galling and occasionally exhausting barrage of examples of corporate malfeasance in Africa.
They run from the 2.5 billion barrels of oil spilled in Nigeria, to the R360 billion clean-up bill for water pollution in South Africa, to torture camps in the shadow of Rio Tinto's diamond mine in Zimbabwe.
Perhaps surprisingly given the title, the author does not focus on climate change until the second half of the book. When he does, the reasons for holding back become clear: the false solutions proposed by the west are a mere continuation of the duplicity that has characterised relations between the west and Africa for centuries.
The solution, Bassey argues, is so simple that it's almost stupid not to see it: 'Keep the oil in the soil and the coal in the hole and flee the gas fracking business.'
As is perhaps befitting of the chair of an international network, the book references the work of writers and researchers from across the world. But the final chapter above all is distinctly African.
Following the battle cry 'Resistance is advocacy', Bassey evokes the spirit of earlier struggles against resource colonialism.
The reader is called to draw inspiration from figures such as Patrice Lumumba, Amilcar Cabral, Samora Machel and Thomas Sankara, to continue the struggles that they began.
Tim Gee is the author of 'Counterpower: Making Change Happen', New  Internationalist, 2011, recently shortlisted for the Bread and Roses prize [www.newint.org/books/politics/counterpower/]