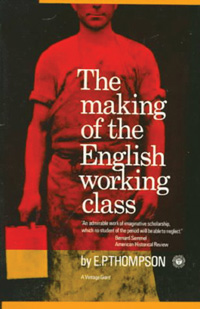 E P Thompson's work usually gets a nicely worded (if often guarded) review. After all, he's part of the original new left, sings the praises of the Levellers as revolutionaries, and is part of the turn to social history and history 'from below'. He is also often lauded for being part of the move towards 'cultural' considerations (cultural studies) with Raymond Williams and Stuart Hall. If a review digs a little deeper, it might get to the lack of racial or gender analysis in his work (Struggle for the Breeches by Anna Clark is the most famous repost to E P Thompson's lack of gender analysis). He is an important author and figure for all of these reasons, but we do him and arguably his most famous book The Making of the English Working Class a disservice if we stop there.
I don't mean his political life beyond the text as it were, leaving the Communist Party, as a 'freelance polemicist' and 'voice of the peace movement'. I mean that we should follow him down into his books to see what they say, and to make as much out of them as people do of his life. The Making of the English Working Class in particular deserves to be read for a number of reasons.
Published in 1963, it is a historical text that concentrates on English artisan and working class society 'in its formative years, 1780 to 1832'. In Thompson's own words he sought 'to rescue the poor stockinger, the Luddite cropper, the "obsolete" hand-loom weaver, the "utopian" artisan, and even the deluded follower of Joanna Southcott, from the enormous condescension of posterity'. The book itself is a seminal history from below text, drawing out aspects of the formation of capitalism largely ignored until its publication.
So what makes The Making of the English Working Class so interesting? First, it has a theory of class as a thing that emerged and developed over time. That is, the working class didn't spring magically out of the processes of enclosure fully formed, but was (and still is) the varied and always contested result of an open process between capital and the not-yet or have-been working class bodies that still populate the world: 'The working class did not rise like the sun at the appointed time. It was present at its own making.'
But second, if we follow Thompson's method – his fine grain detail, his patchwork of groups, trends, everyday life and events – what you see is an image of class as a continual process. People are always making and being made into 'the' working class. And through that process class – as a concept, as a consciousness – is constantly evolving. It's worth noting that he was
very much working in parallel on an understanding of the always-antagonistic nature of class as a relationship of resistance and rebellion with the Italian autonomist Marxists, the most famous of whom (for non-Italians) is Antonio Negri. The priority for them, as for Thompson, was the thread of resistance and rebellion that ran through history and formed the basis of capitalist social relations.
Third, and like them, his writing shows class as not one but many. Considered theoretically, the working class is all the same – labour in the abstract. Look a bit more closely, think about your day at work, the commute and the people around you and you'll see a hodge-podge of peoples, often at odds or even war with each other. Consciousness is the key aspect, emphasised by Thompson against the more economically determinist readings of both Marx and class dynamics:
'And class happens when some men, as a result of common experiences (inherited or shared), feel and articulate the identity of their interests as between themselves, and as against other men whose interests are different from (and usually opposed to) theirs . . . If the experience appears as determined, class-consciousness does not.'
But even here he innovated. Consciousness was not 'raised' – people did not need to be made aware of their exploitation or loss to be moved to action. Thompson showed how, in a myriad of ways, people developed their own narratives, ideas, theories and understandings of what was happening and, more importantly, what they wanted to happen. From religion to late night drunken raids on factories, political groups to parliamentary reform – more than 'culture', Thompson considers all of life to be both organised and a terrain of struggle and innovation.
Finally, Thompson cautions us not to rush to judgment as though we ourselves were in some position from which to lay out all that has come before us. In motion, riding the rough seas of class conflict, the horizon can surely be our only ultimate guide:
'Our only criterion of judgment should not be whether or not a man's [sic] actions are justified in light of subsequent evolution. After all, we are not at the end of social evolution ourselves.'