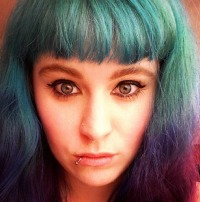 Something to listen to while you browse these links – Maimouna Youssef is a Grammy nominated singer, emcee, songwriter and poet. Enjoy this cover of 'Royals' by Lorde.
9 ways to be in solidarity with sex workers – "the disgust with which our culture regards whores is very old and runs very deep, and our radical communities are not immune to this"
Balancing without a net  –  how social media provides vital support for people who are disabled.
Why #ibelieveher is so vital –  I don't feel I have anything to add to this other than I always believe victims and survivors of abuse.
A fun guide to gender – an excellent cartoon.
So you care about Sochi – I get very tired of seeing disingenuous allies showing disdain for the homophobia that is happening 'over there'. Especially when a lot of them are ignoring what the LGBTQ movements in those other countries actually want. Ally voices should never be louder than the ones whom the issue actually affects.
A word to white women – a succinct piece on what people mean when they talk about white feminism.
The Just World Fallacy – sometimes great quotes come along and really make you think, this is without a doubt one of them.
Black female too-muchness: between hypersexual norms and respectable exceptions –  this piece has had a mixed response from friends when I posted it, which is partly why I wanted to include it. I found this very interesting although some of it has been said before. It certainly made me think.
Feminism can save France from Islam: that's the real message of Majorité Opprimée –  the above piece explains pretty perfectly my own discomfort with Majorité Opprimée. On top of which I'm uncomfortable with video's reversing sexism to show men experiencing what women experience. I feel it centres men in a discussion which shouldn't and takes away from teaching men that they should learn to listen and believe women when they talk about their lives.
Emma blogs at www.emmaquitefrankly.blogspot.co.uk @ExtraFT