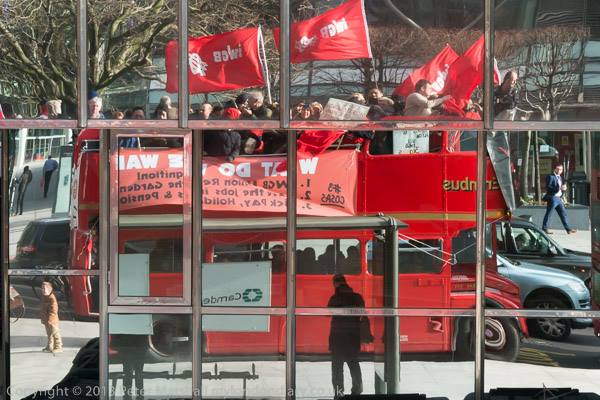 The 3Cosas campaign began its national speaker tour today with a meeting in Oxford that took place earlier this afternoon. Today's meeting is the fist of fifteen being held across the UK over the next two weeks with the intention of raising awareness of the 3Cosas campaign—the fight for sick-pay, holidays and pensions for outsourced cleaners at the University of London (UoL)—and 'to promote discussion of recent student-worker struggles and how they can contribute to reviving our movements'. The tour has been organised by the UoL branch of the Independent Worker's Union of Great Britain, which represents  the majority of outsourced cleaners at the UoL, and the National Campaign Against Fees and Cuts, a coalition of campus groups fighting against the privatisation of higher education.
The series of talks marks the continuation of a period of considerable public activity for the 3Cosas campaign that began with a three-day strike in late January that saw workers and their supporters travel through London on a traditional double decker bus. Unfortunately, the 'battle bus' will not be available for the national speaker tour. The next event is tonight (Monday 17 February) at Warwick University, 19.00.
Below are the full listings for the tour. For more information contact the 3Cosas Campaign at 3cosascampaign@gmail.com, or alternatively, @3CosasCampaign
3Cosas national speaker tour dates:
Monday 17th February:
Protect the Public University – Warwick host the speaker tour!
19.00, Room SO.20
Tuesday 18th February:
Birmingham 'Defend Education' bring the 3 Cosas campaign to town!
19.00, Chaplaincy.
Wednesday 19th February:
Nottingham University, 15.00 – 16.30
Nottingham Trent University, 17.00 – 19.00
Thursday 20th February:
Reclaim the Campus Manchester Presents a talk by the 3 Cosas Campaign
Council Chambers, University of Manchester Students' Union
3 Cosas campaign speaker tour: Sheffield!
19.00 Discovery Room 1, Level 5 Sheffield University Students Union, Western Bank
Friday 21st February:
Leeds city: 3 Cosas: the University of London Struggle and Beyond
3 Cosas speaker tour: Newcastle city meeting 
Saturday 22nd February:
Edinburgh University and Scotland meetings
More dates TBC