Get Red Pepper's email newsletter. Enter your email address to receive our latest articles, updates and news.
House party to bring down rents
Let Down occupy luxury flats to highlight extortionate rents and government subsidies to for-profit developers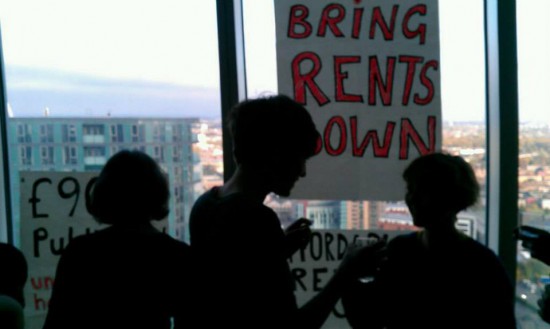 Members of Let Down, a campaigning group born out of London Renters, a coalition of private tenants groups from across London, held a house warming party at a development of newly built private rented flats in Stratford, East London on Saturday. Below is footage from the party, held to highlight extortionate rents and the government subsidies that are going to companies to build developments like the one featured in this video.
---
The collapse of Carillion is only one small part of a larger story of decades of economic mismanagement
Laura McDonald writes that universities should not just be finishing schools for the wealthy or disciplinary institutions churning out docile workers.
A floundering alliance of Blairites is trying to reinvent itself for a Corbynite age. By Tom Costello.
Marienna Pope-Weidemann explains why decades of occupation and oppression have led some people to call Israel an apartheid state.
International Women's Day is set to be marked by strikes from "paid work in offices and factories, or unpaid domestic work in homes, communities and bedrooms."
Laurie Laybourn-Langton writes that measuring the economy is political - and economic measurement dominates politics.
David Scott argues that our prison system represents a human rights disaster, and reformist solutions can't tackle the root problems.
A deeper engagement with culture can strengthen our democracy, taking political projects beyond electoral impact and festival memes into a whole new world of radical, lasting change.
Ruth Tanner writes that revelations about Oxfam's behaviour in Haiti are shocking, but not surprising.
The actions of Oxfam officials are horrendous - but gutting foreign aid funding just puts more people at risk, writes Daniel Gibson.