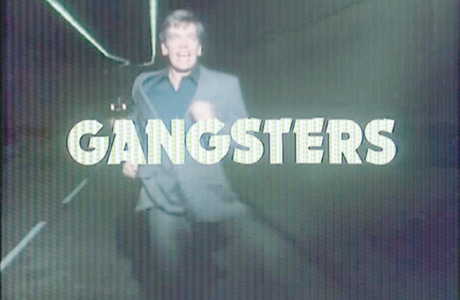 Car-cam travelling shot. A soot-darkened Victorian church obscured by a six-lane motorway. The sun is setting in a sullen sky. Birmingham, 1975…
It would be impossible to make a TV drama series like Gangsters today. Unbelievably, writer Philip Martin was given three months' salary to research Birmingham, with a view to scripting a Play for Today, a slot for tele-plays that presented fresh work by young dramatists and nurtured such talents as Mike Leigh and Ken Loach. These productions were formally inventive and thematically up-to-the-minute, none more so than this forgotten feature, created on a shoestring budget by a mob of film buffs in a dirty, hidden city.
Birmingham was a brilliant choice. It was the only British city that looked American – alienatingly, excitingly skyscrapered, throttled by car-chase-friendly expressways, riddled by underpasses whispering death-threats. It was a cosmopolis controlled by a corrupt council and a terrifying constabulary – the subsequently-disbanded serious crime squad was legendarily bent and ferociously violent. The final ingredient in this perfect brew of provincial sewage was the Fewtrells family, club-owning spivs who ruled the city's underworld like a pack of adenoidal Krays.
Naturally, gangsters are at the heart of the drama, but mercifully, it's practically cop-free; everybody knew they were beyond redemption, hence they were excluded. The thrust of the programme was to characterise crime as a business. The hoods are the Consortium, with an 'MD' supervising 'board-meetings'. The language is administrative: 'We'll foreclose on his option to breathe.' There are endless discussions about despatching rivals, which, like routine matters of detail in any profession, acquire a baroque, bureaucratic dullness by constant repetition.
These crims and molls are unlicensed capitalists, apparatchik-entrepreneurs of extortion; also little caesars of illegal polities. On the realistic level, this is underlined by the connections between gangsters, politicians and 'genuine' businessmen (entertainment, restaurants, construction). According to this critical-realist analysis, there is an overlap of personnel and no distinction between legitimate and illicit income.
On the symbolic level, capitalism itself is seen as a criminal activity, the shake-down of the weak by the strong, the most successful racket of all. It dramatises the person/function contradiction, here 'family-man' high-fliers perpetrate mayhem in office hours. They're 'only doing their job'. On Monday you outsource production to Romania, laying off workers. On Saturday you found a charity for Romanian orphans. Capo di tutti Brummie capi Eddie Fewtrell was, like Bill Gates, notoriously charitable.
The gangster genre foregrounds this systemic doublethink. The protagonist is forced by circumstance into initiating a chain of escalating moral infractions. He rises by jettisoning his ethical self. Consequently he nullifies himself as a person. The reward is power, but the successful hood, like the white-collar big shot, eventually discovers that it is the economic imperative of the organisation that rules, not himself. Thus the alpha male of the classic gangster narrative, and of business-school propaganda, is, in reality, morally and professionally a cipher.
At first Gangsters, originally a stand-alone production in the Play for Today slot, follows this classic trajectory. In the subsequent two series (1976, 1977) the emphasis shifts to the re‑education of the anti-hero Kline by, significantly, a woman. This is unusual for the genre. The only three female types permitted in the Warner Brothers 1930s template were glamorous molls, dominating mothers, and occasionally a sister embodying the pleasures of compliant femininity.
Gangsters breaks with this canonical prescription. By series two, three of the main characters are women: the magnificently malign Lily Lee, RP-speaking Anglo-Chinese triad boss (she has her father assassinated in a feminism-inspired reworking of the genre's familiar Oedipal arc): Sarah Gant, who has plummeted from an Afro-American fashion magazine into the grime of Brum; and the moral centre of Gangsters, Anne Darracott, hippie prostitute, ex-junkie, barge-dweller, inheritor of the mantle of Gloria Grahame, American cinema's supreme avenging angel.
Gangsters incinerated the conventions governing women and crime. It had a multi-ethnic cast; it exploded fourth-wall tele-naturalism with an arsenal of stylistic fireworks; it showed that gender, class and race – like organised crime and business – are about power underwritten by violence. Modern as tomorrow, it gestured towards TV's future – for which we are still waiting.