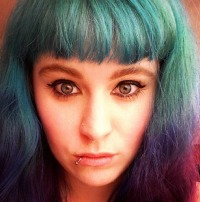 100 LGBTQ Black women you should know – A great post in honor of Black History Month
Comic about slurs – This is very important to me. Many people will throw around words as if they mean nothing, however to many they can hurt very deeply and trigger painful memories.
Why I stopped identifying with white feminism – A personal and honest post.
The 'fierce black woman' inside you doesn't exist – a fantastic response to Perez Hilton's recent display of racism.
A failed experiment in social engineering – A long read about the Nordic model; what happens when we criminalize the purchase of sex.
Why I can't stand white belly dancers – An angry piece which certainly makes one think about how one consumes other people's culture. We all walk through life differently & it's important not to forget that.
Just eat it: a comic about food and cultural appropriation – I think this is one that will make many of us squirm with recognition.
Blue Valentine – Finally someone other than me had some issues with this film. It's so easy to call a woman a bitch, it is much harder to look properly at the situation women often find themselves in.
Emma blogs at: www.emmaquitefrankly.blogspot.co.uk and Tweets: @ExtraFT