Ramy Sghayer left work as a 'team leader' at a French call centre on 20 December and does not intend to go back. As a known activist - including time with the students' union UGET - many jobs were closed to him. He has nearly died twice this year. At the height of the uprising in January he was clubbed on the head by two policemen working in tandem. During the first sit-in at Tunisia's seat of government the Kasbah, ousting the first 'interim government' with its ministers from the old regime, Ramy was seriously injured again.

Yet he was on the nine-strong organising committee of the second Kasbah sit-in, a huge self-organising moment with thousands camping in the square from 19 February till 4 March. There were structured committees for safety, the media, food, health, and meals for all with non-stop political discussion and radical music.

'During the first ten days of the revolution, while protests moved across the country I wrote on Facebook: "Our second republic has started in the streets". For me our revolution for dignity and freedom goes far beyond the borders of Tunisia, and affects everybody. We flew the Egyptian flag for Tahrir, and danced in the streets when Mubarak fell. We're waiting for Libya, watching Yemen and Syria.

This is the struggle of the whole south under colonialism. Americans say they're impressed by us, but I say "Excuse me, you said Ben Ali was a model for the Arab countries while I saw my friends shot dead". The French foreign minister knew we were being killed when she offered Ben Ali's government closer collaboration on crowd control. Every moment of this revolution has been full of emotions. Sometimes glorious, other times complicated, sometimes full of sadness because you've lost someone shot in front of your eyes. When the police fired the people did not stand down.

We called the second Kasbah sit-in because we felt the revolution had been stalled. Why were we not speaking about politics any more? We are now campaigning for a revolution based on our imaginations and our dreams. We're also rooting out all the hidden names of the RCD, the old dictator's party, and its new front parties standing for the elections on 24 July. We're showing the government that we still have our eyes open and we can put them under pressure.

All the police are still in their posts, and so unfortunately are the political / security police. Our best Interior Minister, Farhat Rajhi, who became known as 'the people's minister', started implementing human rights until he was sacked by the prime minister on 29 March. ' [During Rajhi's two months in office he fired 45 corrupt high-level officials. He also responded to two key popular demands - the dissolution of the RCD, the former ruling party associated with repression and corruption, and the Secret Police.] 'Rajhi really tried to dissolve the secret police; but now they're back, and no-one knows their names. They were the right hand of the dictatorship, the iron fist.'




Wical Jaidi is a feminist and a  'militante' in the teachers' section of  UGTT, the Tunisian General Workers' Union, which - after some hesitation by its leadership - opened its doors to become a haven for demonstrators in the uprising that downed  the Tunisian dictator Ben Ali on January 14.

'My activism is from the heart.  Other women say you must restrain yourself, act strategically - but I am always on the march! I was brought up to help people, not calculate rewards.

In the last four days of the uprising we were scared shitless. On 11 January I was in a confrontation with the police, part of a long row of women pushing backwards and forwards against the police line, shaming them continuously: 'You scumbags! You do Ben Ali's dirty work!' They called us gross names and shoved at us, but for an hour they had no orders to move. Then the order was given and they let rip with tear-gas, batons and fists. The first thing I knew was a fist in my face; normally I could have stayed on my feet but it was raining and the street was muddy so I slipped and fell. The police were so furious at me for insulting them that they all piled in, hitting and kicking without a pause. Next day I was blue all over.

They took photos of us whenever we went on the streets. And whenever my friend and I went into town for a coffee, it seemed there was always a confrontation going on, and of course we couldn't hang back. It became a joke between us, that we couldn't go anywhere without something happening.

On the last night I was caught with my friend Saida between two rows of police. The worst of it was, our bags were full of leaflets supporting a general strike! I asked my friend through frozen lips what was in her bag, and it was the same for her. For the first time I was terrified. It was such a fear that it has never really left me, I can't unclench. The security police singled us out and started steering us into the Ministry of the Interior building. If we entered that door, we knew we would be raped and killed, and no one would ever hear what happened to us. A regular police commander said, 'I know these two, they're "UGTT girls", and we don't want to make trouble with the unions'. The security police insisted they had photos of us demonstrating in front of the Interior MInistry and 'Monsieur X wants these two arrested'.

The policeman who knew us stood the others down. Then he got some of his people to accompany us away from the demo; the security police went on trailing us through the crowd. The police made a gap for us in the cordon and let us through, and luckily my battered little car was there and we drove off. My friend's car was miles away, and when she went to get it next day its windscreen had been smashed and there were bullet holes through the windows. Only her car had been wrecked, the rest of the car-park was untouched.

During our intifada women came out on the streets and were praised. We are allowed to be active and militant alongside the men, but not to voice our opinions on the political future. Many women of my generation are being pushed back home.'

Halima, Tunisian League of Women Democrats:

'Our organisation was persecuted for "attempting the feminisation of politics", many times when we tried to form meetings for young women. Our president was arrested and interrogated for talking to the World Social Forum!  Whether women rose in the textile factories or in student sit-ins, our association was always there in solidarity.

Equality is under threat in the absence of social and political change. Women are being excluded from development programmes and government meetings, so we are fighting for our rights. From experience we know women victims of violence, thrown on the streets, and women students having to drop out of university because of poverty. "Poverty has the face of a woman", and we are going to fight it starting from today. '

femmesdemocrates.org

Aya Khiary is a young woman student of civil engineering in Tunis:

'I was in the revolution - when I saw my friends falling I just went out in the streets. The July elections are crucial to consolidation or failure. We must prepare youth for this "D-Day'", because some parties are in it for themselves. We will never let any party exclude or marginalise us'.

Yousef Tlili, student organiser, Tunis:

'Many of us have been jailed, tortured, harassed in the streets, expelled from our universities. There are still pockets of dictatorship; we want Tunisia to be a progressive country and return to its history. We've affiliated ourselves to a group of progressive African students because we want to restore links to other people which were severed by the dictatorship - to end colonialism, gender inequality and savage capitalism. We want students who graduate to be able to trust that they can get a job and have a position in society, be represented. Our programme stands for equality between men and women. Whatever government, whatever religious ideology - we stand to combat all despotism.'




Unemployed Graduates of Kasserine

Kasserine, 'capital of martyrs', is where 52 people were shot and an out-of-town pro-government mob sacked the town at the height of the uprising. A week after our visit the government announced that 80% of this year's development funds would go to Kasserine and the regions where the revolution began. No results have been seen from 14 January - when the dictator fled - until today.

Backed by a row of bereaved families holding pictures of  young people gunned down in the uprising, on 2 April Nizar Ferchichi read out his Manifesto for the unemployed graduates who have been the backbone of the Tunisian revolution. Many were on hunger strike in the town square, calling for work and the arrest of those who had shot their unarmed friends.

'…We people of Kasserine, are citizens of a town which was marginalised and vilified under the rule of the former president . We now live the same way, or even worse, after the revolution. We also have more than 20,000 migrants fleeing the war in Libya. There is no economic activity; more than 98 workplaces were burned by men whom no one in the town had ever seen before.

The image of Kasserine is always blurred, grey, unclear. The voices of the families of those killed here, who made immeasurable sacrifices, go unheard. The families want justice against the snipers who shot their children, the police force and the former security chief. The governor's sole response was: "I have nothing I can do for you". We want to live in hope and dignity. Our symbol is solidarity. The revolution will continue right to the end.'

The new Elkarama association was set up by young unemployed graduates in Kasserine to make an organised search for work in different sectors. Its media officer is Nasri Charfeddine, who also wants to set up a community radio so that Kasserine can speak for itself.  Facebook: Nasricharfi@live.Fr Tel 0021624294282. Email for Nizar: KnigAmin@love.Fr

Munira Thibia came from the poorest quarter of Kasserine and was virtually homeless before she became famed for her bravery during the uprising:

'The old governor tried to give us money to go away, but corruption has vanished here now. Please just take our stories and make them be seen all over the world'.




Wael Karaffi , demonstrator aged 19, is now an amputee:

'Those who killed, one wants to see judged not killed. We sacrificed ourselves for this nation so we want our voices to be heard. If not, we will go back on the streets to remake the revolution. We don't want money, we want to be seen and heard. I've made a big sacrifice - I hope you won't forget my message.'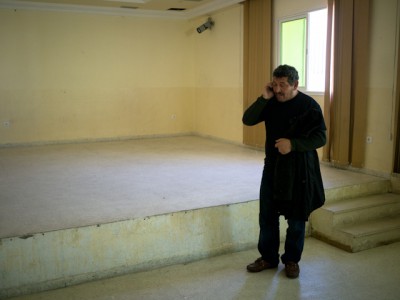 Fethi Ben Ali Dbek - 'Dabakou' - is co-ordinator of the UGTT's International Department and co-hosted the solidarity tour. Although some of the union leadership had been identified with the regime, Fethi had been in demonstrations all over the country and gave a word-map of places the uprising had spread. He has been many times to the interior to support  Kasserine, 'the capital of martyrs' and Sidi Bou Zid where the revolution began; and south to Gabes and Medennine, where there was a big hotel strike.

'At Sfax , the chief industrial city, we have lots of problems with the integristes '. This is what Tunisians call their fundamentalists: people who refuse the separation of faith and state. 'They have lots of money from abroad to give to the poor and unemployed. We need to watch out, this could be dangerous.' But there were solid anti-government demonstrations in the holy city of Kairouan, where people are 'simply religious', not fundamentalist. 'Mosques in our tradition are for worship and not to impose dictatorship. Religion is for god, politics is for everyone.'

'The transition to democracy, as you know, is always difficult. Is it true that, as people say, "there is no freedom without blood"? Tunisia is in urgent need of honest supporters all over the world. The revolution is going through some difficult times, so your visit is very valuable. The biggest practical solidarity you can give is to get your government to support and invest in the Tunisian economy'.

www.ugtt.org.tn/en/presentation4.php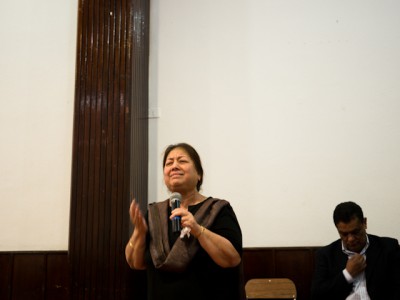 Corinne Kumar runs El Taller, a Tunis-based international centre for social movements which was often attacked by the dictatorship. She hosted the tour's first lunch, with speakers and performers of all generations.

'The central issue of justice must be addressed in this time of interim waiting for the election - we must end impunity now. The people in Kasserine know who the snipers were. We should find a way to set up public hearings within civil society; the need is to bring private testimony into public space. Naming the crimes validates the memories of those who suffered, and starts to write the real history of the revolution.  I've seen the Courts of Women in India over 30 years, and their ability to bring crimes into the open air. We should think not only of arrests and the laws, but also of new ways of doing justice.'

www.eltaller.org




Taoufik Ben Abdallah of the Tunisian Human Rights League co-organised the solidarity tour and spoke here to Rita Freire of Ciranda, an 'International of Shared Communication' based in Sao Paulo. Taoufik is a Tunisian who has lived and worked in Senegal for the past seven years.

'I was in charge of the World Social Forum in Dakar this February, and longing to be back in Tunisia. I came as soon as possible. The real events are happening now, not on 14 January when the dictator fell. I want to be part of the fight for solutions. For this election, I've been in talks to set up a new political party combining the unions, intellectuals and new social movements.

We take inspiration from the Brazilian experience. We want to learn from them how to survive economically in a moment of financial crisis; how did they keep their social goals? Brazil also had the experience of transition from a dictatorship.

Our revolution is still at risk. The old regime is still around in the system and in government structures. And if you don't give the young a future, they may turn to fundamentalism. Tunisia has not been interfered with till now, so its revolution has continued to develop as an internal process, not through outside intervention. But the West is implicated not only in Libya but in Algeria. Under Western influence both countries might pressurise Tunisia.

The people who made the revolution are waiting for an answer and getting none. There is a vital  need for justice for the killed and injured; for work, salaries, enterprises; there are so many social injustices and such a lack of security, with the people confronted by vengeful police. We need to bring this message back forcefully to Tunis. The Tunisian human rights associations must accompany the young on this social and political journey. Intellectuals must do this for the revolution to be fulfilled.'

The revolution in Tunisia is seen as bloodless, but not when you reach the places where it began. Almost everyone knows someone who died, or was injured, or mentally traumatised. This was a warzone which remains largely unrecognised. While British soldiers coming back from Afghanistan, Iraq or now Libya will get prosthetics, physio and counselling, these unarmed 'fighters for humanity' are being left to survive with barely the basics.

----------

To join the appeal to bring specialist medical and legal help to the survivors and activists, contact: med.saha@gmail.com or amseb@blueyonder.co.uk

A new Tunisian Party of Labour has been launched bringing together unions, human rights associations and the new social movements in Tunisia.

On 23-24 May the European Social Forum will be meeting in Paris with Tunisian speakers: www.fse-esf.org/spip.php?article698

An African-Arab Social Forum will  be held in Tunisia later in 2011 or on the new national holiday ,14 January 2012: www.forumsocialmundial.org.br

World Social Forum in Dakar: http://fsm2011.org/en

Maghreb Forum: http://openfsm.net/projects/maghreb-mashrek/tunis-avril-2011