Tottenham: 'This is what you get – fire'
The riot came from a community pushed to the edge by the violence of the police, writes Clarence Williams

7 August 2011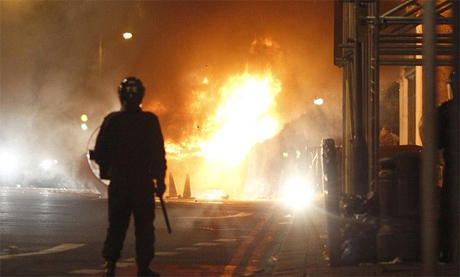 'There's no excuse for violence.' It's a familiar refrain. Even people who spend their lives campaigning against injustice are susceptible to blindly repeating it at the first whiff of a riot's rising smoke.

But stop to think for a moment before you condemn what's happened in Tottenham.

Violence, after all, bleeds from every pore of the capitalist state: from dire impoverishment and starvation through to police brutality, all the way up to war. But this kind of violence is routinely excused: it's either necessary to 'keep us safe', or it's just the way things are.

The kind of violence that we're told there's 'no excuse' for - the kind the newspapers focus on so angrily and relentlessly - is usually not even actual violence at all. It's setting a police car on fire - or, for that matter, smashing the windows of the Millbank Tower.

Property damage is not violence - it doesn't physically hurt anybody. And it doesn't come out of nowhere: time after time, it is a desperate response to the violence of the police.

Student Kit Withnail wrote about Millbank in Red Pepper: 'I had my head bashed in that day by police who charged us when I had my back to them. I spent the evening in hospital, bleeding from the head and vomiting.' And that was just one of hundreds of terrible stories.

Occasionally a cop grazes their knee or similar at a protest, and it's reported with the utmost seriousness as an 'officer injured'. But it's hardly a fair fight.




In Tottenham, as the media makes 'scenes of looting' its focus, the original act of horrific violence that this is all really about starts to get lost.

This is about a community enraged by the police killing a man named Mark Duggan. The media have been quick to call the 29-year-old a 'gangster', despite the utter lack of evidence for that assertion.

The known facts are that the father-of-four was shot twice in the face on Thursday by a police officer wielding a Heckler & Koch MP5 sub-machine gun. (Few have rushed to condemn that violence.)

Semone Wilson, Mark's girlfriend, said: 'I spoke to him at about 5pm and he asked me if I'd cook dinner. He said he spotted a police car following him.

'By 6.15 he had been gunned down. I kept phoning and phoning to find out where he was. He wasn't answering.

'I rushed down to where it happened. They let me through the police lines but they wouldn't let me see his body.'

Some witnesses report that Duggan was lying on the ground when he was shot.

An eyewitness told the Evening Standard: 'About three or four police officers had both men pinned on the ground at gunpoint. They were really big guns and then I heard four loud shots. The police shot him on the floor.'

Yesterday (Saturday), hundreds gathered to demand justice for Duggan, marching from the Broadwater Farm estate where he lived to Tottenham police station.

They asked for someone to come out and speak to them. A resident told the BBC that a 16-year-old girl approached police to ask questions - and they 'set upon her with batons'.

Then people got really angry. As the fires started, they were chanting a simple demand: 'We want answers'.

They deserve those answers. And those who tell them to be calm and wait for the IPCC inquiry might reflect on the record of that useless organisation.

Because this is not just about Mark Duggan. This is about Smiley Culture. This is about Ian Tomlinson, Jean Charles de Menezes, Harry Stanley and so many hundreds more...

Martin Luther King said 'a riot is the language of the unheard'. The people on the streets of Tottenham are not 'violent' criminals with some burning hatred of Aldi. They are part of a community that has been pushed to the edge by the very real violence of the police.

As one rioter, Jamal, told Channel 4 News: 'We're here to tell the police they can't abuse us, harass us. We won't put up with it. This is just the beginning, this is war, and this is what you get - fire.'
---
191 comments