Sponge Bob 'Jeysh al Hurr'
Ewa Jasiewicz discovers an unexpected symbol of the Syrian revolution in the fourth part of her blog series.

11 August 2013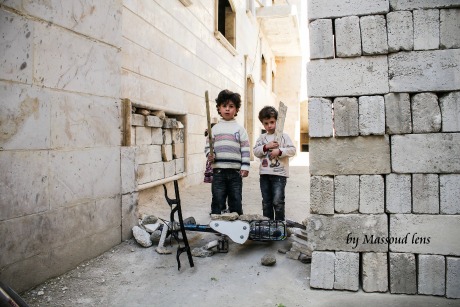 Our first glimpse of Syria is through the eyes of hundreds of children living in the Bab Al Hawa refugee camp on the Turkish Border. We're in Juan Zero's art studio – a tent about 10 metres long and 4 metres wide with wind billowing through it, rustling hundreds of crayon-drawn pictures by children aged between 5-14.

Juan is a Syrian activist and cartoonist who set up Jasmine Baladi Studio at the camp nine months ago. On any given day a hundred children can cram up to the tent door screaming with joy to get in. Groups rotate, 30 kids all sit round a long table, quietly drawing, gently encouraged by male and female youth volunteers.

The pictures are overwhelmingly positive: sunny houses, flowers, animals, birds. 'We don't let them dwell on the past', explains Juan, 'We want them to focus on the future. The past for many of these children is horrific'. There are some of the usual drawings of blunt bullets firing out of box-y tanks and out of clunky planes onto red-scratched stick bodies that could be from any war zone.

But the predominant image popping up across the gallery-walls is bizarrely Sponge Bob Square Pants. And not just any Sponge Bob. We're talking Sponge Bob Jaish al Hurr (Free Army Sponge Bob), waving the new Syrian Independence flag, raising a rifle, wearing military fatigues even. The kids have adapted Sponge Bob into a symbol of the Syrian revolution.

*Some names have been changed

This is the fourth part of a six day serialization of Ewa's trip to Syria. It accompanies Jon Sack's beautiful reportage from the Syrian border in comic form: The Physio.

Ewa Jasiewicz is a journalist and campaigner. She is part of a small international solidarity initiative working to support grassroots groups in Syria. Please support these organisations:

www.facebook.com/JmaetBsmtAml

Karama Bus children's relief project in Kafranbel

Juan Zero's Jasmine Baladi studio in Bab al Hawa Camp


---
Ewa Jasiewicz is a Palestine solidarity activist, union organiser and part of the editorial collective of Le Monde Diplomatique Polish Edition.
---
No comments yet. Be the first