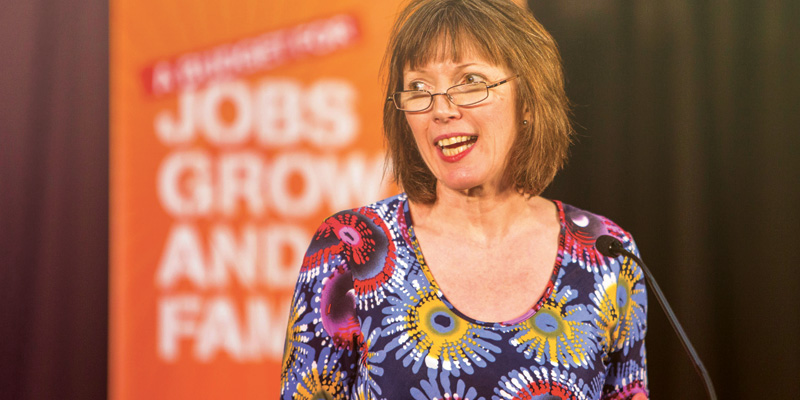 Frances O'Grady speaks at a TUC budget-day rally. Photo: TUC

How do you see the culture of trade unionism having changed over recent decades?

Well, the movement has changed radically, although maybe not always quickly enough in some ways. Everyone starts from 1979 and the fact that our membership base was – allegedly – 12 million and there's been a really big shift. There are lots of different explanations for that.

Some people talk about the legal attacks, some people talk about the unions not going out there and organising sufficiently. I think the big, big issue was the brutal economic restructuring that Thatcher brought in, and in addition to that the ideological assault on the very essence of collective values that trade unionism stands for. It wasn't just in Britain. Wherever neoliberalism spread, governments either actively championed the marginalisation of trade unions or stood on the sidelines while it happened.

So although I'm personally committed to unions devoting ever more resources to organising, to be willing to take risks about the new models of trade unionism we develop to reflect the real working lives of people today rather than a generation ago, I think there's something more profound that we have to tackle. This is about rebuilding support for collective values, solidarity, people looking after each other, equality, compassion, dignity at work. These are very basic values but I don't think we should take them for granted.

Where once, perhaps, trade unions could take their potential influence in the workplace for granted, people today are looking more towards power in the community, like Occupy or UK Uncut. Does the union movement have something to learn there?

Yes, I think that it does. In terms of where young people work, it's still true that a third of young workers are employed in areas like hotels/catering/hospitality, which is quite a ghettoisation, and these are precisely the areas where you have zero hours contracts, franchises. One of our unions, Community, ran a campaign organising in betting shops, where a lot of young people and older women work. You look at that industry and it's balkanised, so it's really hard to organise for bargaining rights when it's shop by shop by shop. It's a very difficult thing to do.

And so it's very much part of our structures to encourage the development of local trades councils, bringing together representatives from different unions, and very often they are drawing in representatives of student organisations or community campaigning groups and other friends and allies too. And it's not about top-down 'telling', it's about making sure everyone gets to make their contribution, and feels 'this is our campaign, we own it, collectively'.

The TUC is not Congress House, it's the whole trade union movement. So we've got every union committing to campaigning and making it a reality. We've got a number of plans, we've got our key themes and answers.

Over the summer we've got a bus tour that will be visiting towns and cities. One objective, for sure, is to give a morale boost and profile to grassroots campaigns, whether that's against the bedroom tax, to save the local hospital, or to keep a particular plant open. It will mean pulling those threads together with our common messages. We'll be travelling around the country with film-makers taking testimony from people, building our own collective self-confidence and our own vision about what we want.

Another objective is bringing people together. For example, to defend the NHS we pull together our own unions with non-affiliated unions like the Royal College of Nurses, and we work with patients organisations and campaigning groups too.

But the really important bit from an organising point of view is to not just speak to the people who agree with us, and not just lecture those who don't. It's the people we need to persuade – that's where our efforts need to go. And that's the most exciting bit for me, from an organising perspective.

You know it would be easy to take the comfortable option – and I understand why it happens when we feel on the defensive and our backs are against the wall, so we feel it's easier to talk to each other. But it's much tougher to get out there and find out where other people are, because as the polls show, there's still a big job to do. We can't just assume that the whole country believes that there's an alternative to austerity.

We know most people think the cuts aren't fair. But not enough realise that they're not necessary either, and that they're happening not because it's the medicine the economy needs, but because there's a very nasty right-wing ideological attack on what generations have fought for ordinary working people to have.

There's also an issue here in relation to the NHS. We need to expose to the wider public what private interests are doing to the NHS, in many ways the last jewel in the crown from 1945. The penny hasn't necessarily dropped with the public at large yet just how serious the future is in terms of privatisation. We have planned some high profile research to show what this government is up to and the irreparable damage that could be done.

At the electoral level, don't you think that Labour has a problem in claiming to represent the interests of workers when, at the same time, they're promising a real-terms cut in the public sector?

Well, there's a huge contradiction there, isn't there? If, as many do, we share an analysis that growing inequality in pay and falling real living standards were among the key drivers of the crash, it suggests that cutting people's real pay is not part of the solution. Even the Christian Democratic German finance minister has talked about the need for wages to rise again, as part of injecting demand into the economy. We have got that job to do to persuade and we have to keep up that conversation.

In crowdsourcing questions for this interview on social media, the same issue was raised again and again. As one person put it, 'Please ask Frances to name the day of the general strike. No, I'm not a Trot or a lefty, just a worker watching the Tories destroy the country, attack the poor...'

There is huge frustration and anger, which many of us share, about what this government is doing. We have to be smart in our response to that. Motion 5 to Congress asked us to look at the practicalities of a general strike, not to 'name the day'. Clearly, because we have one of the most draconian sets of labour laws in this country, the reality is that if we were to call a day of action as has been proposed, then under UK law our advice is that we could be vulnerable to funds being sequestrated, our members getting sacked, and the need to repudiate our own activists if they use the wrong terminology. So high stakes stuff.

But there are others who argue that, regardless of the law, there are also strategic questions, and it comes back to the question: what's the best way to win people to our cause? What's the best way to persuade people who don't feel confident there is an alternative yet, who aren't yet active in our nationwide campaigns, who still believe that austerity is a nasty but necessary medicine? How do we win them over? My own sense is that there is no short cut on the hard graft of community organisation, running our campaigns, putting pressure on the politicians.

There are no magic bullets. But we have to keep going if we're going to win people over, which is what we're trying to do. There is already industrial action in some areas – teachers, civil servants, post office, BBC – and they can count on our support and our solidarity 100 per cent. As long as I am GS, wherever unions and their members vote to take strike action then the TUC will back them all the way.

Things can change quickly but at the moment it's mostly public services. But again what is happening in the private sector is a big question. What are people in the private sector thinking and feeling, what do people have the appetite to do? Because one thing we do know for sure is that fewer than one in five workers in the private sector holds a union card. Again, I don't think there is any short cut on that. We've got a hard job to do to organise the private sector, not only into unions but also into the values that we stand for. We're a democratic movement. Everything we do depends on what our unions and what individual members vote for. And I think that's important – it can be pretty frustrating at times but it's also our great strength.

I think we can win genuine public support for the idea that unions are part of the answer to the country's problems. But let's not kid ourselves, we've got work to do. That's one of the reasons why it's really important that, yes, we stick up for public services and fight the cuts, but that we also have something to say about private sector industries, that we talk about industrial policy, that we argue for workers having more of a say in the future strategies of their companies, that we highlight the thousands and thousands of companies where we have good industrial relations.

But just as important is that we have a vision for how those companies could contribute to a fairer, better economy. On the green agenda, there are some wonderful opportunities to produce what we used to describe as 'socially useful goods'. When I go round workplaces, people care about what they do at work. They care about their pay, their terms and conditions, their health and safety, but they also want to feel a pride in what they do.

I think that's a really exciting agenda that the trade union movement should be talking more about. We have these huge challenges – inequality in society, climate change, globalisation – so we should ask: what is this company for? What should we be doing differently? What do workers think should be our vision for this industry or this economy?

There are great traditions in the trade union movement of doing just that, so I don't think it's overly ambitious.

Frances O'Grady was speaking to Michael Calderbank and Jenny Nelson


---
A born organiser
Frances O'Grady has trade unionism in her blood. Her grandfather was a founder member of the Irish Transport and General Workers Union, while her father was a TGWU shop steward at the Leyland car plant in Cowley, Oxford, where she grew up.

One of five children, she got a job as a researcher specialising in equality issues at the TGWU after doing a degree in politics and modern history at Manchester University. She also obtained a diploma in industrial relations and trade union studies at Middlesex Polytechnic.

She left the TGWU for the TUC in 1994, where her many responsibilities included setting up the TUC organising academy in 1997. She was elected as deputy general secretary in 2003 and took over as general secretary at the beginning of 2013.

O'Grady was ranked as the 11th most powerful woman in Britain on the Radio 4 Woman's Hour 'Power List 2013', ahead of Harriet Harman at 14th but behind Elisabeth Murdoch (5th), Theresa May (2nd) and the queen (1st).