Oligarchy of the unelected
David Beetham examines the growing dominance of unaccountable corporate and financial interests

December 2011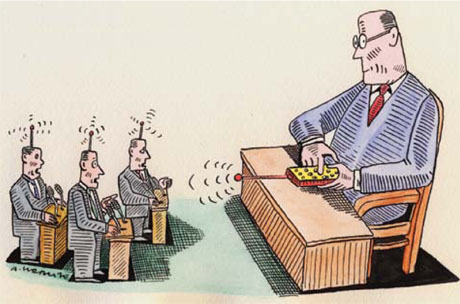 The News International scandal turned out to be only the first of a series of public crises this summer that forced politicians either to delay or to scurry back from their holidays. It was rapidly followed by the European debt crisis and the widespread looting in England's major cities.

It is not fanciful to see a common thread running through all three crises. They all bore witness, albeit in very different ways, to the longstanding dominance of corporate and financial interests over politicians and public policy, and to the insertion of their neoliberal doctrines of market supremacy and private gain into all areas of the public sphere and social consciousness alike. While Britain's politicians may have cast off their craven deference to the Murdoch family in person, they remain subservient to the public agenda of which it is such an influential exponent, and to the economic and financial interests of which it remains a significant representative.

The history of the increasing dominance of these interests over politicians and public policy since the 1980s, and the different modes through which it has come to be exercised, are the subject of a recently published paper by Democratic Audit, Unelected Oligarchy: Corporate and Financial Dominance in Britain's Democracy, available on its website.

Questions of democracy

The paper forms part of a wide-ranging audit of the condition of democracy in the UK. It takes off from a series of questions that many citizens have been asking, which became obscured by the MPs' expenses scandal but which the current Europe-wide austerity programmes have again thrown into sharp relief. How have we arrived at a situation in which governments


proved unable to prevent a near-terminal crisis of the banking system, with a subsequent recession affecting all sectors of the economy, including the public finances?


could only prevent a total collapse of financial markets by using huge sums of taxpayers' money to bail out the banks?


expect the burden of resolving the crisis to be borne by ordinary taxpayers, service users, welfare dependents, the young and other vulnerable groups, rather than by the banks that were mainly responsible for the crisis?


are seemingly unable to control the bonus culture in the financial sector, or to get credit flowing to the businesses on which economic revival depends?


are so ineffective and dilatory at reforming the banking system to prevent another such crisis happening again?

Put simply, the cost of the financial crisis has been successfully transferred onto taxpayers, and public anger displaced from the bankers onto the governments that are slavishly following their austerity prescriptions for addressing the public deficits that they largely caused.

Government impotence

This relative impotence of governments is partly due to well-documented processes of globalisation and financialisation, which have led governments everywhere to lose control of key aspects of their economic policy to international markets, transnational corporations, ratings agencies, shadow banking entities, offshore tax havens and a host of economic agents operating beyond the reach of national regulations. In the case of the UK, it is also due to the deep penetration into government that the corporate sector as a whole has achieved through a variety of mechanisms, as a result of which public policy is skewed in favour of the wealthy and powerful.

These mechanisms can be analysed under two headings:


Buying informal influence This category includes the financing of political parties, think tanks and lobbying activities, supporting individual parliamentarians and parliamentary groups, and corporate hospitality.


Revolving doors This category can be subdivided into 'Revolving out' – from full-time positions in government to business directorships, consultancies and so on, where contacts across government prove useful to business interests; and 'Revolving in' – from business into formal government positions, whether as minister, legislator, civil servant, regulator, member of advisory committee, joint partnership and so on, in a full‑time or part-time capacity.

Buying informal influence

Financing political parties

Running and financing a political party in the UK is an increasingly costly business due to a combination of the professionalisation of political campaigning, the communications revolution and the so-called 'electoral arms race'. The three main parties' operational expenditures are estimated to have risen threefold since the 1970s. This means that they have all become dependent on a few wealthy donors, typically from the business and financial community, to fund their operations.

As a study by Democratic Audit has shown, just 224 donations,from fewer than 60 separate sources, accounted for nearly 40 per cent of the three major parties' declared donation income between 2001 and mid-2010. Research by the Bureau of Investigative Journalism showed how donations from City of London names rose from a quarter to half of all Tory donations in the period leading up to the 2010 election. While it is difficult to trace any direct influence from donors to particular policies, it is a reasonable inference that the steep increase in City money was designed to head off any serious Tory reform or regulation of the financial sector.

Financing think tanks

Providing finance for think tanks offers the means to influence the policy process and to frame the terms of public debate without direct association with a political party. Think tanks provide the public impression of impartiality and academic rigour, even though they may be devoted to promoting a particular economic and social philosophy, and be closely associated with one political party. Unlike with political parties, the names of donors do not have to be identified in the accounts, though published lists of trustees can provide evidence of business connections.

Consider, for example, the Policy Exchange think tank, founded by Tories and with close relations to David Cameron, which describes itself as an 'independent, non-partisan educational charity . . . working with academics and policy makers across the political spectrum'. Its trustees are drawn mainly from the City of London, among them several donors to the Conservative Party. The Centre for Policy Studies, founded by Keith Joseph in 1974 to convert the Tories to economic liberalism, claims that it is 'independent of all political parties and special interest groups', though its board comprises a mixture of financiers and Tory grandees. Several trustees of the Institute for Economic Affairs, which believes in 'free markets . . . and that government action should be kept to a minimum', are major donors to the Tories in an individual capacity.

In the run-up to the 2010 election, these and many other think tanks contributed to Tory policy in preparation for the new government, even though those that were charities were receiving tax relief for doing so. Advocating neoliberal solutions to policy is not a bar to charitable status, though advocating policies to improve the quality of democracy is barred as too 'political' in the eyes of the Charity Commission.

Financing lobbying

Direct lobbying of government has recently become an issue of democratic concern due to the increased professionalisation of the activity, the enormous growth of lobbying companies and in-house government relations units in large corporations, and the secrecy with which they can operate in the absence of any public regulation. An important report on lobbying by the Commons Public Administration Committee in 2008 argued that 'there is a genuine issue of concern, widely shared and reflected in measures of public trust, that there is an inside track, largely drawn from the corporate world, who wield privileged access and disproportionate influence . . . related to the amount of money they are able to bring to bear on the political process.'

Subjects of lobbying include not only key issues of domestic policy but government negotiating positions in international organisations such as the EU and World Trade Organisation (WTO). So, for example, rules developed by the WTO to open up public services to private providers, and to limit the range of permissible environmental and social regulation, were largely the product of lobbying by business coalitions.

Of these, the bankers and the City of London have the closest of contacts into the Treasury and the Bank of England, and are the most repeatedly successful in preventing meaningful reform of their structure, activities and rewards. Providing corporate hospitality for senior officials, funding one-sided research about their contribution to the UK economy and threatening to move offshore in the event of unwanted regulation are typical elements in their lobbying portfolio.

Revolving doors

The effectiveness of corporate lobbying is enormously enhanced by the revolving door phenomenon, in which those revolving out pass those revolving in, often only to revolve out again.

Revolving out

The Labour governments under Blair and Brown witnessed a regular parade of former ministers into the private sector, as directors, consultants, advisors and so on, often with firms whose activities are related to the ministers' previous departmental responsibilities. This caused particular concern in parliament and the press in 2008, when the Advisory Committee on Business Appointments revealed that no fewer than 28 former ministers had taken up jobs in the private sector over the previous two years, many of whom remained as MPs.

The committee's latest list, published in March 2011, showed that 31 ex-ministers had done so over the previous 12 months. A smooth transition to the private sector could now be said to be the normal expectation for a government minister – though not all will sell themselves for £5,000 a day as Stephen Byers was caught doing, 'a bit like a cab for hire'.

Of the departments involved, health, defence and the Treasury and business departments provide the most frequent 'exports'. In the two lists mentioned above, seven former health ministers moved to posts or consultancies with private health and care companies, while six former MoD ministers moved to work for defence contractors.

To this number should be added four senior civil servants and four military top brass in 2010–11 alone. Seven former ministers moved into financial services, led by Tony Blair, working for JP Morgan and Zurich Financial Services.

As regards individual companies, a 2009 study of 'revolvers' in both directions in the financial sector by Professor David Miller of Strathclyde University for the OECD showed that Barclays Bank had no fewer than 14 'revolving door connections', and a further ten banks had more than five each. The UK stood out in comparison with all other EU countries in the extent of such connections.

Revolving in

'Revolving in' takes many different forms. There are outside appointments from the corporate sector to government departments, whether as ministers, senior civil servants or part-time members of departmental boards. Then there are a variety of roles as advisors to ministers, members of advisory committees, task forces, commissions of enquiry and so on. Finally, there are partnership bodies between government and business, staffed mainly from the private sector, working towards common goals across a range of policy areas.

Outside appointments to departments

The most striking development here is the way senior positions in central government have been taken over by members and secondees from the private sector. This happens in two ways.

First has been the huge growth in outside appointments to the senior civil service. A report from the House of Commons public administration select committee in 2010 showed that the proportion of external recruits to the 'Top 200' group, comprising permanent secretaries and director general-level post-holders, averaged more than 50 per cent each year, mostly from the private sector.

The committee was concerned that these outsiders were paid more than equivalent internal appointees, were not noticeably more effective and tended to stay in post for a much shorter period. What is most striking is the sheer extent of revolving in that is taking place, as well as revolving out again.

A second development has been the 'beefing up' of departmental boards by the coalition government, giving them the role of strategic and operational leadership in every government department, and recruiting half their membership from the private sector on a part-time basis. These 'non‑executives', as they are called, can chair board committees, and may even recommend that the permanent secretary be removed from his or her post.

Lord Browne, former CEO of BP, was given the task of recruiting 'world class business leaders . . . to bring a more business-like ethos to the very heart of government'. Not only can they be expected to promote further outsourcing and private sector involvement in policy delivery, but their position at the heart of government gives them privileged contacts for future promotion of their own business interests.

Advisory committees, task forces etc

The multiplication of committees and task forces composed mainly of 'outsiders' to advise on any and every aspect of government policy was a distinctive feature of the Blair and Brown premierships. Typical of these were the three enquiries into the banking sector that Gordon Brown set up in the wake of the 2007 financial crisis.

All three involved fundamental issues that had contributed to the crisis – banking governance, Britain's offshore financial centres and the UK financial services industry respectively. Yet all three were chaired by bankers, the last with membership drawn entirely from the City of London.

Not surprisingly, all produced bland reports, the first recommending minimal disclosure of executive pay, the second lauding the benefits to the UK of its offshore dependencies and the third rehearsing the value of the financial sector and arguing that any further regulation should wait upon international agreement. These are precisely the arguments the banks have continued to use in their frantic lobbying to water down the proposals of the Vickers banking review and the government's response to it.

The stranglehold of the corporate sector has been particularly evident in Andrew Lansley's appointment of industry insiders alongside independent experts to his 'responsibility deal' groups to tackle major public health issues such as obesity and alcoholism. The food group's members include representatives from McDonald's, KFC, Mars, Pepsico and Compass (of Turkey Twizzler fame), while the alcohol group is chaired by the CEO of the Wine and Spirit Trade Association, and the overarching board is dominated by industry representatives.

Lansley's insistence on voluntary agreement rather than regulation is challenged by experts such as Professor Ian Gilmore of the Royal College of Physicians, who doubts that there can be any 'meaningful convergence between the interests of industry and public health'. The same could be said of Lansley's 'reform' of the NHS, whose sole beneficiaries will be the for-profit health providers.

Government-private sector partnerships

These are corporate bodies set up by government but staffed largely from the private sector and devoted to promoting its interests under the rubric of 'joint objectives'. There are partnerships to open up the public sector to private business, typically through the development and management of PFI schemes. There are partnerships to organise international trade rules so as to open up other countries to UK business, such as the Liberalisation of Trade in Services Committee (LOTIS). And there are partnerships directly to promote UK business overseas, of which the government servicing of weapons exports is the most systematic and forms the model for other sectors.

While the defence equipment minister says that the government has no embarrassment about exporting defence products, David Cameron has declared himself 'messianic' in chasing business of any kind abroad. If 'UK plc' has become an ever more appropriate characterisation of government, the Foreign and Commonwealth Office increasingly resembles a branch of its sales and marketing department.

Conclusion

The dominance of private interests at the very heart of government, of which Rupert Murdoch has been only one example, seriously challenges the idea that we live under anything resembling democratic rule. Instead of the public sphere constituting an independent domain, with its distinctive values, relationships and ways of operating, it has become an extension of the private market, permeated by the market's logic and interests.

Instead of popular control we have subordination to interconnected groups of the wealthy and economically powerful. Instead of everyone counting for one, we have the easy purchase of political influence and the well-oiled revolving door between government and the corporate sector. In sum, we have more an unelected oligarchy than a true democracy.

---
---
2 comments