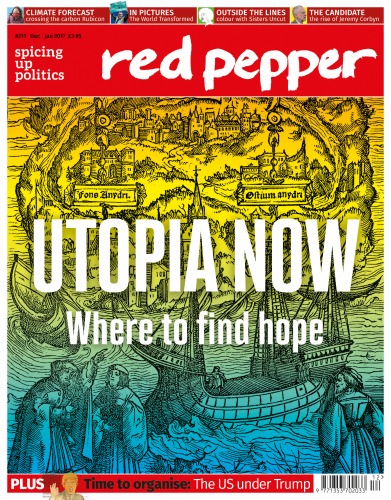 Sign up for a subscription to get this issue of Red Pepper and future issues delivered to your door.
Highlights from our latest issue…
Utopia: Where to find hope Ruth Potts edits the Dec/Jan issue which corresponds with the 500th anniversary of the first publication of Thomas More's Utopia. This issue is about the importance of hope, it celebrates the huge range of practical, community-based projects that are moving us, step by step, towards a better world.
Less is more A shorter working week would benefit everyone, writes Madeleine Ellis-Petersen.
Small change Lucie Stephens explores an alternative approach to childcare.
What if the workers were in control? Hilary Wainwright reflects on a workers' attempt to produce an alternative plan.
Syrenka A short story by Kirsten Irving.
Colouring outside the lines A selection from Sisters Uncut's new fundraising book.
Time to get involved Ruth Potts speaks to Gary Younge about Donal Trump's victory.
Crossing the carbon Rubicon Andrew Simms finds reasons to be positive about averting catastrophic climate change.
And much more…