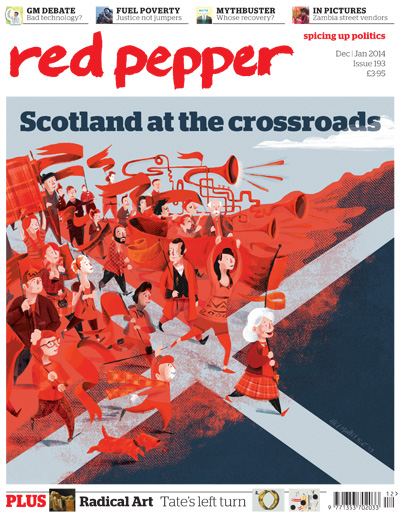 Get 'em while they're hot! Articles are published in the magazine up to two months before they are put on our website.

Why not sign up for a £5 trial subscription to get this issue of Red Pepper, and our next three issues, delivered to your door?

You'll get all this in our latest issue...

Cover story: Scotland at the crossroads

A new-born star - Roz Paterson sees new political alignments and vibrancy on the left
Imagining a better nation - Creating a different Scotland is beginning to galvanise radical thinking, argues Jim Johnson
More views on independence - Katy Clark MP, Philip Stott and Carolyn Leckie
Step backward, leap forward - Scotland is resistancing global capitalism, writes Tom Nairn in this issue's essay

Fuel poverty

Cold-home casualties - We can end fuel poverty, but not with these policies, writes Alan Simpson
Justice not jumpers - More and more people face a choice between eating or heating this winter, says Ewa Jasiewicz

Debate

GM is good for you - Leigh Phillips says there's nothing inherently wrong with genetic modification
Emma Hughes argues that GM is far from the best approach to the problems it claims to solve

Culture

Art turning left - Danielle Child on Tate Liverpool's exhibition devoted to the left
Singing for change - Elly Badcock talks to radical singer Grace Petrie
After the meltdown - We report back from the launch of John Hilary's new book The Poverty of Capitalism

And...

Our columnists Jeremy Hardy, Mike Marqusee and Steve Platt, regular features including 'under the radar' and 'know your enemy', and four pages of book reviews.