22 January 2012: Last week, Red Pepper was invited to the launch of a new report from the 'Green House' think tank about how to restructure our leading democratic institutions.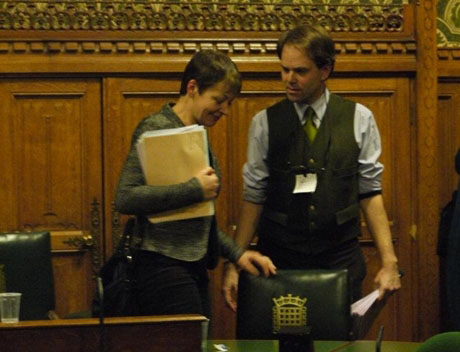 The report was authored by Rupert Read, the starting point of whose thinking is this question: 'Democracy' means 'government by the people', but who are 'the people'?
Read argued that society exists over time and decisions taken today can have significant consequences for people yet to be born. His report argues that the interests of future generations should be formally represented within our existing parliamentary democracy. Building on the philosophies of Plato and of deliberative democracy, and on the precedent of Hungary's innovative office of Ombudsman for Future Generations, Read's report proposes the creation of a new legislative structure – 'Guardians' of Future Generations. The members of this body would be selected by 'sortition', as is current practice for jury service, in order to ensure independence from present-day party political interests.
The Guardians would have a power of veto over legislation that were likely to have substantial negative effects for society in the future, the right to review major administrative decisions which substantially affected future people and the power to initiate legislation to preserve the basic needs and interests of future people.
There has been extensive coverage of Read's proposal: including in the Guardian, Telegraph, Open Democracy, Liberal Conspiracy, www.politics.co.uk and now Red Pepper. The House of Commons launch last week was attended by an extensive range of journalists, politicians and civil society representatives. Speakers at the launch included Caroline Lucas MP, Jon Cruddas MP, and Norman Baker MP (of the government). The Hungarian Ombudsman for Future Generations sent an explicit statement of support (for the proposal) to the meeting.
If you want to read Read's report, here it is: http://www.greenhousethinktank.org/files/greenhouse/home/Guardians_inside_final.pdf
share
1 comment

Dawkins vs democracy Leigh Phillips looks at Richard Dawkins' proposal to put scientists instead of bishops in the House of Lords

The Spark of learning Morten Thaysen Laurberg previews a week of workshops, skill shares, organising, and talks in London in the lead up to the G8

Right-to-buy in the great rip-off economy On the Woodberry Down estate in Hackney, all the council homes are being demolished in a £1billion regeneration project. It is a perfect illustration of why we have such a housing shortage says Koos Couvée

Fasting to support Guantanamo Bay hunger strikers We spoke to Maya Evans during her fast over the weekend in solidarity with Guantanamo Bay hunger-strikers

A new party of the left comes one step closer Salman Shaheen of Left Unity, the group supporting Ken Loach's call for a new left party in Britain, reports from its first national meeting

Diary of a 'wannabe MP': local elections, UKIP and the left Davy Jones is Green Party parliamentary candidate for Brighton Kemptown at the next general election and a member of Red Pepper's board. This is the second of a series of regular blogs on his campaign

South Africa's poor resist home attacks Amid Britain's decision to cut aid for South Africa by 2015, Caroline Elliot hears from poor shack dwellers who vow to resist the destruction of their homes.

Open House begins this weekend in London A nine-day event bringing together people facing the housing crisis across London to organise and take action around our collective housing needs

Call to protect Colombian human rights defender On 10 October 2012, a man pushed a gun into the chest of Alfamir Castillo and told her that both she and her lawyer were going to die.

Beyond the Fragments is more than history The book was part of challenging the left's methods of organisation, writes Alice Robson - and that struggle continues today as it is republished
latest from red pepper

Confronting the Climate Crisis: Graham Petersen interview On Saturday 8 June the Campaign Against Climate Change Trade Union Group is holding a conference bringing together climate scientists, trade unionists and environmental activists. Red Pepper's environment editor Kara Moses speaks to Graham Petersen, UCU environment and Greener Jobs Alliance co-ordinator

Tapping the resistance in Greece A combination of opposing privatisation and putting forward practical alternatives is helping water campaigners mount an effective challenge to austerity in Greece. Hilary Wainwright reports

The seven faces of Michael Gove Mike Peters looks at how the Tory education secretary uses the words and ideas of the left to win support for his policies

The Brighton pay dispute: the union view GMB union organiser Rob Macey puts the workers' side of the argument

The pay dispute at Brighton council: a Green view Davy Jones, Green Party parliamentary candidate for Brighton Kemptown, gives his view of a dispute that has caused huge debate among Green Party members in the city and across the country
Red Pepper is a magazine of political rebellion and dissent, influenced by socialism, feminism and green politics. more »

Get a free sample copy of Red Pepper

ads
The UK's leading supplier of
Fair Trade
products
get updates
Get our email newsletter, with news, offers, updates and competitions.
help red pepper
Become a Friend of Red Pepper
Help keep Red Pepper afloat with a regular donation
Watch films online
See free trailers and support Red Pepper by streaming the full films:
Cocaine Unwrapped
The War You Don't See