17 November 2011: Adam Ramsay is one of ten people found guilty of aggravated trespass for entering Fortnum & Mason as part of a UK Uncut protest. Here he gives his view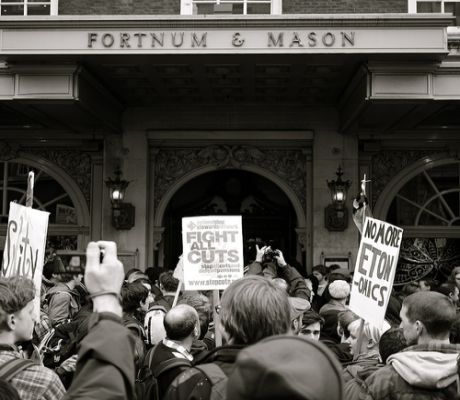 Before the credit crunch, the last run on a UK bank was in 1878. The directors of the Bank of Glasgow were jailed. Likewise many of those responsible for the 1929 Wall Street Crash were sent down.
Not so today. After the banking collapse of 2007/8, not a single financier has been found guilty of a crime. We are expected to believe that in the cocaine fuelled corridors of the city, not one of the choices which wiped the savings of millions was fraudulent: that everything done by these masters of the universe was cock up.
The same cannot be said for those who complain. Today, along with nine others, I was found guilty of 'entering Fortnum & Mason and demonstrating'. I was given a conditional discharge for six months and ordered to pay £1000 of the prosecution's legal costs. Over the last year, many of my friends have been fined, jailed, or beaten to a pulp by the police for such crimes as hanging banners from bridges, or having the audacity to be a journalist reporting on a protest.
In whose interest does the Crown Prosecution Service decide how to allocate its time and resources? In whose interest do the police police? To use the language in vogue: is it the 99%, or the 1%? How many hours have they spent over the last year or so trawling through footage in an attempt to prove that this peaceful protester breached that controversial law? Or that that peaceful protester may have crossed the fuzzy line around this equally contentious piece of legislation?
I maintain I committed no crime. But even if you wholly accept the case that the CPS presented- after days spent trawling through CCTV footage in an attempt to prove something more - all I did was go into a shop and facilitate a meeting. How does this compare with recklessly endangering the livelihoods and lives of millions? How does that compare with defrauding millions in order to make yourself billions? If the police have the time to intimidate protesters entering the city, why didn't they have time ensure those who work there don't commit fraud or embezzlement?
In our Fortnum and Mason case we have the benefit outstanding, passionate and hard working lawyers. They have fought for us every inch of the way, and will fight with us all the way to the High Court. Once there, we hope to win. But we should be clear. Even if we are successful there, we will have been found not guilty by the same legal system which imprisons our friends, which criminalises protesters, and attempts to humiliate those who stand up to power; the same legal system which has done nothing whatsoever to bring to justice those responsible for our economic collapse.
Even the crime for which we were on trial – aggravated trespass – was invented in 1994 with the intention of criminalising protest. The nature of the charge meant that there was no jury – just a lone judge. We might chant that the streets are ours, but the courthouse clearly is not. And whatever ruling it comes to, it is not where our battles will be won. So, we will see you on the picket lines and on the streets.
share

A new party of the left comes one step closer Salman Shaheen of Left Unity, the group supporting Ken Loach's call for a new left party in Britain, reports from its first national meeting

Diary of a 'wannabe MP': local elections, UKIP and the left Davy Jones is Green Party parliamentary candidate for Brighton Kemptown at the next general election and a member of Red Pepper's board. This is the second of a series of regular blogs on his campaign

South Africa's poor resist home attacks Amid Britain's decision to cut aid for South Africa by 2015, Caroline Elliot hears from poor shack dwellers who vow to resist the destruction of their homes.

Open House begins this weekend in London A nine-day event bringing together people facing the housing crisis across London to organise and take action around our collective housing needs

Call to protect Colombian human rights defender On 10 October 2012, a man pushed a gun into the chest of Alfamir Castillo and told her that both she and her lawyer were going to die.

Beyond the Fragments is more than history The book was part of challenging the left's methods of organisation, writes Alice Robson - and that struggle continues today as it is republished

Meet Red Pepper's new co-editor, Michelle Zellers Michelle Zellers introduces herself, her reasons for wanting to be part of Red Pepper and her hopes for its future

Bedroom tax: Lessons in morality from Iain Duncan Smith Kara Moses reflects on the experience of protesting at the Tory minister's mansion – and offers a glimpse of the luxury he enjoys while lecturing us about 'fairness'

Reviewing the NHS – speaking ill of the dead Junior doctor Paul Teed says patient satisfaction surveys give an illusion of 'choice' in the NHS – but bad reviews don't create more capacity or employ more staff

We need to challenge the myths that poison attempts at progressive change Hilary Wainwright introduces the first in a series of mythbusters produced by Class, in collaboration with Red Pepper.
latest from red pepper

The Brighton pay dispute: the union view GMB union organiser Rob Macey puts the workers' side of the argument

The pay dispute at Brighton council: a Green view Davy Jones, Green Party parliamentary candidate for Brighton Kemptown, gives his view of a dispute that has caused huge debate among Green Party members in the city and across the country

Jeremy Hardy thinks… about the right to exist 'We'd all say a person has a right to a home, but we wouldn't say their home has rights.'

Back to the fragments Lynne Segal, one of the authors of the seminal 1979 socialist-feminist text Beyond the Fragments, reflects on its lessons for today

Turkey: A people imprisoned Once seen as a moderate party, the AKP government in Turkey is using anti-terrorism legislation to unleash a wave of repression against the left and the Kurdish movement. Tim Baster and Isabelle Merminod spoke to activists in the country
Red Pepper is a magazine of political rebellion and dissent, influenced by socialism, feminism and green politics. more »

Get a free sample copy of Red Pepper

ads
The UK's leading supplier of
Fair Trade
products
get updates
Get our email newsletter, with news, offers, updates and competitions.
help red pepper
Become a Friend of Red Pepper
Help keep Red Pepper afloat with a regular donation
Watch films online
See free trailers and support Red Pepper by streaming the full films:
Cocaine Unwrapped
The War You Don't See